La Lonja-Borne
La Lonja's roots are in Palma's maritime trade, and this barrio, leading from the Borne towards the seafront, takes its name from the 15th century Gothic masterpiece that housed the Maritime Stock Exchange from the Middle Ages. This is the oldest fishing and ship-building area of Palma and its wealth was built on sea trade. The front-line area of La Lonja is home to the handsome Consolat del Mar building; behind it is Plaza Drassana, and a maze of narrow streets and alleys – several of which are lined with restaurants, cafés and bars. La Lonja is the location of the Jazz Voyeur Club and must-see cocktail bar Abaco, two notable elements of La Lonja's renowned nightlife. La Lonja has character and charm, with a wealth of vernacular architecture; properties for sale or rent include traditional merchant's houses, apartments and penthouses. This area appeals to those who enjoy a city buzz, good social life, eating/drinking out nearby, and easy access to the Borne – one of Palma's exclusive shopping streets.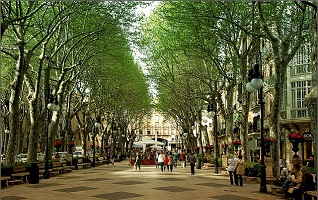 Catedral – La Seu
The narrow shady streets of Palma's medieval Old Town around the cathedral are home to handsome palaces and grand houses where Mallorca's nobility once resided, and members of 21st century high society continue to live. This privileged residential barrio has an air of tranquillity, relatively little traffic, and is steeped in history. A stroll around the cathedral district reveals enchanting plant-filled courtyards, historical buildings, evidence of Mallorca's Moorish occupation, and remains of the city's old walls. Real estate for sale or rent in La Seu includes authentic Mallorcan palacios, many superbly restored; grand houses converted into high-specification luxurious apartments, and exclusive penthouses. If you seek a privileged address, emblematic architecture, proximity to the Parc de Mar, or a front-line home, look at properties in Palma's cathedral district.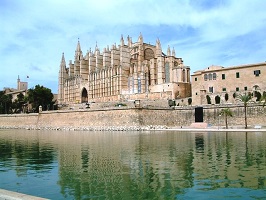 Sa Gerreria
From the Middle Ages until the 19th century, Sa Gerreria housed craftsmen and merchants. Situated between today's shopping street of Sindicat and the broad Avenidas thoroughfare, this neighbourhood of narrow winding streets retains much of its original character. Like many now-up-and-coming areas in other cities, Sa Gerreria went through a period of considerable decline. In the 21st century, Sa Gerreria has seen urban, environmental, economic and social improvements, and a multi-million euro investment in upgrading the area. Sa Gerreria has become fashionable, and with property developers building well-appointed apartments and renovating traditional houses, the area's real estate investment potential has been recognised. If you want to buy or rent a home or second residence in a city centre location that's good value for money, check out Sa Gerreria.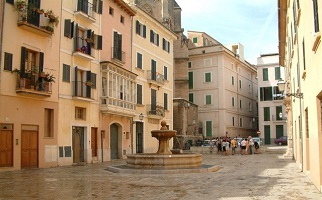 Portixol & El Molinar
A short walk southeast along the Palma seafront are the fishing villages of Portixol and El Molinar, which have become particularly desirable locations in which to own a home or second residence in Palma. Considerable investment has smartened the promenade connecting Palma with Portixol and El Molinar, which offer a good variety of restaurants and cafés, laid-back seaside village atmosphere, and the benefits of their own harbours and Portixol's small beach. Most sought-after are the renovated front-line fisherman's cottages and modern townhouses, although there are also luxury apartments with sea views. If you enjoy walking, jogging, skating or cycling along the seafront, and want the atmosphere of a village – combined with the convenience of Palma's nearby amenities – take a look at our properties for sale or rent in Portixol and El Molinar.