If you've grown weary of poinsettias and tinsel, think outside of the red-and-green box this Christmas. Unusual colour combinations, exotic botanicals and minimalist elements can create a freshly festive ambience in your home. Here are a few of our top modern Christmas décor ideas to make your holidays shine even brighter.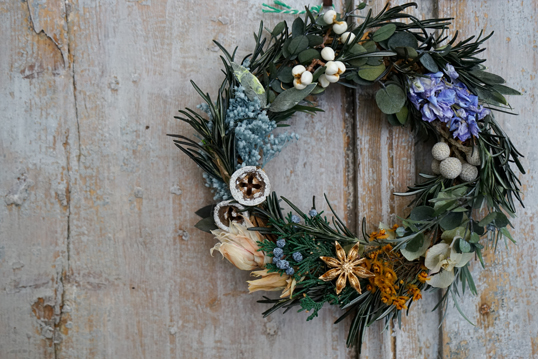 1. Use natural materials
Natural, organic decorations can bring a touch of both warmth and modernity to your Christmas decorations. An elegant dark willow wreath looks stunning when hung against a neutral background, and spare branches can be placed in clear glass vases and draped with fairy lights. Adorn your tree with ornaments sourced from nature that double up as aromatherapy, such as dried citrus slices and bundles of cinnamon sticks.
2. Wintry neutrals
Christmas lights and colours can often be overwhelming in seasonal displays, so lighten the mood with liberal dashes of wintry whites. Neutral colour palettes can help rooms look bigger and brighter, and make an ideal base for modern Christmas décor. Pair parchment with white, and then incorporate metallic accents of gold or silver for added cheer.
3. Red, white and a pop of colour
Red and white is a classic pairing for Christmas, seen in Santa Claus's wardrobe and candy canes alike. You can elevate this to a crisp and modern scheme with the addition of a bold colour like teal or gold. A gentle robin's egg blue is a trend colour that blends well with red and white, hearkening back to mid-century modern colour palettes.
4. Vibrantly hued wreaths
The wreath on your front door sets the tone for your holiday home, so make sure it's a welcoming one. Don't be afraid to deck the halls in shades of bright pink, turquoise and violet, adding splashes of colour with Advent wreath candles. You can craft a wreath out of fresh flowers or seek out reusable metal sculptures for modern Christmas décor.
5. Breathe new life into baubles
Look beyond the tree for new Xmas decoration ideas for your baubles. Vibrant, whimsical baubles can be fashioned into a wreath as mentioned above. Arrange these into a seasonal star pattern and mount on the wall, or piled high on a fruit platter and scatter onto your Christmas tablescape.
6. Scandinavian style
It's hard to imagine a decorative style more suited to the dark days of winter than Scandinavian or Nordic, with stark white or soothing grey hues and bursts of leafy garlands. Brighten your room with Christmas tree candles, red ribbons and fair isle knitted prints.
7. Rustic country Christmas
If your interior decoration at home veers towards everything rustic and country-tinged, you can carry on this theme in your Xmas decoration ideas this year. The country look gets a contemporary upgrade with hand-carved mahogany Santa figurines and porcelain dishware painted with twisting florals, ivy and holly.
8. Black and metallic modernity
Black isn't just for Halloween décor; darker shades look timeless when juxtaposed with lashings of white, gold or silver. Stick to a minimalist white and black colour palette with your baubles and candlesticks, interspersed with clear glass fixtures and white lighting. This will make your home look sleek, yet seasonal.
Christmas may be celebrated in different ways all over the world, but it's the atmosphere created at home that makes it a truly special time of year.