Things are getting festive! December is approaching fast – and with it begins a time of pre-Christmas cocktails, dinners, New Year's parties and New Year receptions! But what makes a party a great party? And what do you need to observe? According to our cover woman Rena Kirdar Sindi, one thing that makes or breaks the party is the mood of the host. Moreover, cosmetics heiress and entrepreneur Aerin Lauder reveals how she celebrates Christmas quietly in the Colorado mountains. Also read our exciting tips on festivities in St. Moritz and on the Mexican coast. Don't miss out!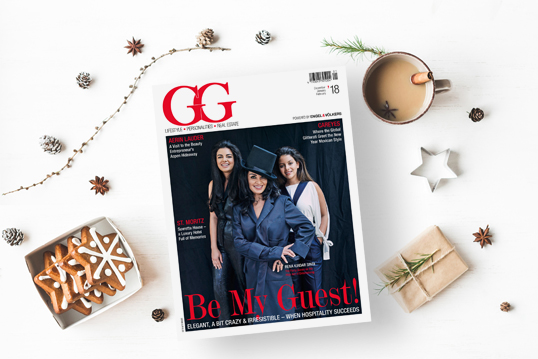 For the current issue, we travelled to the holiday home of author Rena Kirdar Sindi in St. Tropez to find out how successful parties are celebrated around the world from New York to Singapore, and we also gained exclusive insights into the world of glam, glitter and luxury. Take an exclusive peek inside the holiday home of cosmetics heiress Aerin Lauder in the well-known ski resort of Aspen and find out how she, her husband and her two children celebrate their Christmas.
Similar traditions can also be found at the Suvretta House in Saint Moritz. The over 100 year old luxury hotel with its discreet charm has been a well-known place of retreat for generations of families and international celebrities. As announced previously in our teaser, you can also expect the article about the luxurious and quaint alpine village in the Austrian mountains. A popular destination for enjoying rest and relaxation during the festive season.
For sun-seekers, we also have an article on the luxurious Costa Careyes hotel resort, which was founded by the Italian banker's son Gian Franco Brignone. The Turin native discovered the unspoiled stretch of coast in 1968 while flying over it with a propeller aircraft, and immediately fell in love with this as yet unexplored region, where he then built the first house of the resort together with architect Marco Aldaco. Suspension bridges, infinity pools and various retreats were added subsequently. In peak season, you can rent your own water castle here for 11,000 US dollars per night. Included: a butler, a chef and an unrivalled holiday experience.
Read the full article as well as our tips for a perfect party in our latest issue of GG Magazine. We hope you enjoy browsing our online magazine!