My Area of Expertise
AREA of EXPERTISE – Motor City & Green Community Motor City
This is a beautiful community situated in one of the posh areas of Dubai. While being close to the Arabian Ranches on 1 side and Sports city on the other, this community has attributesof its own! It is THE place to be if you are passionate about Motor racing and F1.
Dubai Motor City is a property development in Dubai (a UAE based property development company). The development is based on a motor-sport theme and includes residential units,business towers, motor-sports facilities, retail and a theme park.
The key componentsof Dubai Motor City are:
Dubai Autodrome
- A 5.39 km
FIA
certified track which opened in October 2004. The first Dubailand attraction to ever open. UpTown Motor City - A low-rise residential apartment development including recreational areas, parks and schools. Green Community Motor City - Residential development consisting of family villas, townhouses, and bungalows as well as luxury terraced apartments. Business Park Motor City - Office space in several high rise towers and retail space including automobile showrooms and other automobile related shops.
Dubai Motor Citynow hosts a range of retail outlets ranging from a large supermarket to avarious restaurants, cafés and other outlets. It is a self-sufficient communitywith schools, children's nurseries/ playschools, banks, medical clinics/center,salons and spa facilities, nooky corners and seats to watch the world or read abook.
The community isdivided into residential and commercial areas. Commercial - Located in Business Park Motor City, Control Tower is a 38 storey state-of-the-art office complex,offered on 100% freehold ownership basis. The tower faces the Dubai Autodrome track and is conveniently connected to theMarriott Renaissance Hotel and adjacent to the 3-storey spacious Automall, the automobile retail showroom. It will be the tallest building in Business ParkMotor City that will offer businesses an unobstructed office view of the racetrack and the whole of Motor City development.

With a total of 38 floors, 13 retail spaces and 146 flexible office spaces starting from 3000 sq. ft. up to 14,000 sq. ft. the Control tower floor plansare designed to ensure optimal space management for greater working efficiency.An organization can opt to take possession of a complete floor or up to fouroffices can be built on one floor. Control Tower's Green building design encompasses efficient energy and water consumption, improved indoor air qualityand reduced environmental impact. Control Tower features Fire Alarm System,Access Control System, Smoke Detector and Video Surveillance with CCTV, it willhave the latest in technological conveniences including WIFI and Intelligent Building System, ample parking facility with 1,102 parking spaces, 8 high speedelevators and district cooling. Control Tower is in close proximity to the upcoming Al Makhtoum International Airport, Jebel Ali Free Zone and other Dubailandmarks such as the Burj Al Arab, Mall of the Emirates and Palm Jumeirah.

Set to be a business address that is set to be the regional hub for the automobile and motorsports industries, businesses will access world classautomotive facilities in addition to having the opportunity to live, work or be entertained within the same vicinity of Motor City
Residential – Theresidential areas include apartments from studio's to 3 bedroom apartments.These low rise apartment buildings evoke an ethnic charm with all itsmodernism. With beautiful parks and greenery around, families with childrenfeel totally secure in the comfort of having their kids happily around them.There are 36 buildings in rectangular and semi-circular designs in thecommunity with a height of G+5 at the maximum.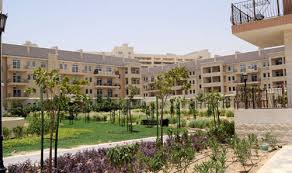 Green Community Motor City
This is a tranquil, traffic-free environment with cobbled roads, pleasing walkways, manicured gardens and acres of open spaces. The Green Community Motor City development is aimed to provide a way of life within aworking and living secure community which encompasses landscaped gardens, waterfeatures, stone streets and walkways in a relatively traffic free environment.It is a family home development that includes luxury villas, family villas,townhouses, and bungalows. The development will also feature luxurious terracedapartments overlooking a lake. This development prides itself on its modern and beautiful surroundings with natural greenery being the key to peace and tranquilityand offers retail opportunities and recreation centers.
It feels magical when after a long day at workyou arrive on the walkway to home and are greeted by swaying trees showering your entry with flowers in the wind. Balanced life and Peace of mind and a truly warm feelingof home has been built in each corner of the community.