Business Bay
Introduction to Business Bay
Business Bay is a community nestled between Downtown Dubai and The Dubai Canal from North to South, Al Khail Road and Sheikh Zayed Road from East to West. Although launched back in 2003, the area is still considered as emerging, with numerous residential and commercial projects being built.
The 64,000,000 sq ft. development which has been envisioned to be the main business district in Dubai is strategically located, as it is within 15 minutes from Dubai International Financial Centre (DIFC), 20 minutes from Dubai International Airport and 25 minutes from Dubai Media and Internet Cities.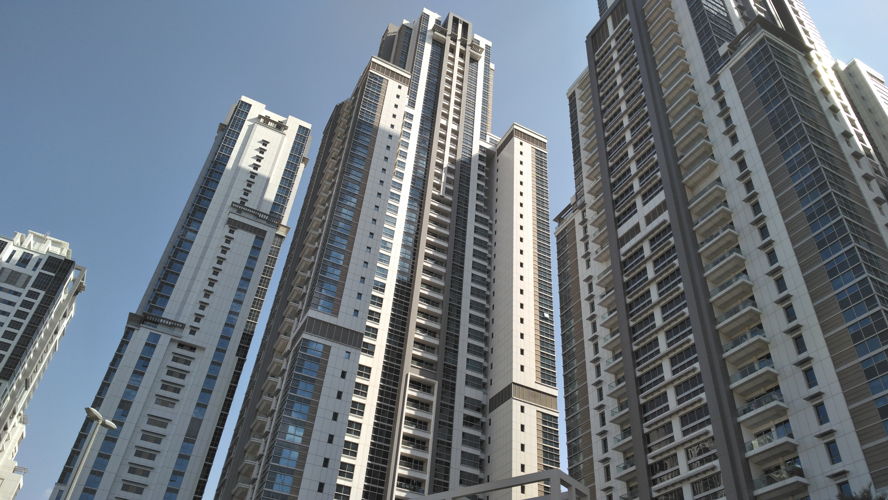 The projects
Although the majority of real estate in Business Bay is commercial and office space (circa. 80%), there are a number of residential and hospitality projects ready and under-construction. The first projects to have been delivered (2009 - 2010) included The One by Omniyat, Silver Tower and the Executive Towers.
The most famous buildings in Business Bay are The Executive Towers and Bay Square.
The Executive Towers
The main reasons for The Executive Towers popularity is essentially the quality and size of its apartments, the fact that it was one of the first projects to be delivered back in 2010 and also its proximity to The Dubai Metro, which is convenient for commuters who don't own a car.
It also has the Bay Avenue Mall, which with two levels of indoor and outdoor retail outlets, makes it the largest retail area in Business Bay. There is also a promenade with restaurants where residents can enjoy Al Fresco dinners during the cooler months. With the Taj Hotel, a 5 star hospitality building, more entertainment options are available to residents as the hotel is home to some of the finest dining options in the area.
According to Dubai Land Department, The Executive Towers accounted for 54% of all residential real estate transactions in Business Bay for 2016.
Bay Square
Bay Square is unique in the sense that the project is a pedestrian low-rise development made of 13 buildings, with numerous passages leading to a main square - with shopping, retail and dining options for its residents.
The complex consists of 9 office space buildings, 3 residential and 1 hotel. The area is similar to Canary Wharf, London, in the sense that the neighbourhood is buzzing during the week with all the offices in operation and is nice and quiet over the weekend to enjoy a nice brunch in one of the restaurants located on the main square.
Dubai Properties (the master developer for Business Bay) is the developer of The Executive Towers and Bay Square. They are also working on another project which will be along the Dubai Canal, called Marasi.
Announced in 2016, Marasi will be a 12km long development along the canal which will feature a waterfront promenade with hundreds of shops, five marinas with 1,250 berths, floating restaurants and homes. This will be in direct competition with Dubai Marina but mostly will bring substantial value to the community as well as increasing capital appreciation of the buildings around.
Other projects
The other big developers operating in the community are Damac, Deyaar and Omniyat. Between them and Dubai Properties, they represent over 42% of the buildings in the area.
Other well-known projects in Business Bay include:

Bayswater (offices - Omniyat)
Capital Bay (hotel serviced apartments - Damac)
Churchill Residency (apartments - Emirates National Investment)
Damac Maison Cour Jardin & Damac Maison Canal Views (hotel serviced apartments - Damac)
JW Marriott Hotel (5 star hotel - Emirates Hotels & Resorts)
One Business Bay (Omniyat)
The Binary (offices - Omniyat)
The Oberoi (hotel - Oberoi Group)
The Residences at Business Bay (apartments - Damac)
Ubora Towers (commercial and residential - Bando Housing Corp)
Vision Tower (offices - Dubai Properties)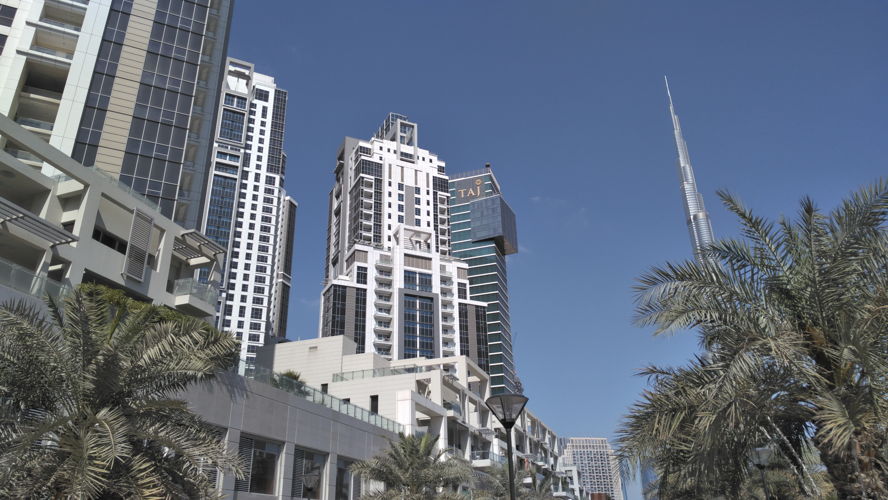 Renting
When leasing a property, Business Bay is one of the best options there is on average, most of the apartments in the community are larger than the ones you would find in areas of a similar level. As a lot of projects have been delivered within less than 5 years, the likelihood to be the first or only second tenant to occupy a residence is very high.
Rental prices tend to be slightly below the prices you would find for Downtown Dubai, the community adjacent to Business Bay. The combination of more affordable rents and larger units makes it great for newcomers to the Emirate or for anyone who works in Downtown or DIFC, but wouldn't necessarily want to live where their offices are.
Investment
Being a freehold community, UAE Nationals, residents and non-residents alike can acquire properties. Given the fact that Business Bay is still emerging, the potential for capital growth is higher than in some mature areas such as The Palm Jumeirah or Dubai Marina. As the neighbourhood is still being built, buying a property now would make it quite rewarding once Business Bay will be considered completed, which is another 5 to 7 years according to Dubai Properties.
Studios and 1 bedroom apartments are the commodities that yield the best rental return and overall ROI. As mentioned above, properties along the canal will substantially benefit from the Marasi project and some analysts even predict a capital appreciation of up to 9%. You can see below, the average Gross Rental Yield in the main freehold areas of Dubai compared to Dubai's average.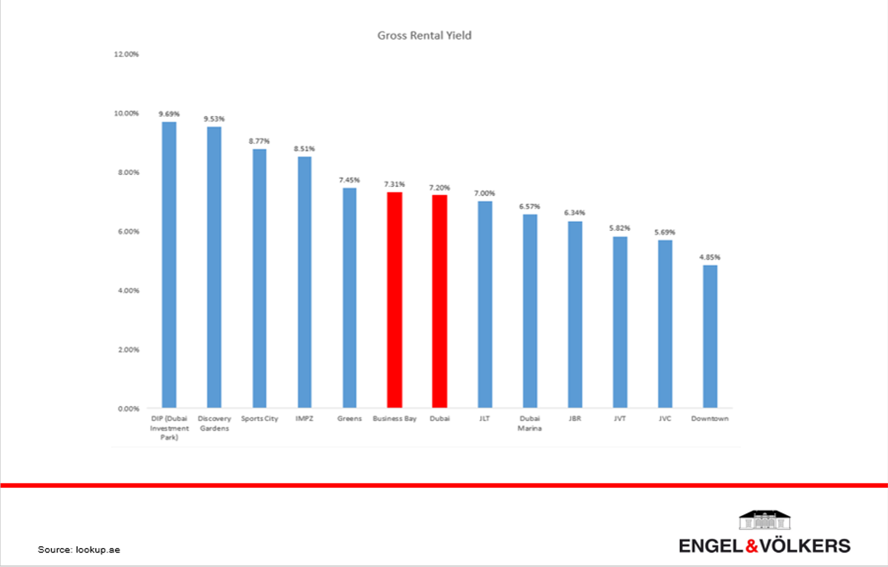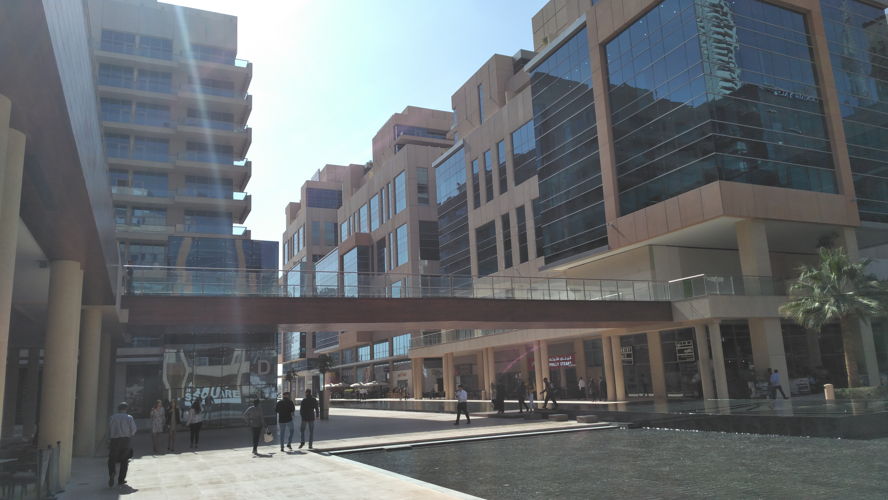 Living in Business Bay
Like many places in Dubai, life can be quite enjoyable in Business Bay and for the most part, you can find pretty much everything here.
Although the word "Business" is predominant, the community is not just about work. Fun and outdoor living are also a big part of the area and residents can enjoy a multitude of options when it comes to entertainment. And with The Dubai Mall being within walking distance, this adds more to the list.
The neighbourhood is home to some of the best fine dinning options you can find in the whole of Dubai and nightlife plays also a big role with bars and clubs that attract a diversified crowd coming from all parts of the city and beyond.
Fun is always good but education is key and it remains one of the main pillars of the Vision 2021 for the UAE: Business Bay is surrounded with school options with different curriculums to suit pupils from all backgrounds.
Should you need medical attention, there are a few private clinics on either side of Sheikh Zayed Road and the closest major hospital is The Latifa Hospital Dubai located in Oud Metha.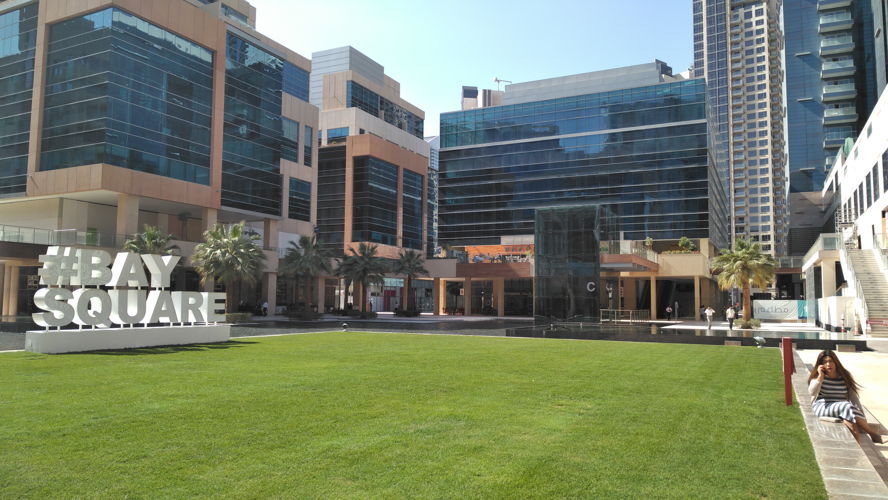 utesBelow is a list of all the main amenities in the area or close by
Schools and nurseries
Jumeirah College (GEMS), Safa (English curriculum, middle and high school - 9 mins)
The English College Dubai, Safa (English curriculum, high school - 10 mins)
International Concept for Education, Meydan (French & IB curriculum, elementary and high school - 11 mins)
GEMS International, Al Khail Road (International Baccalaureate, primary and middle schools - 13 mins)
Hartland International School, Mohammed Bin Rashid City (English curriculum, elementary and high school - 13 mins)
Lycee Francai International de Dubai, Oud Metha (French curriculum, elementary and high school - 14 mins)
Deutsche International School Dubai, Al Quoz (German curriculum, elementary and high school - 20 mins)
Hospitals
Medcare Hospital, Safa (8 mins)
Latifa Hospital, Oud Metha Road (11 mins)
Emirates Hospital, Jumeirah Beach Road (13 mins)
American Hospital, Oud Metha (14 mins)
Rashid Hospital, Bur Dubai (15 mins)
Iranian Hospital, Al Wasl Road (17 mins)
Restaurants
Pantry Café, Bay Square - gourmet café and delicatessen with food ranging from tapas, starters, gourmet burgers, steaks & grills to sandwiches and pizzas
Brothaus Bakery, Steigenberger Hotel, Al Abraj Street - German bakery
Signor Pomidor, The Metropolis Tower - healthy and organic cuisine
Craft café, Design District - coffee and sandwiches
Zahr El Rouman, Millenium Tower - fusion Lebanese cuisine
Mama'esh, Bayswater - Arabian, Middle Eastern, street food
Falafel Farm, Churchill Tower - vegetarian
Café Vienna, Aspect Tower - modern cuisine
Zen Restaurant, The Metropolis Tower - Asian fusion
La Taqueria DXB, Opal Tower - Mexican

Shopping
Bay Avenue, The Executive Towers
Souk Al Bahar, Downtown Dubai
The Dubai Mall, Downtown Dubai
Boxpark, Al Wasl
City Walk, Safa
Mercato Shopping Mall, Jumeirah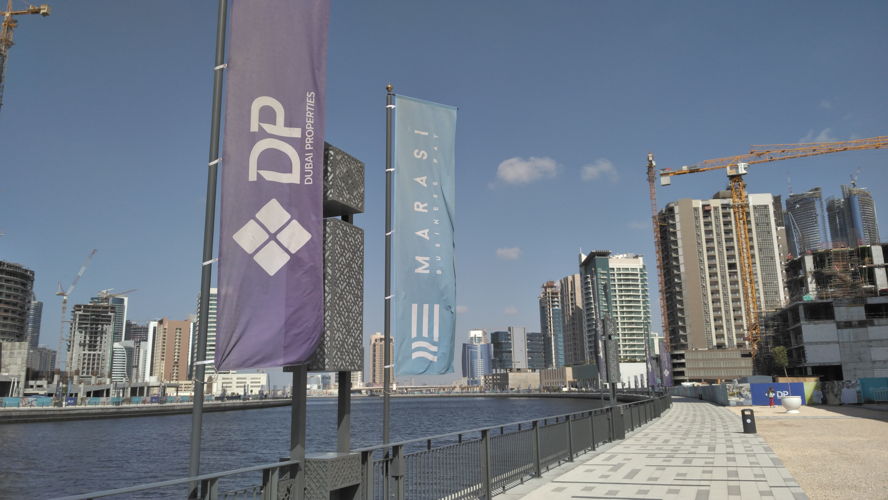 Things to do
The Farmers' Market on The Terrace: open six months of the year, the farmers' market offers locally produced and organic vegetables, fruit, herbs, eggs, honey, rice and more, most of which are fresh from the day. Launched back in 2008, the market supports locals farmers who sell fresh products directly to their consumers. The market takes place every Friday between 8am and 1pm from December to May.
The Dubai Canal: the canal opened towards the end of 2016 and now is home to Dubai Water Taxis which allow you to navigate from the far end of Business Bay all the way down to Jumeirah. The promenades are already accessible to the public and you can walk or run along the canal however shops and restaurants are yet to be open. But within the next couple of years, retail and dining options will start to pop up and the area will be as vibrant as Dubai Marina is.
The St Regis Hotel: the new addition to the top end of Starwoods' portfolio is the height of luxury. The 5 star hotel is a direct architectural link with the first St Regis that opened in New York back in 1904. With an option of 8 bars and restaurants, six spa rooms, a butler service that only The Burj Al Arab surpasses and a fleet of Bentleys to drive you around town, these are all the ingredients of a unique staycation.
Public Transport & Roads
Business Bay has its own metro station (Red Line). The Dubai Metro will get you to:
DIFC in 5 mins
Mall Of The Emirates in 11mins
Dubai Internet City in 15 mins
Dubai Marina in 20 mins
Dubai International Airport in 25 mins
Despite having a metro station, going around Business Bay may prove to be difficult as although the area community is serviced with RTA bus lines, the waiting time between each bus can go up to 30min. Therefore once arrived at Business Bay Metro Station, a cab might be required to go further in especially during the summer months.
If you own or lease a car, you can enter Business Bay from Sheikh Zayed on the West side and Al Khail Road on the East side. Despite being still emerging, the road infrastructure is complete and all buildings are accessible. However, there are still a lot of sidewalks to be done which makes it challenging for pedestrians to walk around.