The Alef Residences - Situated on the most prestigious address on the Palm Jumeirah
The First truly Integrated Luxury Lifestyle Project - Overview
Everything should have a place, a reason for being, something it stands for. Built from the first letter of the Arabic alphabet, The Alef, meaning 'first and foremost' signifies a point of infinite possibility, and the start of our story.
Born out of a desire to redefine luxury, we represent a physical space premium to its core, and a quality of living beyond all else. As a leader, our love for breaking new ground means The Alef Residences brand is truly the first of its kind – through design, space, location, and genuine lifestyle experiences.
Dubai, a city made to leave you breathless. Its ever changing towering cityscape is home to multiple cultures and many wonders, from luxury shopping to an endless list of mouthwatering cuisines and bustling nightlife. It is a city and emirate that strives for better, to reach beyond being first. We felt instantly at home.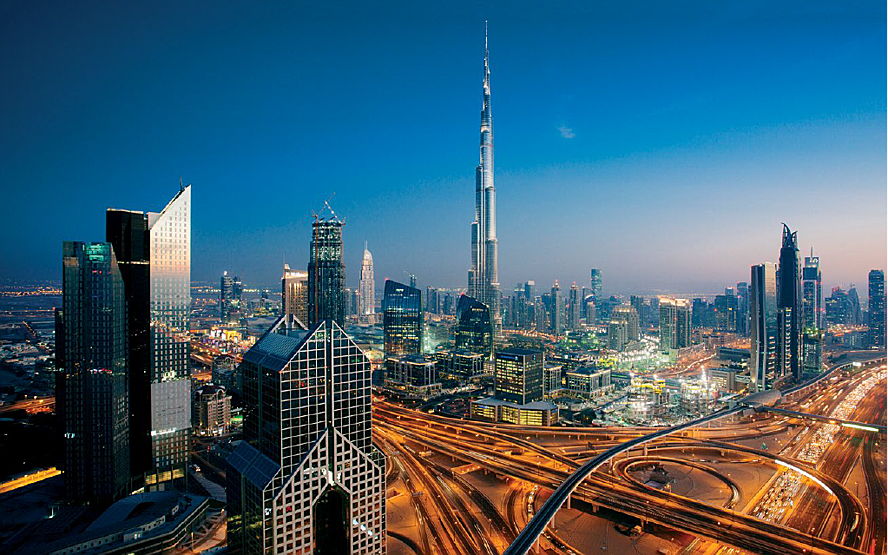 First and Foremost - The Residences:
Welcome to a development of firsts, designed and crafted to give you a living environment that is unparalleled in Dubai, a combination of the extraordinary in every form, from views, building materials to space and services, The Alef Residences stand for something special.
The Alef Residences on Palm Jumeirah, is the first chapter in a story of passion for better that will be told across the Middle East and beyond. Just like the standard of original and authentic luxury living the name represents, boundaries are always being pushed.
Inspired by the environment and cultures in which it was born, Arabic lifestyle, beauty and elegance woven throughout The Alef Residences, creating the perfect balance between space and intimacy, indoor and outdoor, privacy and social, light and dark. The Alef Residences comprises 104 homes located in eight Mansions each featuring their own dedicated lobbies and private lifts.
Surrounded by the Gulf, The Alef Residences is situated on the West Crescent of Palm Jumeirah, covering 46840 sq m, all serviced by W – The Palm. Everything is within reach, shopping, dining, even access routes as far as the airport are effortless.
The ephemeral wadi landscape and historic Bastakiya district of Dubai have inspired the design. Its natural forms, narrow streets and buildings with a defensive outer structure and rich inner core are translated in the development.
The design is both modern and timeless with a very sculptural façade. The building proportionally steps inwards to create extensive generous terraces and unobstructed breathtaking views. Privacy is a unique feature within
The Alef Residences and each home optimizes views, light, flow and space for conscious living.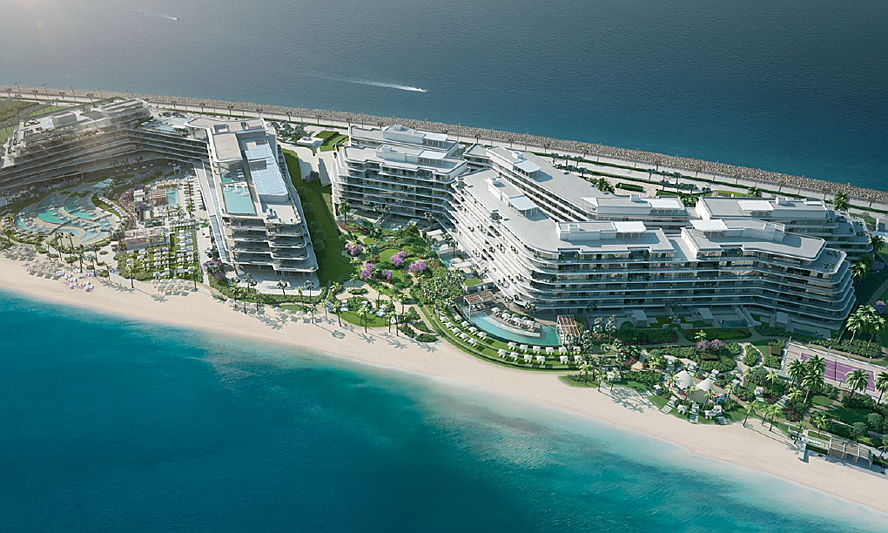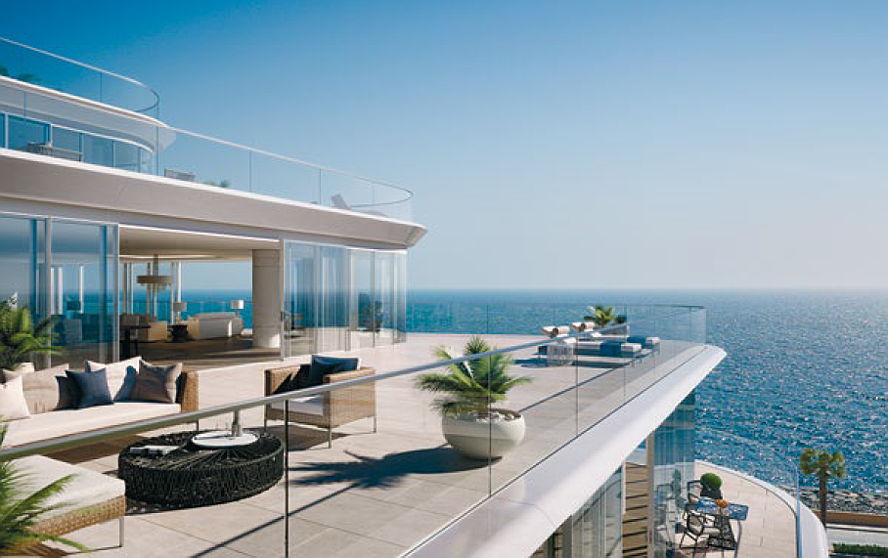 Exquisite Properties – Types and Sizes:
The Alef Residences is designed around you, with flexibility and variety at its heart. Up to 1399 sq m (15064 sq ft) of indoor and outdoor space is adapted to suit your lifestyle and made for every culture, offering property types and sizes combined with a unique selection of facilities, from entertainment to leisure.
The Eight Mansions, One Home
The Alef Residences comprises 104 homes located in eight Mansions, each featuring their own dedicated lobbies and private lifts. Reside in one of the Mansion's unique living spaces, a penthouse with up to three levels, or own an entire Mansion, all serviced by W – The Palm.
The Alef Residences is home to unique views, inside and out. The ever-changing light across the Gulf and views of the towering skyline of Dubai are complemented by the beauty of interior space. With 104 unique floor plans, this means no two living spaces are the same. 43 homes feature views over the Gulf, 47 have views of the Dubai skyline and 14 homes have both.
The Alef Residences offer unique and expansive open living spaces, crafted with intricate detail in every area of the home. Nothing has been left wanting, the five-star appliances in the gourmet kitchen, the fireplace in the living area, the walk-in wardrobe in the master bedroom and for intimate social occasions – a private garden or balcony.
Experience an unparalleled level of space with indoor living areas up to 150 sq m for casual living and socializing, combined with balconies up to 300 sq m and gardens covering an impressive 756 sq m.
Every home features a gourmet kitchen, designed to be either open, double up as a bar, or be totally closed off and separate from the rest of the living space. All are fitted with Poggenpohl furnishings and state-of-the-art Miele appliances with a service kitchen at the back of the property for entertaining and daily use.
Entertain and dine in complete luxury with indoor dining areas ranging from 30–109 sq m, complemented by a vast outdoor garden or balcony dining.
Tailored space is also a given in the master bedroom where the area can range from 70–180 sq m, featuring his and her walk-in wardrobes and en-suite bathrooms all with a double rain shower and bathtub.
Every detail in the creation of The Alef Residences has been considered and refined. Only the best of the best materials have been selected – 104 materials that include the finest oak flooring, walnut panels, luxurious Crema Venato marble, genuine Empress Stone and many more have been used to craft environments that are nothing short of stunning, day in, day out.
Owners can work with our professional design team to customize their apartment interiors according to their own individual sense of style. Our interior design studio work with suppliers and designers to assist you in achieving the finishing touches you've been dreaming of, tailoring the space for family living areas, home cinemas, libraries and extra bedrooms. There is also the option to purchase the top two floors as shell and core, providing the ultimate blank canvas, limited only by façade and ceiling height.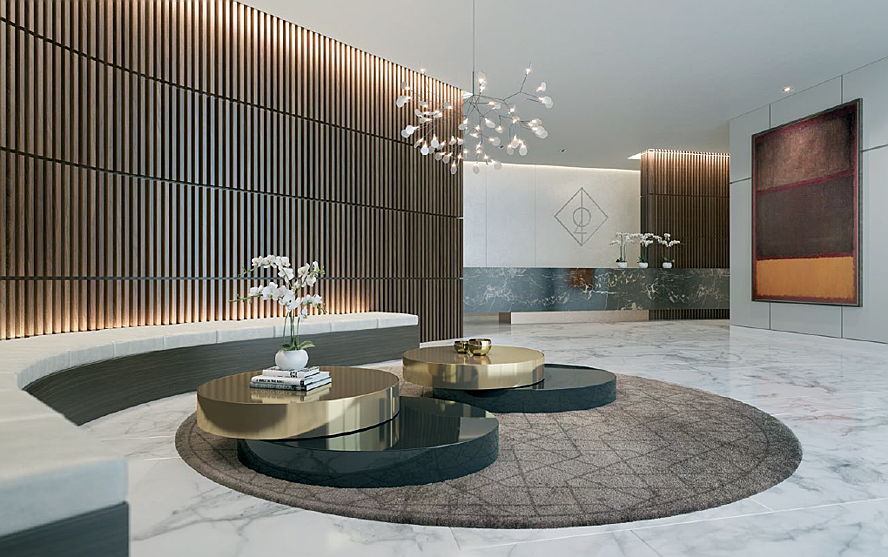 Services:
Woven into The Alef Residences lifestyle is a seamless, five-star level of service providing whatever, whenever. A taste of these include:
24 Hour Security Service
24 Hour Residential Concierge
Courtesy Limousine Service
Entertainment
In-Residences Catering
Personal Driver Service
Seamless Maintenance Service
Security for Events & Parties
Shopping
W – The Palm Beach 252 m
W – The Palm Restaurants & Facilities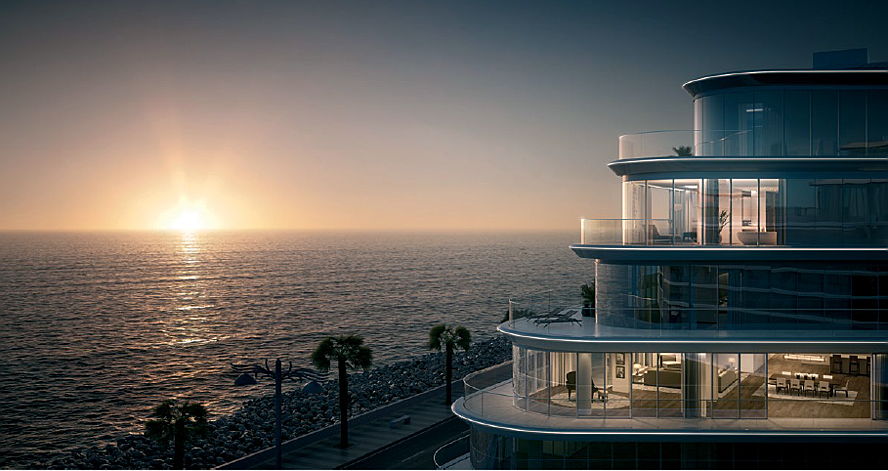 W – The Palm will set a new benchmark for five-star, ultra-luxury resorts in the UAE. Residents at The Alef Residences will gain VIP access to the hotel's many leisure facilities and fine-dining restaurants, which include six world-class F&B outlets, a poolside restaurant and bar, shisha lounge and day/night club. A stunning rooftop, which capitalizes on the location's incredible 360-degree vista, is set to become Dubai's hottest late-night destination.
CLUB 104 is a private members club designed for every kind of you, where you can relax, dine and entertain on any level with three floors of facilities at your service.
INDOOR
Bar – Lounge
Cinema (16 person)
Delicatessen
Family Restaurant (74 person)
Gym / Fitness / Yoga Room
His / Her Lounge
Juice Bar
Kid's Indoor Play Room
Personal Shopper Service
Spa
OUTDOOR
Kid's Outdoor Play Area
Picnic and Barbecue
Pool
Running Tracks
Shuttle Boat to Dubai Marina & Your Yacht
Sports Hut
Sunrises and sunsets have been reserved just for residents, with 223 meters of private beach and 252 meters of W – The Palm beach where you can take your pick of activities, from water sports to relaxing on cabanas. At The Alef Residences, the outdoors is just an extension of your private indoor living space.