Properties in Seefeld in Tirol: Living in the Olympic region
Are you interested in the state of Tyrol and its real estate? Seefeld in Tirol isn't just one of the longest standing tourist destinations, but also one of the leading winter sports locations in Austria. This 3500-strong village has a variety of attractive properties, which are ideal both for one's own use and as an investment. Whether you're looking for a classic family house, a sophisticated penthouse or a Tyrolean chalet: Seefeld in Tirol offers enormous diversity with regard to real estate, so the local market has something suitable for every target group.
Engel & Völkers' real estate agents will be glad to support you on your search for properties in Seefeld in Tirol and the surrounding area.

It doesn't matter whether you are looking for a property in Leutasch, or in Mösern, Reith or Scharnitz. Let us know what you are looking for and we will find the right property for you.

Living in the Olympic region: Properties in Seefeld in Tirol
Right in the middle of the magnificent spectacle of nature known as the Karwendel mountains, ten kilometres from the German border and 17 kilometres from the state capital of Innsbruck lies the legendary winter sports region of Seefeld. This Alpine village is famous worldwide for having hosted the winter Olympics in 1964, 1976 and 2012, as well as the Nordic World Ski Championships in 2019. Due to its excellent connections and infrastructure, large sporting events frequently take place in Seefeld. In the village centre, the local community's central meeting point can be found withing the romantic pedestrian zone. More than 80 boutiques and shops, a casino, restaurants and cafés are located there, too.
Properties in Seefeld in Tirol benefit from excellent transport connections. Due to its top location right by the Karwendel Railway, Innsbruck and Munich can be reached quickly and directly by rail. Innsbruck Airport is also located approximately 20 kilometres away. As a traditional winter sports region, Seefeld offers its residents and visitors extensive ski runs of all levels of difficulty with the most modern lift systems in Austria, as well as opportunities to go cross-country skiing. In 2019, the Nordic World Ski Championships took place here. This contributed to positive developments in infrastructure, including the construction of a new train station. There are numerous further opportunities to take part in summer and winter sports activities in the neighbouring municipalities. The most visited places in Tyrol in the summer months, such as the impressive ice cave on the Stubai glacier, the magnificent Achen Lake or the traditional state capital with numerous cultural activities, are within easy reach of Seefeld.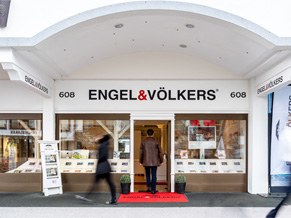 Engel & Völkers Seefeld
Klosterstraße 608
6100 Seefeld in Tirol
Österreich
The property market in Seefeld in Tirol and the surrounding area
Those who have decided to buy a house or flat in Innsbruck and its surrounding area might find what they are looking for amongst the diverse range of properties in Seefeld in Tirol. This charming Alpine village situated at an altitude of 1200 metres is in demand as both a principal residence and adopted home. In addition, the neighbouring municipalities Leutschach, Scharnity, Reith bei Seefeld and Mösern are located on the picturesque Seefeld Plateau. The 2400-strong village of Leutschach is a hot tip on the Tyrolean property market. Although it is situated just a ten-minute drive away from Seefeld, Leutschach boasts similarly good infrastructure, yet the purchase and rental prices are more moderate by far
In the past few years, Seefeld in Tirol has developed into an up-and-coming location with regard to properties in the Alpine region. For this reason, various new construction projects for residential properties have been initiated and completed.
Chalets, countryside villas, garden flats and apartments rank amongst the most sought-after properties in Seefeld in Tirol and the Olympic region. It is also important to note that Innsbruck-Land currently has several interesting investment opportunities in connection with new-build projects.
Properties in Seefeld in Tirol: Rental and purchase prices
When buying and renting properties in Seefeld in Tirol, it is important to consider that within Austria, Tyrol has always found itself in the upper price segment concerning properties. This is primarily due to the excellent economic situation in this area. As a result of the numerous employment opportunities in Tyrol, there has been an immense influx of employees both from Austria and abroad in the past decades. Accordingly, this has led to high demand for properties in Seefeld in Tirol as well as the neighbouring regions. Prices can vary significantly between municipalities. However, a current trend can be observed that Innsbruck-Land will become even more attractive for residents and investors, which has positive implications for property prices.
In the middle of 2020, the average price per square metre for a property in Seefeld in Tirol was €6,029.50. For a house with a surface area of 200 square metres, the purchase price was €4,346.72 per square metre on average. Flats in Seefeld in Tirol tend to have higher prices per square metre than houses. Depending on the size of the flat, the prices are between €5,880.51 and €6,020.25 per square metre on average. Rental prices for properties in Seefeld in Tirol range between €11 and €14 per square metre, which is far above the Tyrolean average. For larger flats with a surface area of more than 100 square metres, the price level for an average month's rent per square metre is somewhat less.
In comparison, the prices in the neighbouring state capital of Innsbruck are considerably higher. While average square metre prices can be expected between €6,700 and €9,400 when buying a new-build property in a good location, the average rental price is significantly higher than in Seefeld at €15.58 per square metre. As such, it doesn't seem surprising that Seefeld in Tirol is a real alternative to Innsbruck as a property location for many.
Here you will find a selection of properties in the Seefeld in Tirol region
Engel & Völkers: Your real estate partner in Seefeld in Tirol
Whether it's about properties in Seefeld in Tirol, a penthouse in Tyrol or other matters connected to buying or selling residential properties: as a long-standing experienced agency for first-class properties, Engel & Völkers is your reliable partner in the Alpine region. In our shop in Seefeld or in one of the other four shops in Tyrol, we support you in purchasing or selling your residential property. We are looking forward to providing you with comprehensive advice. Please feel free to contact us by telephone or e-mail!
Our competent team members in the Alpine regions of Tyrol and Salzburg are also available to answer your questions on the following topics:

● Selling properties in Tyrol
● Buying a house in Tyrol
● Buying a house in Kitzbühel
● Property prices in Kitzbühel
More exciting topics from the Alpine region of Tyrol & Salzburger Land
Contact us now
Engel & Völkers
Licence Partner Alpine Region Tyrol & Salzburger Land
Vorderstadt 11

Österreich