Constructions at 't Zand square in Bruges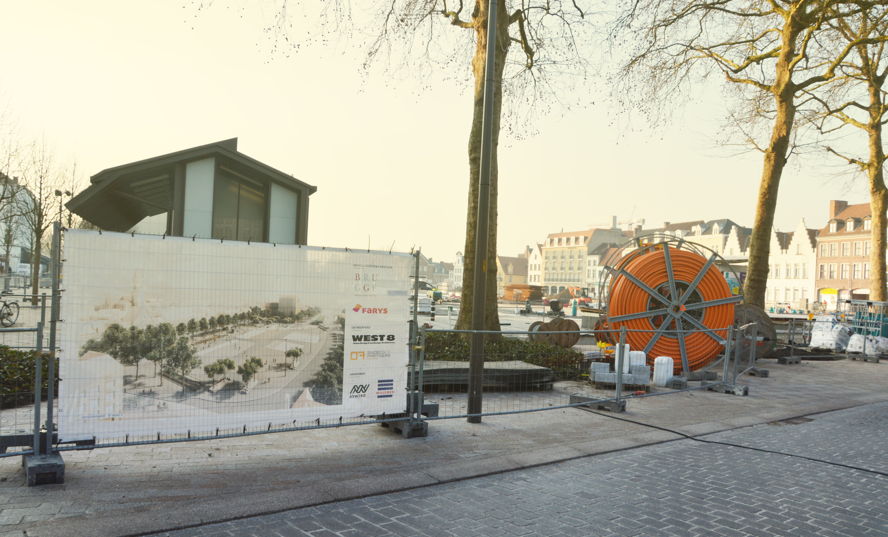 In Bruges the historical square 't Zand is being renewed. Because our office is just a few steps away from the square, we can allready see the positive progress on the building-site. Recently the final design was shown to the public and is projected to be finished at the end of 2018.

History of 't Zand

The historical square was a big empty 24.000 m² space with a sandy surface, which the name 't Zand is originated from. (zand~sand)
Back in the 13th Century it was a place for executions and the city executioner his residence was located on the square. It remained an important part of the town as in later centuries besides executions, cattle- and horse markets found place. That's why the northern part of the square called "de vrijdagmarkt" ~the friday market. In the 19th century the city began to expand his railwaysstystem and the first trainstation was build on 't Zand.
After another realway expansion in the post-war period a new station was build just outside of the city central and the old one got demolished and made place for again a nice square with trees and a beautiful fountain. It now is used as a public square available for events and weekly markets with an undeground parking covering the whole surface.

The new public square

The new square surface excists out of a robust, brushed concrete slab divided by a bronze grid.
This grid is based on the current organisation from the market. At the splitt points, the place is forseen from electricity, water points, anchorpoints, flagg-poles, light housings and sinks. Flag-poles delimited the southside of the square, traffic lights on the west-side, the east-side has a row with beautiful benches. The new unity in combination with the replacement of the fountain, creates a efficient organisation of the market, the yearly fair and a lot of other events without adjusting the traffic.
The fountain

Originaly the fountain was centraly located at the square but following the new design it's been relocated. The city board has decided to gave it a new place, next to the concert building at the Koning Albert Plein, the park between the station and 't Zand. Because of the relocation close to the original spot, the fountain stays in it's trusted environment.

The city councel did not hesitate to plant some extra trees so 110 lime trees.
It will be a beautiful gateway to the city centrum !

Bronnen: stad Brugge