Real Estate in Nyon
Nyon: A few Facts and Figures
Nyon is a municipality in the canton of Vaud, 25 km from Geneva, bordered by Lake Geneva, and forms part of the Vaud Coast. Nyon has 19,632 inhabitants and its area is approximately 6.79 km².
Nyon: History and Heritage
Founded by the Romans in the time of Julius Caesar between 44 and 46 BC. Its original name was Colonia Iulia Equestris. The Roman colony conquered the tribes of the Lake Geneva Jura and the Gex in Aubonne. You can learn more about this fascinating Roman heritage at the Roman Museum in Nyon, on the site of the ancient Basilica of the forum, which exhibits the discoveries of Roman archaeological excavations. The place is classified as of "bien culturel suisse d'importance nationale" or a site of special cultural and national importance. The castle of Nyon is now a historical museum of porcelain.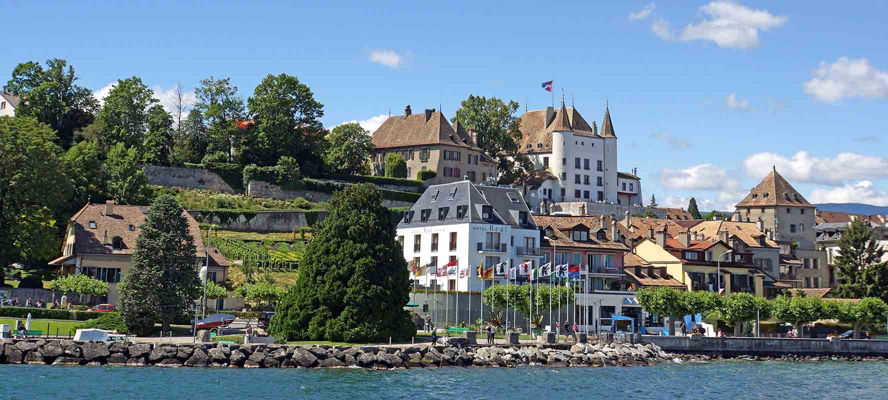 Settling in Nyon
Nyon is an attractive city because of its proximity to Lausanne and the cosmopolitan city of Geneva. The town is also extremely well-connected with excellent transport links; train stations, a motorway and the nearby international airport. Living in Nyon is synonymous with luxury, but also the simple life - it has a countryside feel, in a natural green setting, whilst being conveniently close to urban amenities.
Nyon: An Investment
Moreover, customer interest in the town continues to grow. Is this because of its lower prices per square metre? Or for its rare and attractive assets? Indeed, in early 2012, prices on the Côte stabilised, ranging from € 8,000 to € 10,000 per square metre. Young professionals and families are increasingly choosing to invest in Nyon apartments, houses and villas.
Nyon: Sports
Nyon is also sporty town - if you are into basketball, football, handball, ice hockey, water polo, rugby or rowing, you will be well catered for! The headquarters of UEFA and ECA associations are also located in the town, further consolidating the town's affinity with sports.
Nyon: A City of European Culture
In July, the Paleo festival welcomes 230,000 festival-goers who come from all over Europe to attend more than 200 music concerts and outdoor performances held over six days. One can also attend the international documentary film festival "Visions du réel", and the "Festival of Performing Arts."
If you have a real estate project and are interested in the purchase or sale of a home or a luxury apartment in Nyon, please contact us.
The Engel & Völkers Team Nyon

Tel. +41 (0)22 343 12 12