What types of real estate can foreign nationals acquire without problems?
There are some important exceptions and options which allow foreign nationals who are resident abroad to acquire properties or building land in Switzerland despite Lex Koller legislation.


1st exception: Real estate which is used for commercial purposes and business establishments

No authorisation is required if the real estate is used for the following purposes:

Permanent business establishment for a commercial or manufacturing enterprise​
Enterprises which are operated commercially
Such purchases are only problematic where the property is used for both commercial and residential purposes. Apartments which are part of a commercial property may only be acquired without prior authorisation in exceptional cases. This is, for example, the case if they are necessary for business or it would be unreasonable to separate them from the business area.
In addition to this, mixed use properties which include living accommodation amounting to at most 50 percent of the property may be acquired if the property is located in a zone which is subject to minimum residential quotas. The number of apartments may, however, not exceed the required minimum residential quota.
2nd exception: Non-Swiss nationals who are resident and pay tax in Switzerland
Under the terms of the Lex Koller the following persons are considered to be resident in Switzerland:
EU/EFTA nationals who are legally and actually resident in Switzerland and hold
type B residence permits

Nationals of other countries who hold valid type C permits
Both of these groups therefore have the same status as Swiss nationals with regard to the acquisition of real estate and require no authorisation to purchase any kind of property. This also applies, for example, to apartment buildings or second homes.
Nationals of other countries (non-EU/EFTA nationals) who do not hold a type C residence permit but are resident in Switzerland may purchase an apartment or a house in their actual place of residence. These purchasers must, however, live in the property and cannot rent it out, even in part. Where purchases of apartments or houses are deemed valid, purchasers are not required to sell the property if they subsequently leave the country or move to another location in Switzerland.
In all cases it is key that the buyer not only has the required residence permit and tax domicile but is also actually resident in Switzerland. When demanding proof of residence the authorities may request evidence regarding the place of residence of a spouse/partner and minor children; a social life based in Switzerland (clubs, etc.); registration of any vehicles in Switzerland; etc.
3rd exception: Swiss real estate companies and investment funds
The acquisition of shares in a real estate company which is listed on a Swiss stock exchange is not subject to Lex Koller legislation.
Non-Swiss nationals are not permitted to acquire shares in real estate companies which are not listed on a Swiss stock exchange and whose purpose is to acquire or hold residential real estate or other real estate which is not used for business purposes.
The percentage of real estate held by the company which requires authorisation is a key factor in this regard. Since there is no specific threshold value, authorisation is required for residential real estate percentages ranging from 10 to 20 percent.
4th exception: Holiday apartments in individual cantons
In some cantons the purchase of holiday apartments is exempt from the authorisation requirement (Lex Koller-exempt). These cantons are Appenzell Ausserrhoden, Bern, Freiburg, Glarus, Grisons, Jura, Lucerne, Neuchâtel, Nidwalden, Obwalden, St. Gallen, Schaffhausen, Schwyz, Ticino, Uri, Vaud and Valais.
There are, however, threshold values for area sizes: The plot must be less than 1,000 square metres and the net living area less than 200 square metres in size. Living area is defined as all habitable and heated rooms including saunas, swimming pools and hobby rooms but not balconies, stairwells, cellars and attics.
The acquisition of holiday apartments by non-Swiss nationals is subject to a quota which applies for the whole of Switzerland. Only 1,500 holiday apartments a year may be sold to foreign nationals who are not resident in Switzerland, whereby the number of apartments available in each canton varies significantly.
Valais, for example, has a quota of 330 apartments per year, while the quota for Appenzell Ausserrhoden, Uri, Nidwalden, Obwalden, Glarus, Jura and Schaffhausen is only 20 each. Any purchase of a holiday apartment must thus fall within the relevant quota. In recent years most cantons have had sufficient capacities within the scope of their quotas.
Summary Tables
Foreigners purchasing real estate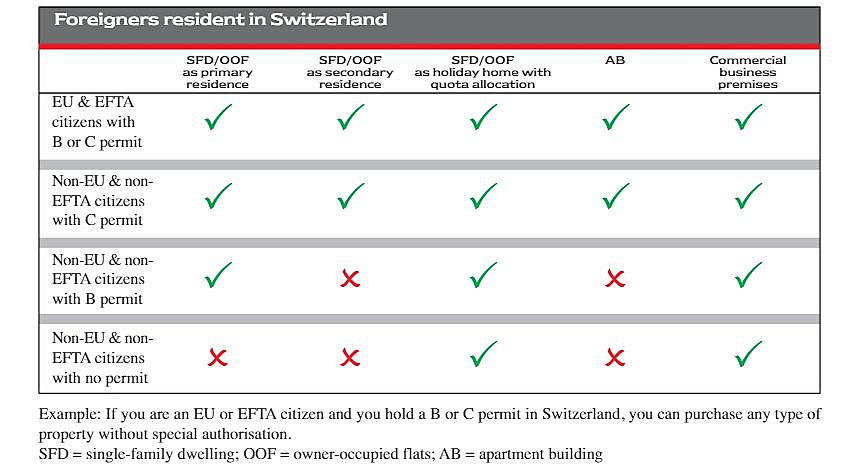 All chapters of the guide at a glance
Contact us now
Engel & Völkers
Licence Partner Switzerland
Poststrasse 26

Switzerland
Our opening hours
Mon - Fri 9 am to 6 pm