Ready to Sell! Residential – Basic seminar
Engel & Völkers offers you the perfect platform for your self-employment. Exclusivity, passion and competence are important factors on our common path. To be competent means, on the one hand, to have the right knowledge at the right time, and on the other hand to confidently implement or apply this knowledge depending on the situation. That is why we distinguish between KNOWING and DOING in your personal development. The Ready to Sell! face-to-face training focuses on DOING.
In practical training units, you will practise your implementation tasks in the sales process and will learn from direct dialogues with colleagues and trainers. Before and after the on-site workshop, you can complete individual webinar units. Here you will be introduced to the proprietary Engel & Völkers real estate agent software.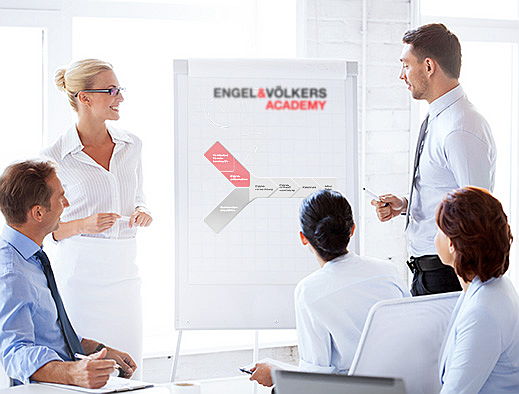 Content
The company and the Engel & Völkers brand
The sales process with the Engel & Völkers success factors
Acquisition: Create initial client contact and build up relationship
Successful property presentation
Argue benefits and rebut objections
Define personal objectives and strategies to conquer the market
Services
Multi-day on-site training
Webinar units before and after the training
Personal Engel & Völkers potential analysis
Proprietary handbook: the ideal self-coaching tool in everyday business and for support as a management tool
Contact us now
Vancouverstraße 2a

Germany

Fax:

+49(0)40 36 13 11 13