WINS30 | free condominiums in Berlin Prenzlauer Berg
THE MOST BEAUTIFUL FORM OF LIVING
The 5-storey Wilhelminian corner building with a total of 3 commercial and 30 residential units was built around the turn of the century and inspires with its numerous classic old building features. The façade, staircases, inner courtyard and all other communal areas have recently been extensively and carefully renovated to a high standard of detail and quality. Existing stucco as well as the stylish stair railing were restored true to the original; supply and disposal pipes were renovated and a modern heating system was installed.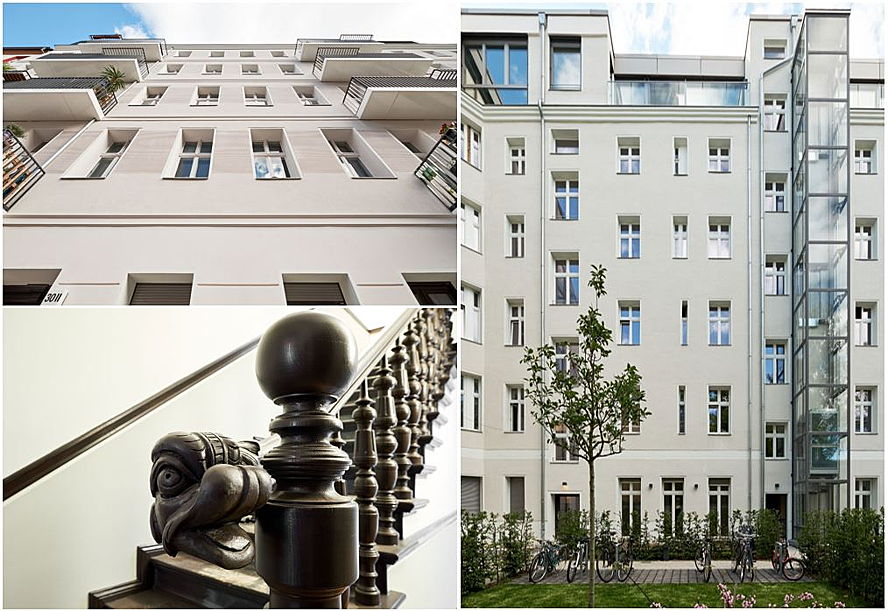 THE HIGHLIGHTS AT A GLANCE
+ Ready for occupancy condominiums in best neighbourhood location
+ Detailed renovated Wilhelminian style-ensemble with landscaped inner courtyard
+ Complete core & pipe renovation of the common property
+ Bicycle parking spaces in courtyard
+ High-quality renovated apartments in old building with new bathrooms & balconies on 5 floors
+ Terraces with garden area on the ground floor
+ Renovated garden remise
+ Light-flooded new building penthouses with luxurious furnishings,
+ Roof-top-terraces and modern glass elevators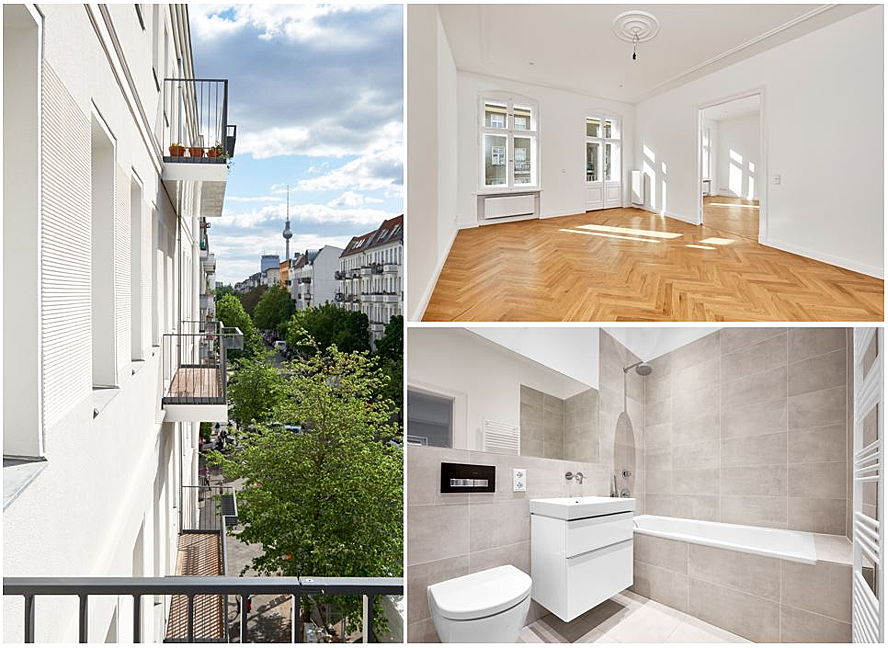 RENOVATED OLD BUILDING APARTMENTS
All free apartments in the building are shining in new splendour. The living rooms are furnished with high-quality herringbone oak parquet, the renovated bathrooms with spacious walk-in showers and bathtubs. Carefully reworked stucco elements and restored wooden windows with insulating glazing tastefully round off the overall picture of these exquisite old apartments.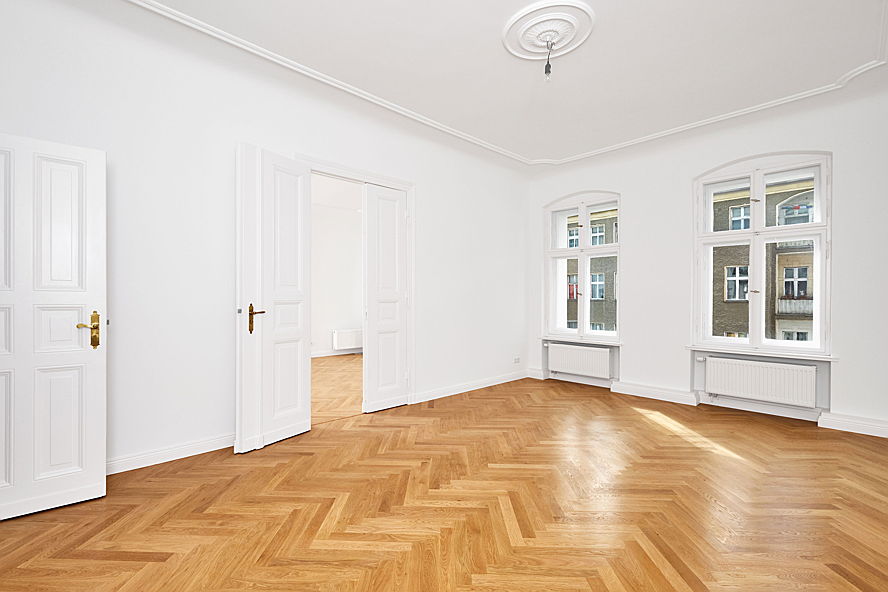 THE HIGHLIGHTS AT A GLANCE


+ 1 to 4 room apartments
+ Apartment sizes from approx. 41 to 157 m²
+ High-quality new bathrooms
+ Loving preservation and renewal of the old building style elements
+ Reconditioning of original double box windows or new wooden windows
+ Reconditioned plank floors or stylish oak parquet flooring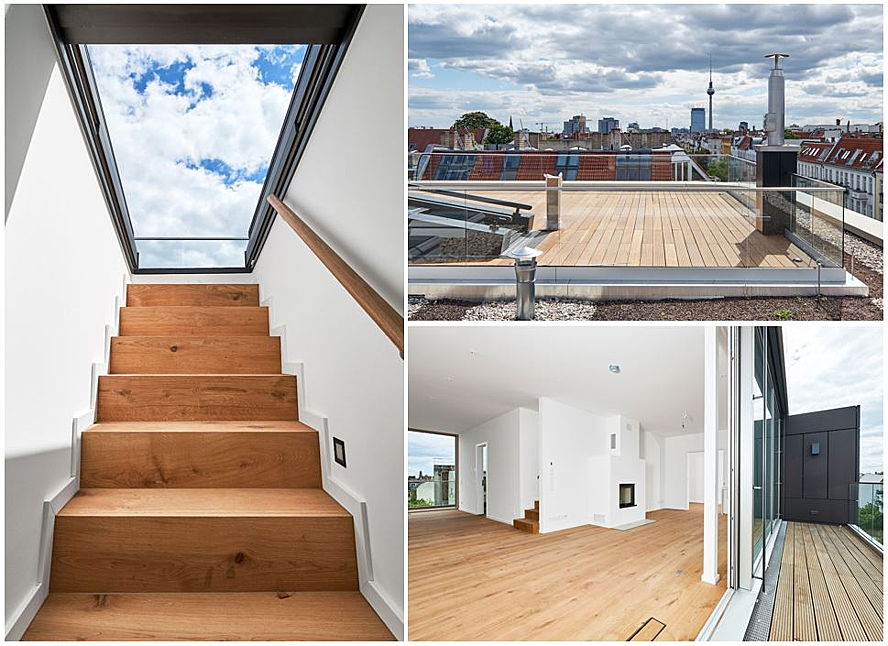 LIGHT-FLOODED PENTHOUSES
In the course of renovation, the top floor was removed and rebuilt with a clear room height of approx. 2.90 m. The 4 light-flooded penthouses that were created captivate with their most striking feature - the respective roof-top terrace with spectacular panoramic views of Berlin. With large living spaces, high-quality country house floorboards, floor-to-ceiling panoramic sliding doors, built-in fireplaces and an individual bathroom design, these luxury attic apartments present themselves impressively stylish and elegant.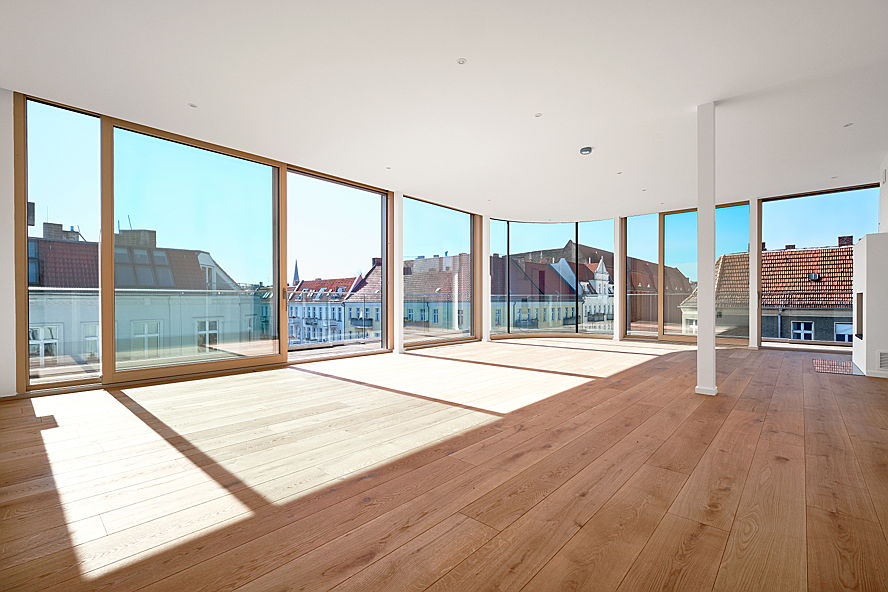 THE HIGHLIGHTS AT A GLANCE


+ 3 to 5 room penthouses
+ Apartment sizes from approx. 109 to 224 m²
+ Floor depth panorama window
+ Large format country house floorboards & underfloor heating
+ Sun protection glazing & venetian blinds
+ En-Suite bathrooms with bathtub & walk-in shower
+ Open fireplaces & dressing room
+ Connectors for Smart Home System
+ Pre-installed air condition
+ Video intercom system
+ East & West Terraces
+ Roof-terraces with spectacular views
+ Water and electricity connection on roof terraces
LIVING IN BERLIN'S "WINSVIERTEL"
All Berliners know it well: The charming Winsviertel in beautiful Prenzlauer Berg, decorated with old buildings and trees. Embedded in the equally popular neighborhoods of Kollwitz- and Bötzowkiez, the streets of the Winsviertel clearly occupy the front places on the popularity scale of the capital's inhabitants.
Winsviertel is the area between Prenzlauer Allee and Greifswalder Straße. It starts in the south at Mollstraße and ends in the north at Danziger Straße. The core of the quarter is Winsstraße, which in turn bears the name of the former mayor of Berlin, Thomas Wins.
With its numerous gastronomic offerings and its diverse retail culture, Prenzlauer Berg is still one of Berlin's most sought-after residential addresses - whether before or after family planning.

The nearby green areas of the 'Leise Park', 'Ernst-Thälmann-Park' and the approx. 49 hectare 'Volksparks Friedrichshain' form the green lungs of this district. The 3 surrounding traffic axes Danziger Straße, Prenzlauer Allee and Greifswalder Straße provide an ideal connection to the public transport network. The access to the city motorway 114 is reached in approx. 10 minutes by car and allows short distances in and outside the capital.