GLINT | RESIDENTIAL ENSEMBLE IN THE HEART OF BERLIN
A historic ensemlbe shines with new splendour
Four Wilhelminian-style houses, built at the end of the 19th century. Featuring bay windows, stucco façades, and a richly decorated tower that crowns the architecture. These told a story of emergence and prestigious living. This special place is set to receive a fresh breath of life. Right in the heart of Berlin, between the Brandenburg Gate and Gendarmenmarkt, this extraordinary ensemble is taking shape — uniting both past and future. Original details have been preserved, reinterpreted, and adapted to modern needs. Bringing a historic jewel into the 21st century — GLINT.
An oasis in the middle oft he city

Light and greenery, tranquillity and security — inside GLINT lies a sheltered oasis, a retreat from the hustle and bustle of the city. The noise of the big city fades away. Stylish spots to sit and relax invite you to linger, while fascinating optics provide plenty to admire and enjoy. Hidden from prying eyes, plants trail from level to level. Art highlights the buildings' historical beauty. A piece of nature in the middle of the city that encourages you to stop, pause, and savour the moment.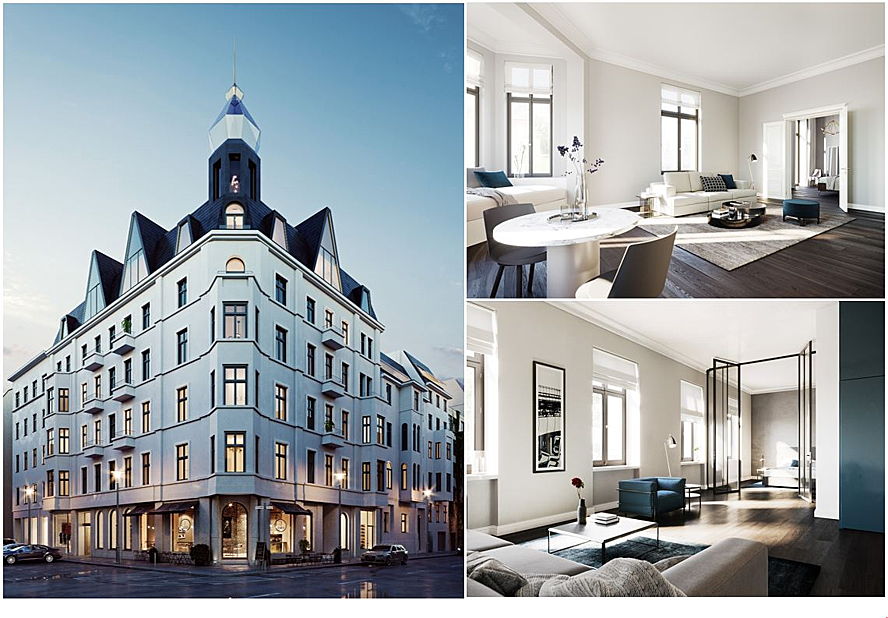 At a glance

Ensemble consisting of five houses
69 apartments for sale

Q3 2023 expected completion

1 to 5 rooms
25 to 600 square metres apartments
Studios, residences und rooftops
Balconies, terraces, and rooftop terraces
Underground parking with 15 e-mobility spaces
Bicycle parking in the basement (E-Bikes)
Careful revitalisation of period details
High-quality fittings and timeless design
Impressive, listed staircases
Sustainable architecture awarded the DGNB's preliminary gold certificate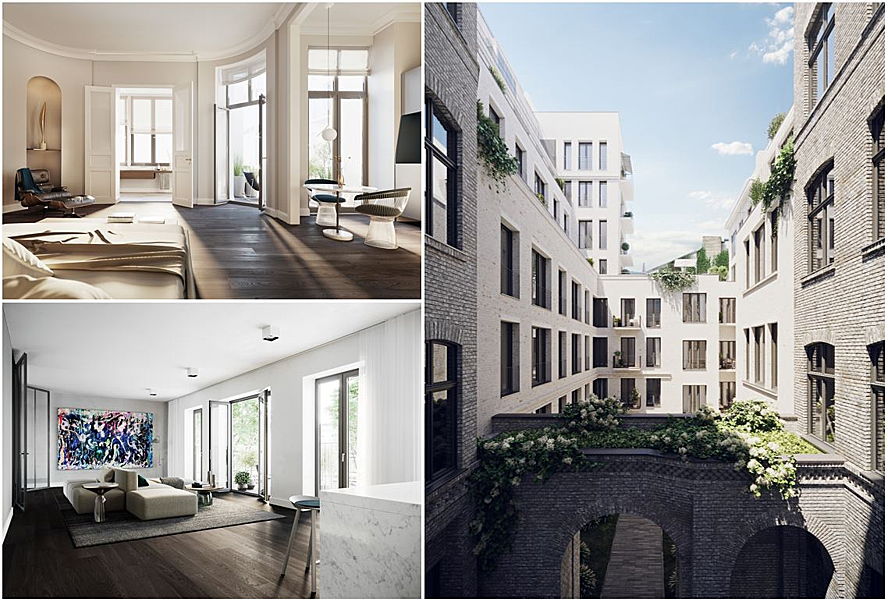 Sophisticated residences
Typical period features and flowing transitions between rooms typify the elegant way of life to be enjoyed in these residences. They have 2 to 3 rooms and living spaces of approx. 50 sqm to 100 sqm. Open kitchen and partly en-suite bathrooms complete the overall picture. Balconies to the beautiful inner courtyard and bright rooms create an oasis of relaxation.
Elegant studios
With modern comforts, this studio elevates the charm of a typical old Berlin apartment to a new standard of living. The 1-room apartments with living spaces of approx. 25 sqm to 50 sqm create a pleasant living feeling through open floor plans and impressive room heights.
Rooftops with roof terraces
The impressive spaciousness, elegance, and fittings found in the GLINT rooftops exceed every expectation. They have 2 to 5 rooms and living spaces of approx. 100 sqm to 330 sqm. The reinterpretation of the historical dormer windows gives the rooftops an extraordinary feeling of space and tremendous views. From the green roof terraces you can enjoy great views up to the Gendarmenmarkt.
Service and amenities
The communal areas in the fireplace lounge provide a space for residents to relax, while also serving as a meeting place and reception area. An exclusive concierge service is available on site or 24 hours a day via app. The artistic courtyard becomes a green city oasis and invites you to linger.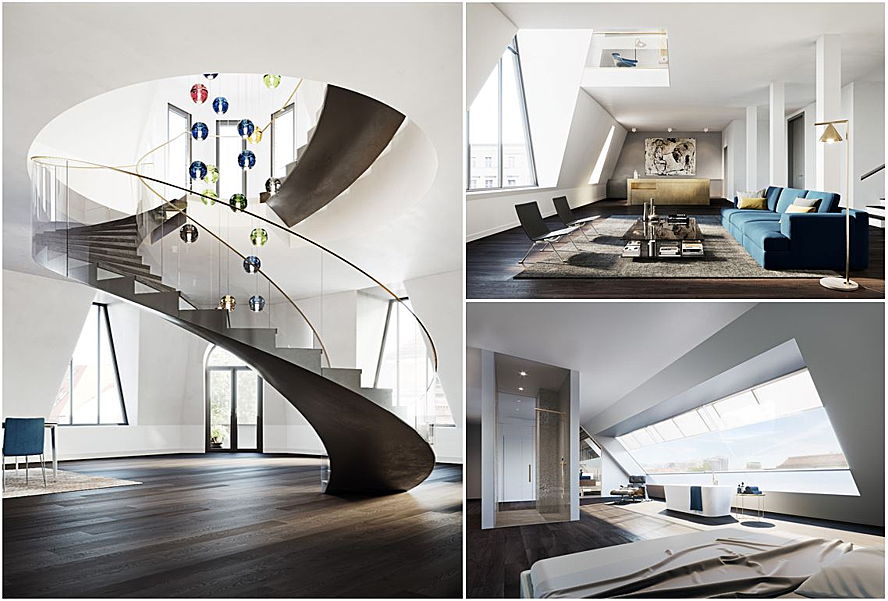 The world on your doorstep – how inspiring Berlin can be
At GLINT you can enjoy an established residential area in hostile Berlin. A residence in the government district, a block away from the lively Friedrichstrasse, with views of the picturesque Gendarmenmarkt, and just a few minutes from Potsdamer Platz and Tiergarten park. Experience the high culture in the Konzerthaus and in the Berlin opera houses, enjoy the Berlin flair at the magnificent boulevard Unter den Linden and let yourself be spoiled by the fine gastronomy at star level.