Distinctive art of living
HAUS DER ELEMENTE, built between 2000 and 2002, is an integral part of the Berlin architectural scene. Doris and Hinrich Baller created an impressive ensemble of buildings that are in touch with nature, individual and close to human living comfort. It frames an outdoor area with a watercourse that resembles a playful botanical garden and crowns the views of all the flats. Even outside the ensemble, the communal garden continues.
The living spaces receive plenty of light and depth through countless window fronts. With their curved walls and individual floor plans, they once again prove their uniqueness. Some units even still have the original "baller kitchens" and "baller bathrooms", which confidently contribute to the preservation of the unconventional style.
Vacant and rented condominiums are available in all four houses and on different floors. Take the opportunity and experience this extraordinary architectural style with us. We look forward to welcoming you to our sales office by prior appointment.
Condominiums ready for occupancy

Rented Condominiums

An oasis within an oasis
The tree-lined and peaceful quarter around HAUS DER ELEMENTE exudes a very special flair. Despite its highly desirable inner-city location, the first thing that catches the eye is the neighbouring Preußenpark, which offers pure green urban life and is famous for its weekly Thai market. It's hard to believe that Kurfürstendamm with all its shopping and entertainment options is only about a 10-minute walk away - and the way there is lined with many popular restaurants and cafés. A REWE supermarket is just around the corner - three underground lines provide excellent transport connections in all directions.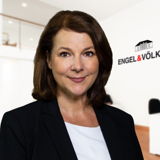 Petra Schramm
Project Consultant
Heike Wajselfisz
Project Consultant
Thank you for your request. We will contact you shortly.

Your Engel & Völkers Team
Commission clause
The brokerage contract with us comes into effect through the commissioning of the brokerage activity in text form (e.g. e-mail with confirmation of the intended use). The amount of the brokerage fee is based on the statutory regulations on the division of the brokerage fee. Accordingly, the brokerage fee is regularly earned and due for both parties (owner and buyer) in the amount of 3% plus VAT in the respective applicable amount, i.e. currently a total of 3.57% of the purchase price including VAT, upon conclusion of the notarial contract. The amount of the gross commission is subject to adjustment in the event of a change in the tax rate. Land transfer tax, notary and court costs are to be paid by the buyer.
Contact us now
Engel & Völkers
Licence Partner Projektvertrieb Berlin
Joachimsthaler Str. 1

Germany
Mon - Fri: 09.00 to 17.30