Castello di Postignano - Umbria Italy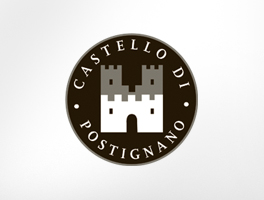 The most beautiful hideaway in Italy's green heart

Castello di Postignano is a place where history comes alive. The medieval village nestles picturesquely beside a green hill and offers a breathtaking view over idyllic valleys. The history of the village goes back to the year 1000 AD. For decades, this veritable treasure remained undiscovered until it was declared an historic, artistic site by the Ministry of Culture in 2002. Extensive restoration began in 2007 — always with the focus on preserving the unique historical atmosphere to its best advantage.
Today, Castello di Postignano combines the flair of its historical structure with all the conveniences of modern living at the highest level and in a modern style. Many small squares tempt you to linger, a restaurant and a café offer culinary highlights and beside a pool in the beautiful countryside, cultural events ensure the best entertainment.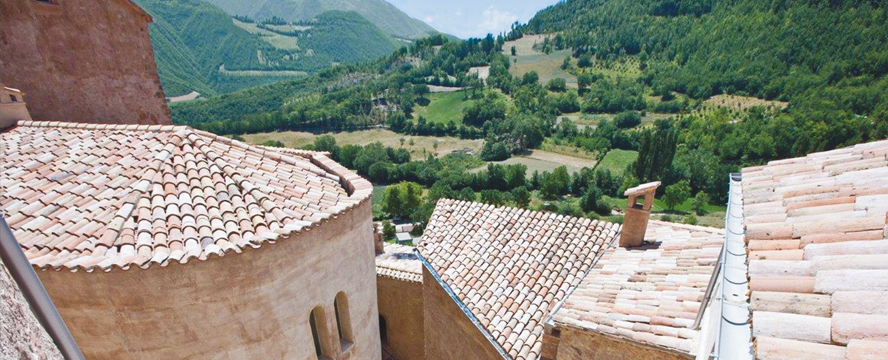 Location and surroundings
There is a hidden paradise between delightful Tuscany and Lazio with the Eternal City of Rome: Umbria is one of Italy's best kept secrets. That's hard to believe given its scenic and cultural riches which you encounter every step of the way in this region: gentle hills, lush green meadows, mighty mountains, crossed by graceful valleys and wildly romantic gorges — primeval nature which inspired the Renaissance painters and earned Umbria the epithet of "Italy's green heart". The rich history, numerous historical monuments and art treasures will quicken the pulse of any aficionado of culture. Even today, Umbria's culture remains very much alive, for example in the towns of Orvieto, Perugia and Assisi.
The resort is located not far from Rome. Rome-Fiumicino Airport can be reached from the resort in only around 1.5 hours.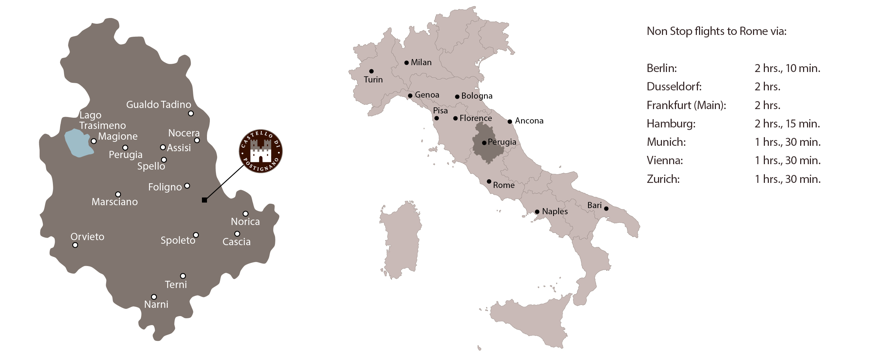 Properties on offer
Anyone who likes things a little bit special will love Castello di Postignano. Old edifices and luxurious design combine to form a unique living experience. Each of the 59 apartments is unique and as a result radiates its own individual charm. Vaulted ceilings create a pleasant feeling of space, wooden beams and solid wood fireplaces ensure an earthy atmosphere and the natural stone walls marked by events through the centuries tell their own stories.
The ingenuity of the apartments can be seen in their detail: luxury kitchens and bathrooms have been harmoniously blended with the historical structure. You can choose from different design alternatives — from rustic elegance to stylish minimalism.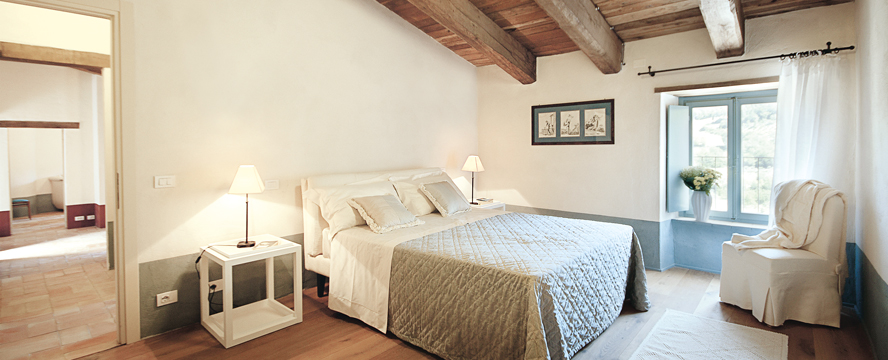 Leisure activities
For example, the resort's facilities include a restaurant with exquisite regional cuisine, a wine bar with a great atmosphere and a pool in the middle of the beautiful Umbrian countryside.Castello di Postignano is also known for regularly staging a wide variety of cultural events in the resort's fine function rooms or small squares.
The mild climate also invites you to experience the beauty of Umbria up close. For example, in the Monti Sibillini National Park whose jagged peaks rise up to 2,476 metres very close to Castello di Postignano. With its expansive plateaus, it makes an ideal hiking ground and inspires visitors with stunning views. A further popular destination for rest and relaxation is Lake Trasimene. Hemmed in by mountains, the lake offers many opportunities for bathing.Umbria has a wealth of activities for those who like to indulge in leisure sports. Paragliding, white water rafting, climbing for the adventurous, hiking or cycling for those who like to take things more easily.
And of course golfers, too, will get their money's worth here. There are two attractive 18-hole courses in the direct vicinity of the resort. And for food lovers, there is also much to discover: tasty Umbrian ham, exquisite cheese, pickled fruit and of course the famous truffles. That is Italian lifestyle in the raw.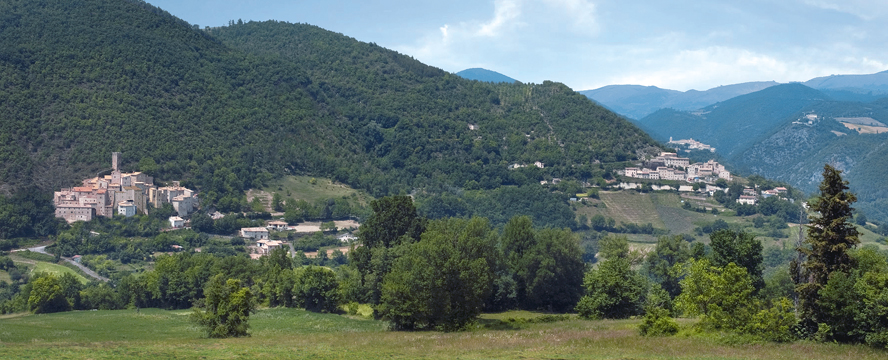 Services
Whether you need to rent a car, reserve a tennis court or book a table in a restaurant, the resort management team is at your disposal at all times. Cleaning services, any maintenance work needed or plants and gardening services can also be arranged. If you wish to let out your property, the resort management will be happy to set you up with established Italian companies that can use their long experience to help you promote it. Here, too, you can count on top service.


Developer
The company MIRTO was set up specially for the Castello di Postignano project. The company brings together experienced architects who have extensive knowledge in the areas of local development and the restoration of historical buildings. References such as Trajan's Market in Rome, Palazzo Vallemani in Assisi or the Rendel Wightwick Villa in Naples speak for themselves. As an historic site, Castello di Postignano is supported by subsidies from the state government of Umbria.