Palo Alto - Ojén Marbella, Spain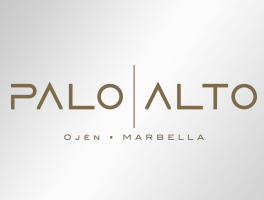 Fulfil your dream of Marbella
Allow yourself to be spoiled by a unique micro-climate, breathe in the clear mountain air and enjoy undisturbed peace — a second home awaits you in Palo Alto with over 300 days of sunshine a year where every break becomes an unforgettable highlight.
Only five minutes from the pulsating hot spot of Marbella with its famous yacht harbour Puerto Banús, you will find a unique resort in the heart of the Andalusian countryside with stunning views of the Mediterranean.
Ultra-modern architecture and high-tech building standards which make optimum use of the natural light, enter into a unique symbiotic relationship with nature in Palo Alto. Discover the Mediterranean lifestyle: with unique aesthetics, a high level of comfort and the latest conveniences.
Discover one of the most beautiful regions under the sun
The fabulous region of Andalusia is not only the southernmost province of Spain's mainland. It is also home to Costa de la Luz, the "coast of light". This is where the Flamenco was once born, and the cultural centres of Seville and Granada enchant their visitors with unique sights such as the Alcázar Palace or the Alhambra. The whole region inspires with its naturally evolved diversity characterised by mountains but equally by the sea. The small, white village of Ojén nestles typically for the area in the mountain range above Marbella — the epitome of an unspoiled Andalusian village with friendly villagers who offer visitors a hearty welcome at any time.
Hiking and picnicking in the nearby Juanar region is a popular pastime which many Marbella residents like to pursue at the weekend. Palo Alto is the only residential project in these beautiful regions. It is located in an area of almost 50 hectares bounded to the North by the road leading to Ojén and to the South by the course of the Rio Real River and protected forests.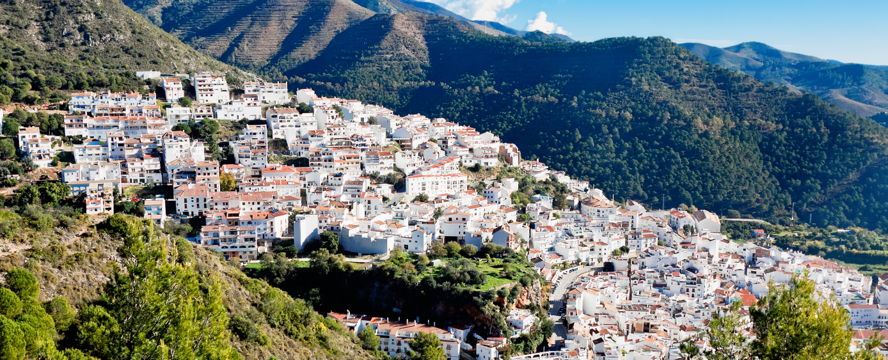 Welcome to the hot spot of the Costa del Sol
With over 300 days of sunshine every year, the pulsating world of Marbella attracts pampered sun-worshippers at every time of year with its unique micro-climate. However the town offers countless opportunities for sport and outdoor activities the whole year round. Improve your golf handicap in the mild winter temperatures with a view overlooking the glistening Mediterranean, or take the invitation in spring and summer to sunbathe on sun-spoiled beaches, swim and indulge in water sports.
The Costa del Sol and especially Marbella are known for their coastline teeming with yachts and a glamorous way of life. But the countryside which enchants throughout the year, the diversity of cultural and culinary delights and the short distances to Seville, Granada and Morocco are also a guarantee for a varied lifestyle.
The sheer accessibility of this pulsating hot spot on the Costa del Sol is also ideal. The Old Town of Marbella and its famous yacht harbour of Puerto Banús are a mere five minutes from Palo Alto, and the same applies to the wonderful sandy beaches. You can reach the international airport of Málaga in just 40 minutes and the metropolis of Madrid in 2.5 hours by fast train. And anyone wishing to take the ferry from Gibraltar and Tarifa to Tangiers can get there by car in less than an hour.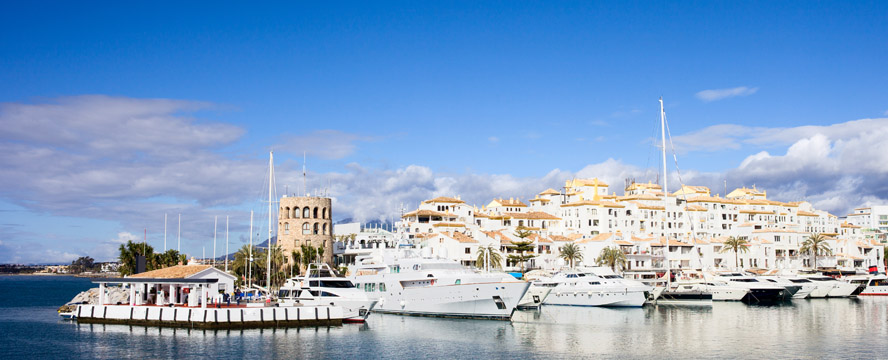 Welcome to naturally, modern living

Discover a place of natural beauty, in the beautiful Andalusian countryside, minutes from Marbella and embedded in the mountains of Ojén. The exclusive community with unobstructed sea views of the Mediterranean extends over a total area of 50 hectares, of which only 20% are going to be developed. This generosity allows a maximum of green. The architects of Palo Alto, Villarroel Torrico, a name that is synonymous with excellence and aesthetic perfection. They have created a place where like-minded people can appreciate the finer things in life, from horse-riding in the hills and relaxing in the infinity pool, to sipping cocktails on the terrace of your own beautiful home.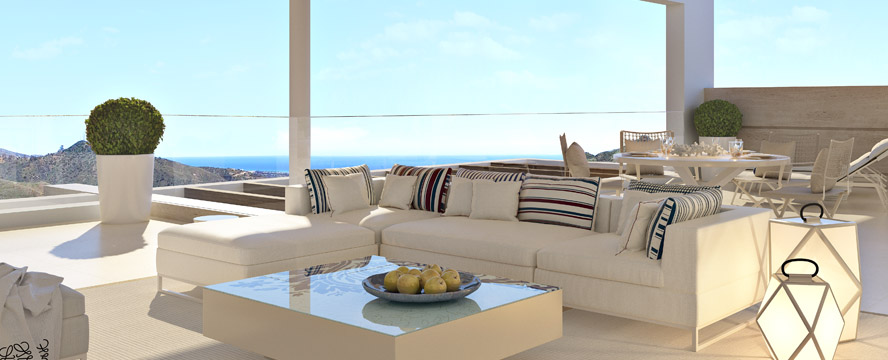 Wonderful resort feeling from the very beginning

Designed around the concept of community living, Palo Alto offers a superior lifestlye with world-class amenities, luxury apartments and penthouses, serviced residences and a five-star hotel. In this unique high end resort, you will find everything you need including:

• 50 hectare area with sea view
• Only 5 minutes from Marbella's old town and the beach promenade
• Surrounded by the protected natural park Sierra de las Nieves
• Gate building with service facilities and kids club
• Five-Star Hotel
• Modern Health Club with Indoor Pool, Fitness, Sauna & Spa
• Own Farmer's Market
• Social Club with Restaurant & Bar
• Spacious terraces and balconies
• Apartments with unobstructed sea views
• Renowned architects Villaroel Torrrico (Puente Romano and Marbella Club Hotel)
• High quality interior design
• Carefree ownership: concierge, security and maintenance services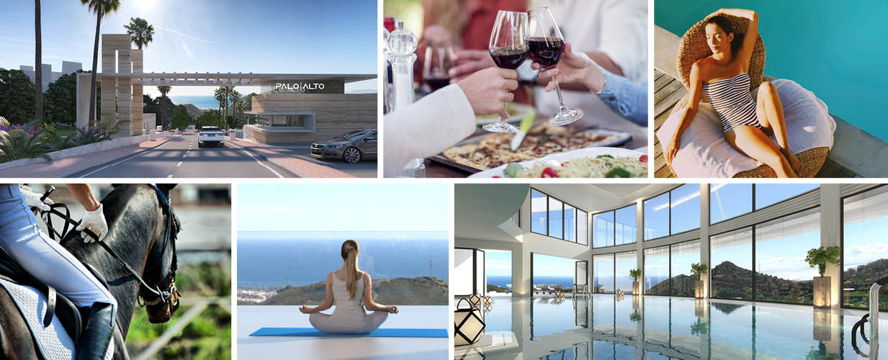 Apartments and penthouses of the highest standard
Light, privacy and space. These are the basic features of the luxury residences in the Palo Alto Resort with which the renowned architects from Villarroel Torrico have realised one of their most exceptional and inspiring projects. The guiding motto of "Modern living in harmony with nature" describes a concept where nature is fused with modern conveniences: The natural light, the views and the terraced terrain encounter contemporary architecture, extensive indoor and outdoor areas as well as high-quality fittings.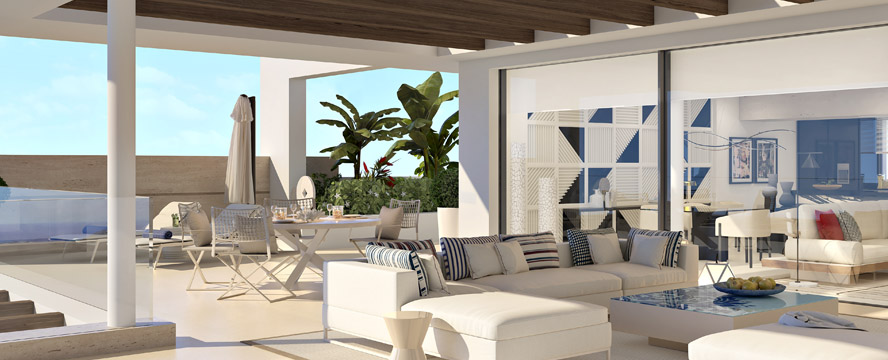 Los Pinsapos – Majestically staying in Palo Alto

These 20 luxury apartments in an exposed, pleasantly elevated location form a very special neighborhood in Palo Alto with plenty of room for privacy.
Residents will have full access to all of Palo Alto's amenities, in addition to a private outdoor cascading infinity pool, gym, spa, hammam and sauna. From here you can enjoy a breathtaking panoramic view of the resort, the beautiful surroundings and of course the sea.

World-renowned interior designer, Pedro Peña, brings modern Mediterranean touches into these stunning homes. Featuring customisable finishes and fittings, private solariums and generous terraces. Los Pinsapos represent the highest standard of luxury within Palo Alto.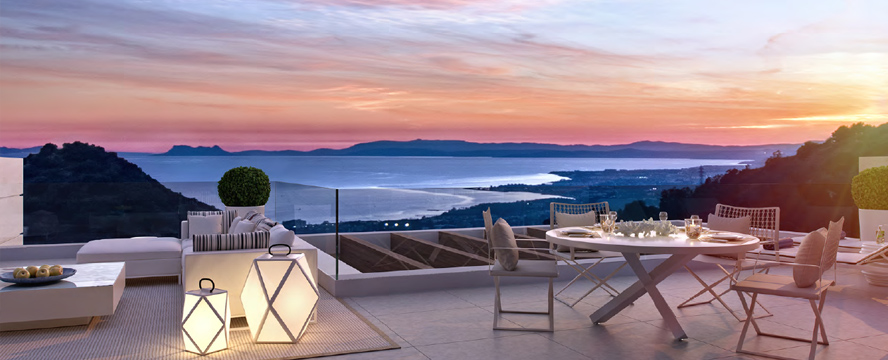 Las Jacarandas – Premium is a way of life here

60 impressive contemporary apartments, also located on the north side of Palo Alto, will feature 2, 3, and 4 bedroom apartments and penthouses, all with stunning sea views. Set over six low rise buildings the apartments convince through spacious rooms and wide terraces, roof terraces or lush green private gardens.

The well-known interior designer Eric Kuster will be finishing them with his "Metropolitan Luxury": internationality with unmistakably European chic. Whereby enough space remains for individual design ideas Las Jacarandas has two private outdoor pools with kids play areas and gardens. Residents will also have full access to all the amenities of Palo Alto.

Los Almendros – Design comes first

This area is noted for stunning 2 and 3 bedroom apartments with generous outdoor and indoor living spaces with incredible finishes by Gunni & Trentino, which are customisable based on a hand-selected range of tiles and flooring. Los Almendros features light-flooded and optimally sun-oriented terraces with panoramic views of the Andalusian hills and the Mediterranean, two private outdoor swimming pools, play areas, and access to all of Palo Alto's amenities. Lifts and plenty of guest parking spaces create comfort in your everyday life.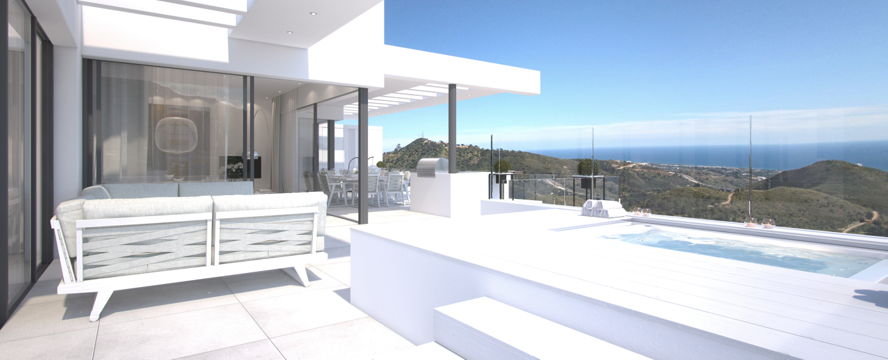 Brought to you by an award-winning team


Round Hill Capital
A vertically integrated real estate firm, Round Hill is a market leader in the accommodation sector. It has a proven track record of successfully identifying and acquiring high-quality accommodation real estate with stable underlying cash flows and asset management upside. Round Hill has invested over 6 billion euros in European real estate and has acquired/developed over 100,000 residential apartments across Europe.
Villarroel Torrico
VillarroelTorrico is a leading international architectural and landscape design firm. With an impressive portfolio boasting 40 years of design excellence and regional expertise. VillarroelTorrico successfully combines sophistication, technological rationality and twenty-first century architecture with the vernacular traditions and origins of the Mediterranean region. Clients include the Ritz-Carlton, Marbella Club and Puente Romano Hotels.
Horizon Homes

Horizon Homes aims with every new project to set new standards of design, construction and sustainability. With a seasoned team of professionals and a deep client focus, Horizon Homes has successfully created lifestyle destinations.

Gunni & Trentino
Gunni & Trentino is a Spanish company specialized in high decoration with over 40 years experience as a supplier of products for luxury interior design projects. The firm is a leader in the field of decoration and design. They work with the best materials, products and brands to ensure a durable outcome and an interior of the highest quality.

Pedro Peña
Interior design firm, Pedro Peña, has been recognised for its attention to detail and essence, creating a legacy that spans over forty years of work. Its corporate philosophy was built as a way of understanding modern Mediterranean culture.

Eric Kuster
Top Dutch interior designer Eric Kuster's own label lives under the marque of Metropolitan Luxury. There could not be two words better suited to sit side-by-side and describe his inimitable style, which relies on the perfect balance of classic and contemporary, European and international.