Palo Alto - Ojén Marbella, Spain


Fulfil your dream of Marbella


Allow yourself to be spoiled by a unique micro-climate, breathe in the clear mountain air and enjoy undisturbed peace — a second home awaits you in Palo Alto with over 300 days of sunshine a year where every break becomes an unforgettable highlight.
Only five minutes from the pulsating hot spot of Marbella with its famous yacht harbour Puerto Banús, you will find a unique resort in the heart of the Andalusian countryside with stunning views of the Mediterranean.
Ultra-modern architecture and high-tech building standards which make optimum use of the natural light, enter into a unique symbiotic relationship with nature in Palo Alto. Discover the Mediterranean lifestyle: with unique aesthetics, a high level of comfort and the latest conveniences.


Discover one of the most beautiful regions under the sun


The fabulous region of Andalusia is not only the southernmost province of Spain's mainland. It is also home to Costa de la Luz, the "coast of light". This is where the Flamenco was once born, and the cultural centres of Seville and Granada enchant their visitors with unique sights such as the Alcázar Palace or the Alhambra. The whole region inspires with its naturally evolved diversity characterised by mountains but equally by the sea. The small, white village of Ojén nestles typically for the area in the mountain range above Marbella — the epitome of an unspoiled Andalusian village with friendly villagers who offer visitors a hearty welcome at any time.
Hiking and picnicking in the nearby Juanar region is a popular pastime which many Marbella residents like to pursue at the weekend. Palo Alto is the only residential project in these beautiful regions. It is located in an area of almost 50 hectares bounded to the North by the road leading to Ojén and to the South by the course of the Rio Real River and protected forests.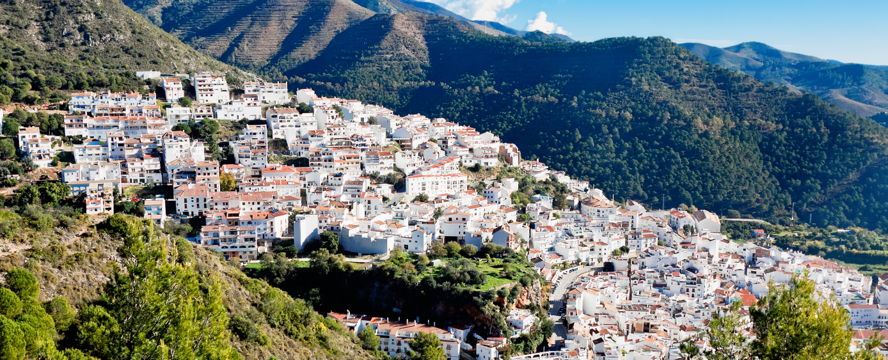 Welcome to the hot spot of the Costa del Sol
With over 300 days of sunshine every year, the pulsating world of Marbella attracts pampered sun-worshippers at every time of year with its unique micro-climate. However the town offers countless opportunities for sport and outdoor activities the whole year round. Improve your golf handicap in the mild winter temperatures with a view overlooking the glistening Mediterranean, or take the invitation in spring and summer to sunbathe on sun-spoiled beaches, swim and indulge in water sports.
The Costa del Sol and especially Marbella are known for their coastline teeming with yachts and a glamorous way of life. But the countryside which enchants throughout the year, the diversity of cultural and culinary delights and the short distances to Seville, Granada and Morocco are also a guarantee for a varied lifestyle.

The sheer accessibility of this pulsating hot spot on the Costa del Sol is also ideal. The Old Town of Marbella and its famous yacht harbour of Puerto Banús are a mere five minutes from Palo Alto, and the same applies to the wonderful sandy beaches. You can reach the international airport of Málaga in just 40 minutes and the metropolis of Madrid in 2.5 hours by fast train. And anyone wishing to take the ferry from Gibraltar and Tarifa to Tangiers can get there by car in less than an hour.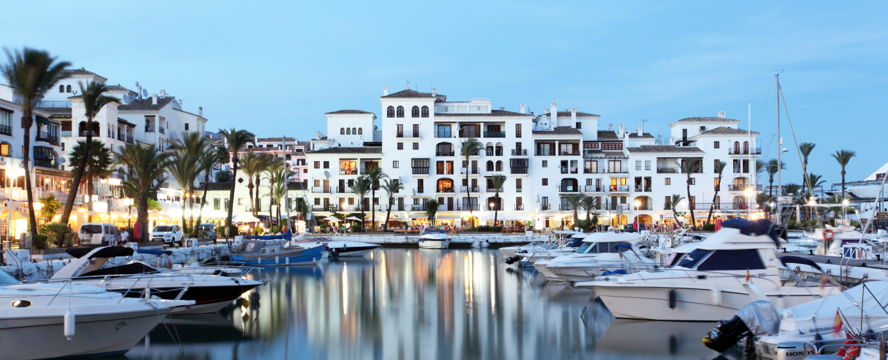 Apartments and penthouses of the highest standard
Light, privacy and space. These are the basic features of the luxury residences in the Palo Alto Resort with which the renowned architects from the architectural firm of Villarroel Torrico have realised one of their most exceptional and inspiring projects.
The guiding motto of "Modern living in harmony with nature" describes a concept where nature is fused with modern conveniences: The natural light, the views and the terraced terrain encounter contemporary architecture, extensive indoor and outdoor areas as well as high-quality fittings.
The project is being developed in successive phases. During the first phase, 75 wonderful luxury apartments and penthouses will be built.
The properties will be characterised by the following features:
► Floor-to-ceiling windows to make maximum use of the daylight
► Spacious patios with breathtaking views
► Open dining areas as well as fixtures and furnishings of the highest quality
► Spacious floor plan in the indoor areas
The views are particularly characteristic and they cannot be blocked by future developments; the large patios with their built-in awnings are also an impressive feature. A private plunge pool or whirlpool can even be fitted in some selected units on request.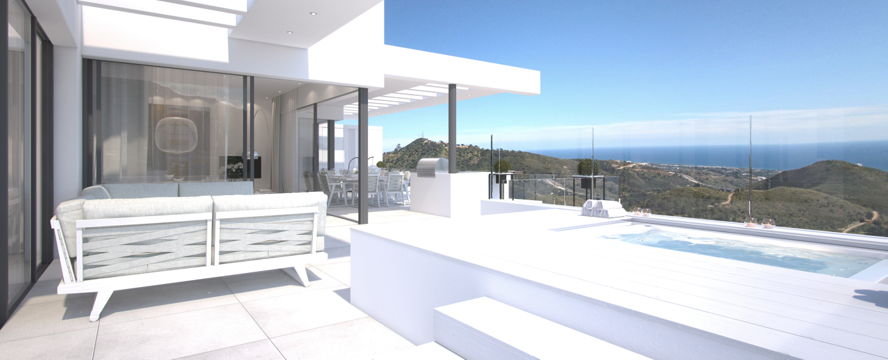 The Palo Alto Resort — a place for every lifestyle
With a highly modern training room, indoor pool and an integrated Business Centre, the Health Club offers not only the perfect place to train and work but also the ideal meeting point for the resort community. Enjoy a relaxing visit to the spa in the sauna or steam bath after your work-out. Apropos work. With its comfortable, clearly designed working areas, wireless LAN and a cafeteria, the Business Centre offers a genuine alternative to a home office, and you can work there in peace and quiet at any time. Smaller guests of the resort are also well taken care of: They are excellently looked after in the Kids Club.
In the outdoor areas of Palo Alto, you can relax on comfortable sun loungers, swim a few lengths or enjoy a refreshing dip — two large swimming pools as well as two children's pools offer you a full selection to choose from. You also have a heated outdoor pool meaning that you can swim in the open air in the mild winter months.
The well-kept gardens in the resort reflect the wonderful natural environment of Palo Alto and are designed to surround the buildings with splendidly blooming flowers and trees. The plants and lawns arranged in the form of steps fit in with the natural landscape, thus contributing to the feeling of being embraced by the mountains of the region.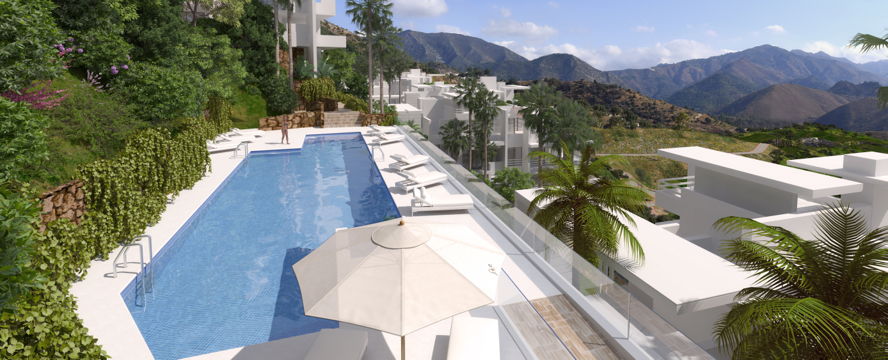 You can never be too safe: Top service and security round the clock
You can make use of the exclusive Concierge-Service in Palo Alto at any time in return for a fee. Do you need a private cook for dinner with friends or does your car need cleaning? The service can also do your shopping and clean your property, and it is there to relieve you of those everyday worries. Any further wishes? Your concierge will be happy to oblige.
Your safety is dear to our hearts. That is why we guarantee safety for you and your property — whether you're at home or away travelling. For example, the main entrance to the Palo Alto Resort is guarded 24 hours a day, and access to individual apartments and villas is restricted and only possible with a security label.
Are you planning to let your property out on a short or long-term rental? In that case, our local rental management company will take care of all your needs. Their services include not only marketing your property but also carrying out general maintenance and servicing work.

Globalmarket leader and well-renowned:
The developers & partners of Palo Alto

Bauträger: Round Hill Capital
Round Hill Capital wurde 2002 gegründet und gehört mittlerweile zu den weltweit führenden Investmentfirmen im Immobiliensektor. Insbesondere der Erwerb und die Entwicklung von qualitativ hochwertigen Wohnanlagen führten zum Erfolg des Unternehmens, das über 6 Milliarden Euro in europäische Immobilien-Assets investiert und über 100.000 Wohnapartments in ganz Europa erworben bzw. geplant hat. Round Hill ist derzeit einer der größten ausländischen privaten Grundstücksbesitzer in den Niederlanden sowie in Mittel- und Osteuropa. Palo Alto ist für Round Hill Capital ein höchst wichtiges Projekt in Spanien, das Unternehmen wird weiterhin langfristig in die Region der Costa del Sol investieren.
Architektur & Landschaftsdesign: Büro Villarroel Torrico
Villarroel Torrico ist ein renommiertes internationales Architekturbüro mit 40 Jahren Erfahrung und einem umfangreichen Portfolio sowie hoher Design-Kompetenz. Das Unternehmen verbindet perfektes technisches Denken und die Architektur des 21. Jahrhunderts mit den einheimischen Traditionen und Ursprüngen der Mittelmeerregion. Zu seinen Kunden gehören Ritz-Carlton, Kempinski, Sheraton, Marbella Club und Puente Romano Hotels. Darüber hinaus wurden einige der namhaftesten Wohnprojekte in Marbella von Villarroel Torrico entworfen: Marina de Puente Romano, Alhambra del Mar und Mansion Club. Die Philosophie des Unternehmens beruht auf einem tiefgreifenden Respekt gegenüber der Natur und den Bedürfnissen der Kunden. Lokale Traditionen und Bräuche spielen für das Büro eine große Rolle. Spezialisiert ist Villarroel Torrico auf die Entwicklung von Wohnprojekten, Hotels und Marinas sowie Golf- und Polo-Resorts weltweit.
Interior Design: Gunni & Trentino
Mit mehr als 40 Jahren Erfahrung im Bereich Design und Einrichtung von Luxuswohnprojekten ist Gunni & Trentino das führende Innenarchitekturbüro Spaniens. Es wird Ihnen kompetent bei der Einrichtung und Ausstattung Ihres Zuhauses zur Seite stehen. Das Unternehmen arbeitet nur mit den besten Materialien und Herstellern, um eine einzigartige Inneneinrichtung von höchster Qualität sicherzustellen. Gunni & Trentino bietet Ihnen eine große Auswahl an Produkten und Marken, darunter moderne und klassische Einrichtungsgegenstände der renommiertesten Designer und Architekten. Diese Produktvielfalt, seine Erfahrung und das gesammelte Fachwissen ermöglichen es dem Unternehmen, sich den Bedürfnissen jedes einzelnen Kunden anzupassen - sowohl beim Design als auch im Hinblick auf das Budget.