New project Santa Maria del Mar - New Development in Barcelona
Comprehensive renovation in Santa Maria del Mar


Newly renovated apartments in Born


Solid wooden floors and refurbishedceramic tiles, exposed timber beams


Excellent finishes and fully equipped kitchen, air conditioning.


61sqm apartment with 2 bedrooms and 1 bathroom.


Penthouse with 1 bedroom, 1 bathroom and a terrace of 46,5sqm


¡Last units!


Click here to check the price list of this New Project!
If you want more information please complete the form below and we will contact you as soon as posible:

The location


To live in Barcelona's Born is to feel alive everyday. The vitality and energy transmitted by this enclave represent the most dynamic side of the city with passers-by from all walks of life, local people,tourists, professionals, artists, students, etc. The finca, dating from the19th century, is just a few metres from the historic basilica of Santa Maríadel Mar and Passeig i del Mercat del Born.
It is located in the best area of​​ Ciutat Vella, on the lower part, with an excellent connection to public transport. The gastronomic, commercial and leisure offers are of no comparison with any other area in the city. It is also located next to Port of Barcelona,​​Barceloneta and Parc de la Ciutadella, known as emblems of Barcelona. It isthe perfect location for active people who are looking for a cultural andmodern environment in one of the most energetic, artistic, bohemian,historical, cosmopolitan and charming areas of the Catalan capital.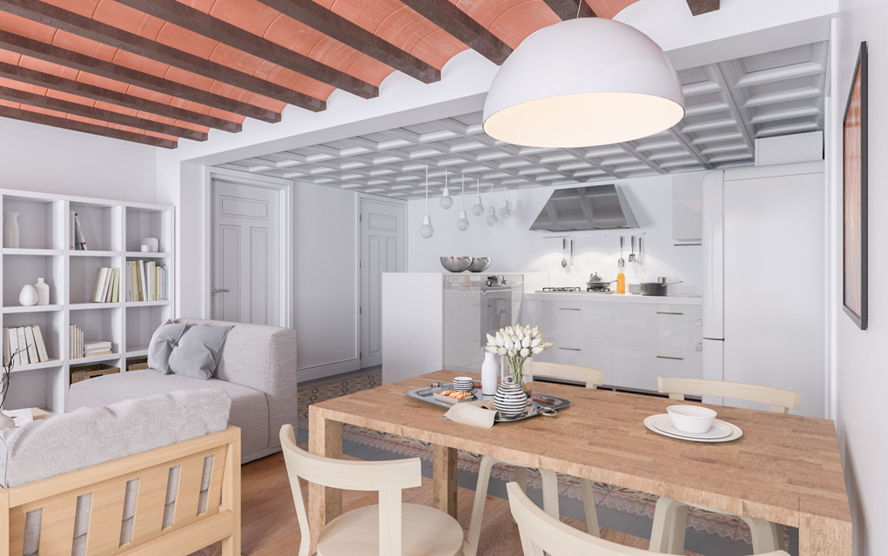 The extraordinary renovation of an oldbuilding with the creation of 11 new apartments, two per landing on 5 floorsand an attic. Apartments with excellent distribution, with sense ofspaciousness, without wasting any spaces and with great facade that keeps withthe typical characteristics of a finca in the oldest district of Condal City.Great choice of materials and finishes with a mixture of textures are used including solid wooden floors and refurbished ceramic tiles, exposed timberbeams and shaped slates.