Inhabitat and Engel & Völkers Moraira Calpe are working together building and marketing exclusive villas in the Costa Blanca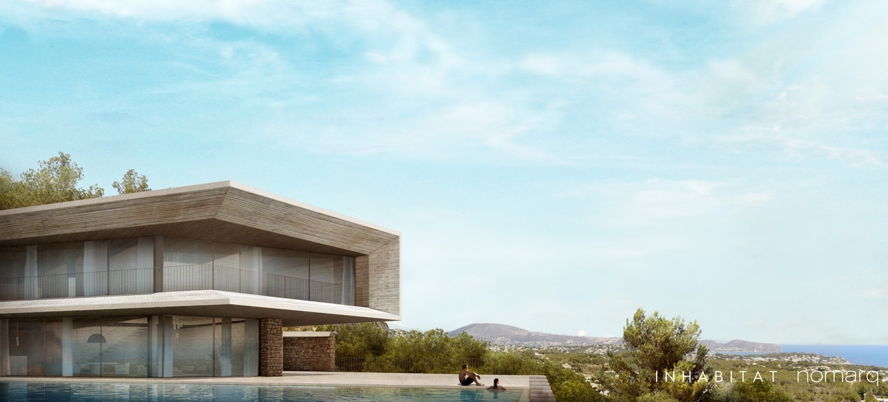 Emilio Viñals, Engel & Völkers Moraira-Calpe's managing director and Kirsty Bryson, Inhabitat's sales manager, agree to the exclusive marketing of designer homes in Costa Blanca.
Inhabitath as built luxury homes in Costa Blanca for more than 30 years, making their customers' dreams come true.
Its construction methods are at the vanguard of European construction,and only the highest quality sustainable materials are chosen for each of its projects, the result is a unique and innovative concept in the design and construction of spaces where quality and exclusivity are at the vanguard.
On the other hand Engel & Völkers Moraira-Calpe are in charge of marketing and promoting the projects and villas built by Inhabitat.
The international luxury real estate par excellence offers anyone who wants to buy a property, a selection of exclusive villas in Costa Blanca.
Engel & Völkers Moraira-Calpe offers a multilingual team that will guide you through the entire purchase process.
Inhabitat is currently finalizing the construction of the "Inhabitat Study House ISH03" project.
The project is located on the coastal mountains of Benissa in North Costa Blanca, this impressive property has panoramic views of the towns of Calpe and Moraira, and its impressive coastline.
The houses inspire creativity, sophistication, modernity and possess the most advanced technology for maximum comfort.
The houses belonging to the series called ISH make up a unique collection of luxury properties created by Inhabitat real estate developers and the Nomarq architecture studio, result of the close collaboration between both companies.
For more information you can write to moraira@engelvoelkers.com or call us at 965 50 81 81