New Development Pinilla del Valle -Valle Alto de Lozoya
Description of the properties:
The development consists of 10 semi-detached houses in a horseshoe configuration, located in the eastern part of the town of Pinilla del Valle, partially surrounded by the Cañada Real de las Cañadillas and rustic plots, trees and orchards.
This is a great opportunity to purchase a holiday home next to the Pinilla reservoir, in the core of the Sierra de Madrid. Ideal for a weekend retreat with equal opportunities throughout the year to enjoy winter sports or during the summer, escape the heat and stressful rhythms of the city in its quiet streets.
Housing characteristics:
Plots from 200 m2 to 230 m2.
Distributed on 3 floors.
Homes with 3 bedrooms and 3 bathrooms.
These 10 semi-detached houses are spread over 3 floors. The ground floor houses the garage and the main entrance which provides access, through a small hall to the guest toilet, kitchen and the large living room with fireplace.
On the first floor we find two bedrooms with "en suite" bathroom and fitted wardrobes and finally, on the top floor with sloping and large ceilings, we find the third bedroom, with "en suite" bathroom and spacious living area.
New Development Pinilla del Valle
Description of the location:
Pinilla del Valle is a municipality in the Comunidad de Madrid, located in the Lozoya Valley, in the northwestern area of Madrid. It has a population of approximately 215 inhabitants with an area of 25.84 km ² and its highest point is 1093 meters above sea level.
The municipality, which lies between the towns of Alameda del Valle and Lozoya, is a very narrow strip from the Lozoya River to the cordon that divides the provinces of Madrid and Segovia.

Pinilla del Valle has a typical mountain climate, with cold winters and temperate summers. The rainfall is greater than in the rest of the Comunidad de Madrid and, thanks to it, it enjoys rich vegetation. On the banks of the dam there are poplars, ash forests and rebollos forests.
In the upper levels appear the oak groves and the pine trees that serve as border between the two Castillas. On the slopes of the mountain there are plenty of meadows open for grazing livestock.
Due to its close proximity to the Pinilla reservoir, extensive natural beauty and sites of historical significance, Pinilla del Valle has become a tourist hot spot in its own right and this tourism has become the main income for the village.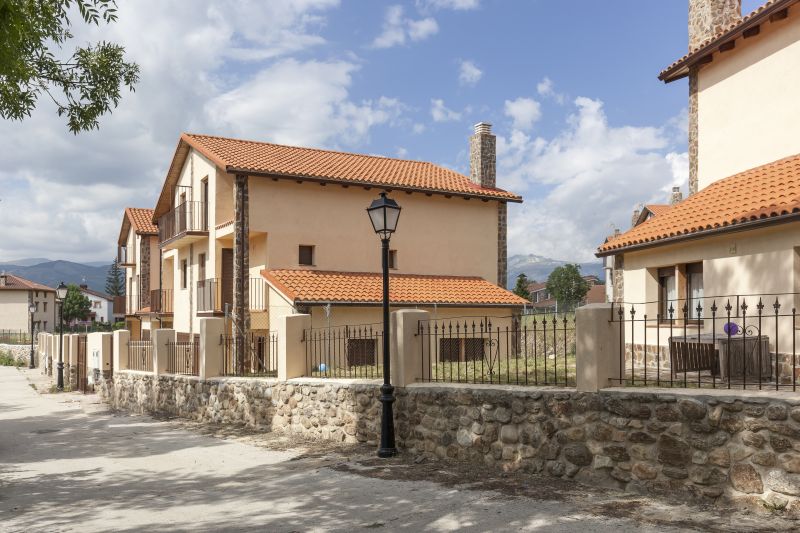 If you want more information please complete the form below and we will contact you as soon as posible: