Residencial del Valle
The four exclusive multi-family dwellings of Residencial del Valle are located in a privileged enclave in the district of Moncloa - Aravaca, in the area of El Plantío.
The building, which consists of two floors above ground level and one floor below ground level for garage and storage rooms, consists of two ground floor homes with private plot having garden and swimming pool and two first floor homes with large terrace solarium and swimming pool up to 6 x 2.40 m, for private use.
The exclusive design of each house tries to create comfortable, modern and luminous homes where each space is wide, perfect and of quality, facade of current design and high quality with exterior finish of natural limestone.
Excellent and meticulous distribution in a single floor, with three facades, large lounges, those of the dwellings on the top floor with double height in the living area, four bedrooms, four bathrooms, two of them en suite, toilet, three parking spaces and storeroom. Premium finishes, both in common areas, travertine marble in entrance halls and staircases, and inside the homes.
Aware of the costs of energy supplies and the responsibility towards our environment, since the conception of this project, it has always been a priority to build a home that reached the highest level of energy efficiency, without sacrificing the comfort of its users, or a modern and avant-garde design.
In addition, we offer the possibility of certain customization options to suit your needs, so do not hesitate to consult any suggestion.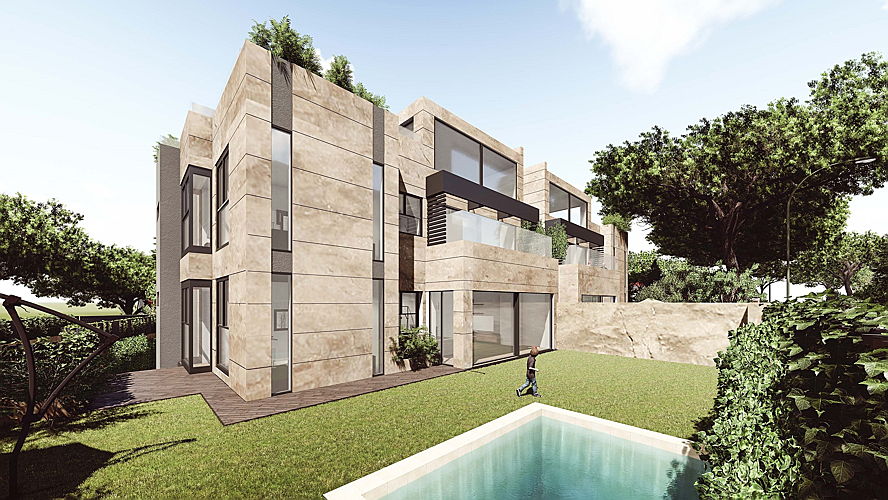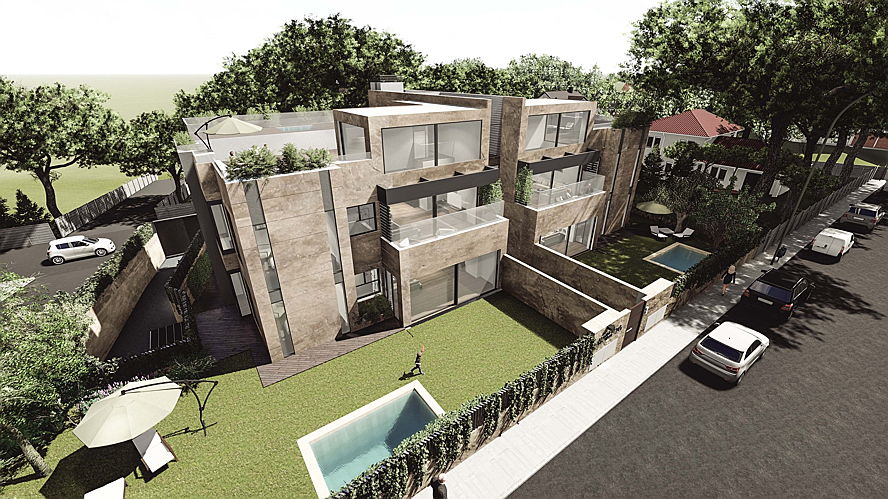 Unbeatable natural environment with El Pardo Mountain to the north and El Pilar Mountain to the south, longitudinally crossed by Victoria Avenue which converges on the A-6, next to the Sixth Avenue Shopping Centre.
Very well communicated with the rest of the city through the A-6, M-40 and public transport through several bus lines and two suburban Renfe stations in the vicinity: El Barrial - Centro Comercial Pozuelo, next to Hipercor and El Corte Inglés and Majadahonda station, as well as with other neighbouring municipalities.
Easy access to shops and all kinds of services: educational, health, sports, etc. that complete the facilities that give the area a high degree of comfort.
It is frequent that in the primitive "chalets" works of reform and extension have been carried out generating in occasions a change of use.
The old houses have ceded their plots to small actions of semi-detached, semi-detached and multifamily houses, and even to small volume office buildings that look for the front of Avenida de la Victoria and A-6 that give the area a dynamic urban fabric and high level where to combine work and leisure with rest.