Petit Deià. Unique Project in a romantic Setting
This exceptional new development is located in the heart of the Sierra de Tramuntana, a UNESCO World Heritage Site. Amidst a picturesque mountain scenery, the small village of Deià is one of the prettiest places you can find on Mallorca. The authentic village has always been a magnet for artists, writers and other creative minds who discovered the beauty of this region a long time ago.
Petit Deià is, just as its location, one of a kind and consists of 21 individual residences in traditional Mallorcan style with typical stone facades to harmonise completely with the surroundings of this privileged location. The charming project is situated at the foot of the Teix mountain and in walking distance to Cala Deià, a delightful cove ideal for exploring.
Designed by the well-known Mallorcan architect Antonio Juncosa and inspired by the authentic villages of the island, this new development carefully preserves the tradition, tranquillity, and charm of its natural surroundings.
Every home is unique
Each townhouse is individual in style; the colours of the shutters, the type of doors, windows and fireplaces, all will be uniquely designed for each home, giving all the properties their own individual character.
Buyers that take a decision in time get the possibility to choose between different colours for the shutters, and different designs of the fireplace and bathrooms.
The townhouses vary in sizes from 86 to 290 sqm and have 2 or 3 bedrooms. An open-plan kitchen adjoining the living room provides a contemporary lifestyle and the lounge-dining area, with a fireplace creates a cosy and inviting ambience. Other features are underfloor heating, air-conditioning, doubled-glazed windows and guest toilet. The interior combines traditional elements and modern technology to guarantee highest comfort.
A community pool in landscaped Mediterranean gardens is the perfect place during the summer months.
Impressions of Petit Deià
Deià - The beautiful Jewel in the Tramuntana Mountains
The wonderful West Coast of Mallorca, stretching from Puerto de Sóller to Estellencs, is without doubt one of the most beautiful parts of the island.
Its picturesque landscape of stunning cliffs, ancient olive groves, orange groves, terraced farmland and estates steeped in history have been inspiring countless artists, composers and painters for centuries. Discover a world of sensations.
Although the island is a very popular international tourist destination, this area has managed to preserve its true Mallorcan character, its own special identity and an excellent level of conservation on the coast, inland and in its villages. It is this level of contrast, conservation and beauty that has made it one of the most exclusive and coveted areas on the island.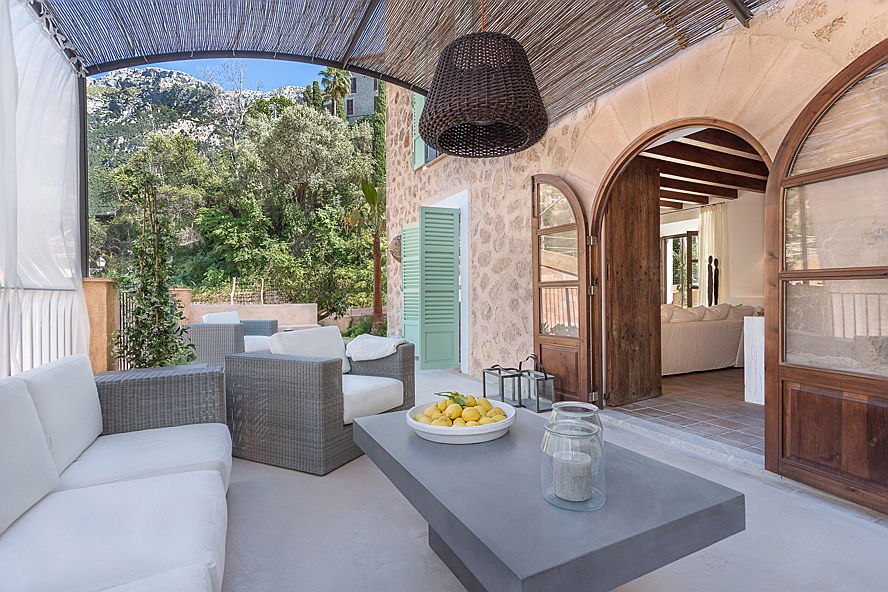 Petit Deià - designed by the renown architect Antonio Juncosa Aysa
Antonio Juncosa Aysa is very well known in and around Deià, and in the Mallorcan world of architectural cultural tradition, having designed projects that have helped to preserve the Tramuntana Mountain Range as a World Heritage Site, in his capacity as a specialist in traditional Mallorcan Architecture. He has also designed projects for particularly prominent clients, such as actors, key financiers and major Scandinavian investors. One of the reasons behind Toni Juncosa's relationship with this cultural élite is his involvement in certain projects associated with the great Joan Miró, and with architects such as José Luis Sert.