Son Vida - one superlative is not enough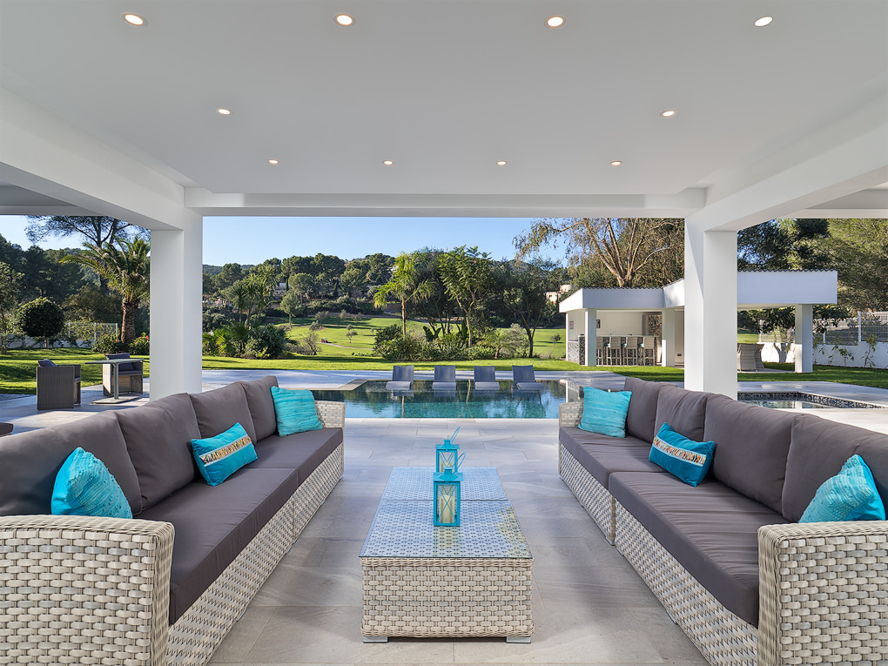 Son Vida Hills - a dream location for exclusive living in Mallorca
The view reaches far over the Bay of Palma to the opensea. The mighty catedral resembles a toy and superyachts anchoring outside theharbour look like paper boats. Surrounded by lush Green vegetation, Son Vida issituated on a hill with age-old trees above the isand's capital. Not tenminutes away from Palma, none of the hustle and bustle of the city disturbs thepeace up here.
Built as a private farming estate in the 16th centuryby a family named Vida, Son Vida has developed intoa settlement with international flair. Some old Mallorcan mansionshave been lovingly refurbished and find themselves accompanied by oustandingmodern villas. Field of olives, carob and wine have made room for beautifullydesigned gardens, and three of the best golf courses on Mallorca are highlightshere: Son Vida, Son Muntaner and Son Quint.
Luxurious international hotel accomodation attractsglamourous travellers from all over the world, as it did in the days whenGunther Sachs and Brigitte Bardot - like numerous Hollywood stars and royals -spent legendary holidays in Son Vida. Both Castillo Hotel Son Vida and SheratonMallorca Arabella Golf Hotel also add to the luxury lifestyle for thearea's residents, with their exquisite restaurants, bars, spas and sportsfacilities within walking distance. International schools are close by and theairport is only 15 minutes away.
There are only about 350 villas on grounds of amínimum of 2,000sqm, plus 70 luxury apartments on Son Vida. Exclusivity andsecurity are guaranteed by a single, 24-hour protected access to the zone.
Engel & Völkers have played a big part in thedevelopment of the area into the "Beverly Hills of Mallorca". Fifteenyears of experience and a network of 16 offices all over the island make theestate agents a most competent partner on that exclusive field. The noblestpart of the island is booming: sales are constantly increasing and with amarket share of 50% in 2016, Engel & Völkers have arranged sales forpractically every other property in Son Vida. Prices vary between 1.6 and 29million euros. The quality of life which is acquired for that can surely bearinternational comparison.
Son Vida Palma de Majorca