Castles and country homes
Whether you are future castle buyers in need of expert advice concerning financing, renovation or the state of the market, or future sellers in need of tailored support for the sale of your Country home; get in touch with Wolfgang Grell, the head of the castles and Country Homes department.

With the strength of his many years of experience as a real estate agent as well as his status of castle owner, Wolfgang Grell has the necessary abilities to answer all the needs and wishes of his clients. To know more about his journey, we invite you to read the following interview :



Can you introduce yourself and your department?
Wolfgang: "My name is Wolfgang Grell, I started this department a couple of months ago. I'll tell you the story of how it came to life. Before I moved to France, my wife and I were living in Mallorca. When we decided to move, we decided to look into buying a chateau or a manor. Having been an estate agent all my life, I had already heard about Engel & Völkers.
I therefore asked my wife to look at what properties Engel & Völkers we offering because I assumed that they would have the types of properties that we were looking for. When she told me that Engel & Völkers did not indeed have what we were looking for, I decided to call Sven Odia in Hamburg to ask him why Engel & Völkers wasn't selling chateaux or manors. Sven informed me that it's not a department that they had planned to do develop, mainly because they didn't have anyone who could do it. I jokingly said: "Well, now you've got me" and Sven answered "Yes that is a good idea, let me talk to Christian Völkers about it" and well, here I am. I am very happy to be here, because Engel & Völkers is a very well oiled machine. For me this department is a bit of a "One man show" for the moment.
We'll have around 50 properties this year, mainly because I favor having close contact with all of the owners. For example, this morning, a client came by this morning to say hello and he invited me to go hunting at his house in October. All of our clients are "multiplications" for us, it's very important to have a close contact with them throughout the duration of the sale of the property.
I have properties in 3 main regions of France, the Parisian region, the coastline from Normandy to Biarritz and the Loire valley. We have a very good portfolio and the Engel & Völkers Paris team is very friendly. "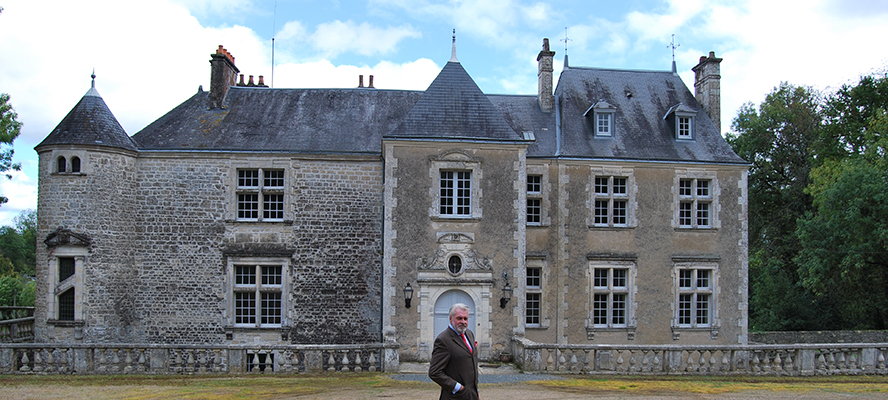 What did you do before coming to Engel & Völkers, have you been a real estate agent your whole life?
Wolfgang: " I studied Economics in Germany, and after graduating, a friend of mine and I started buying and renovating properties that we would rent out or sell to companies like "MAN trucks". We were working mainly in Munich and Hamburg. We then moved to the isle of Sylt, where my wife, who is an interior design, had a shop. After a while, and mainly because of the weather we decided to move to Alicante, Spain, before moving on to Mallorca.
Did you move to Spain and then specialize in manors and castles or did you already have that specialization?
No I was already specialized in what we could call "expensive properties", I then built my network with the local people in Spain. A couple of years ago we decided to move again and started looking at France, Portugal and mainland Spain. We ended up choosing France and are very happy to be here."
Where in France are you living?
Wolfgang: "I live in a Castle near La Rochelle. Living in a castle helps me understand what my clients will experience, and building a relationship with them is essential to be because each castle and each client has a history. "
Why France?
Wolfgang: " To be honest we chose France for personal reasons. I have always come to France for my holidays since a young age and it is a country which has a lot of these types of properties. When we bought our chateau in France, I found that French people are very friendly, and try to speak German or French with me, I really enjoy living here.
Who are your clients, are they mainly French or foreign?
Wolfgang: "I have clients from all over the world, we have a great number of Americans, a few Germans, French, Russian.
When did you officially open the department, and what are the keys of success in your field?
Wolfgang: "The department has been open since the summer of 2017, for me there are 3 keys of success, you need good properties, for good prices and a bit of luck. I am delighted to work for E&V, I am not only the representative of the Castles & Manor department, I also represent Engel & Völkers France, which I greatly enjoy."