Chelsea – from fishing village to exclusive neighbourhood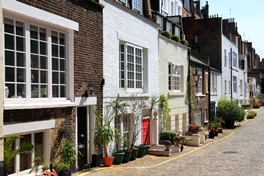 Have you ever wondered how did Chelsea become one of the most sought-after neighbourhoods in London? Here is a snapshot from the history of one of the most exclusive and prestigious quarters in the world.
Located a few miles from the main London settlement where Henry VIII had a riverside residence in Tudor times, Chelsea began its life as a thriving Anglo-Saxon small fishing village which actually generated its name. The name of Chelsea comes from the Saxon "cealc hythe" which means "chalk wharf" or "chalky landing place for boats".
In the 16th and 17th centuries Chelsea became a fashionable and colourful place where mainly wealthy people used to live. It was once called "a village of palaces" and at some point became one of the largest villages in suburban London. At that time it had approximately 3,000 residents, a number which signified a very large community. Despite expanding so much, it was still rural and was serving London as a market garden. The growth in market garden production took place until 19th century when a massive development boom was generated by the industrial revolution. This and also the introduction of gas streetlight between 1824-25 have marked the end of rural Chelsea, which was soon engulfed by metropolitan London.
It became a centre of art, modernisation and creativity, a true artist's settlement which over the years has been home to many unconventional residents, such as Oscar Wilde, poet Leigh Hunt and writer Henry James. The famous explorer of the Antarctic called Robert Falcon Scott and the very well known Bob Marley, both lived on Oakley Street. Also, historian Thomas Carlyle lived on Cheyne Row and the British novelist Elizabeth Gaskell was born in Cheyne Walk. Chelsea was also a prominent hub of everything creative and fashionable in the 1960s when it became identified with 'Swinging London'. During the Punk Rock years of the late '70s, King's Road was lined with shops selling outrageous fashion to wealthy punks.
Chelsea has never lost its air of exclusivity and nowadays is recognised as one of the most prestigious areas in the world with very high property values.
Click here for our Homepage.