Christmas through the British Ages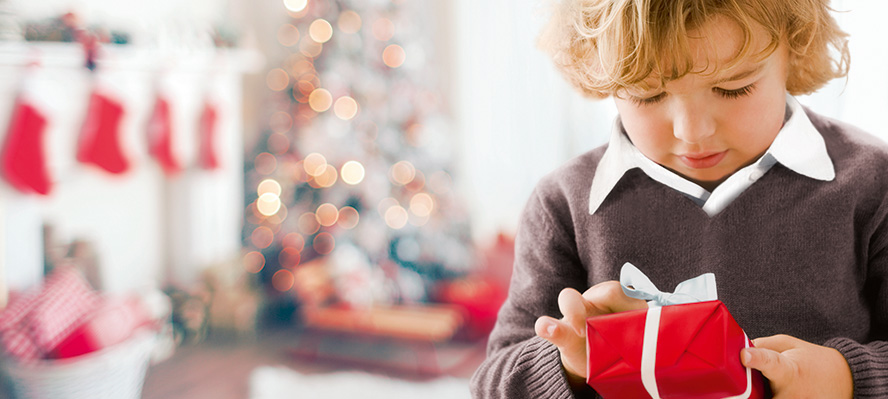 Some of the celebrations we associate with Christmas today began way before Christianity developed, so that by medieval times traditions of mid-winter feasting were long established. Later the Puritans banned some festivities, but other 'holyday' pleasures still survived. It was not until the reign of Queen Victoria that many of today's customs - such as decorating fir trees - really took off.
Below we have a few snapshots of Christmas and how it developed through 10 history ages:
Pre-Christian, northern societies used to enliven the dark days of the winter solstice with a celebration of fire, light and jollity, to create relief in the season of nature's dormancy and to hurry along the renewal of springtime. Christmas, as the celebration of the birth of Christ, was also a winter festival which gradually incorporated many pagan traditions, one of which was the burning of fires to ward away dark and evil spirits.
The exhortation to 'eat, drink and be merry' epitomised Christmas in Elizabethan England. A highlight of the season was the Christmas feast, which, in those households that could afford it, culminated in a 'banqueting course' of sweet and colourful delicacies.
'More mischief is that time committed than in all the year besides ... What dicing and carding, what eating and drinking, what banqueting and feasting is then used ... to the great dishonour of God and the impoverishing of the realm.'
So wrote the strict protestant, Philip Stubbes, in the late 16th century, expressing the Puritan view that Christmas was a dangerous excuse for excessive drinking, eating, gambling and generally bad behaviour.
Twelfth Night, the 5th of January, has been celebrated as the end of the Christmas season since the Middle Ages. One of the most important days in the Christian calendar, Twelfth Night also marked the Feast of the Epiphany, when the three wise men, or Magi, arrived in Bethlehem to behold the Christ child.
A special Twelfth Cake, the forerunner of today's Christmas cake, was the centrepiece of the party, and a slice was given to all members of the household.
For many, the Christmas tree is firmly associated with the Victorians, and with its great advocates of Christmas, Queen Victoria and her husband Prince Albert.
The custom, which originated in Germany, was introduced into England during the Georgian period. Queen Charlotte, German wife of George III, is known to have had a decorated tree for her family as early as the 1790s, and there is also a record of a tree at a children's party given by a member of Queen Caroline's court in 1821. Queen Victoria herself remembered such trees in the 1830s, happily describing potted trees placed on round tables 'hung with lights and sugar ornaments'.
So, although Prince Albert is generally given credit for introducing the Christmas tree to England, he in fact simply popularised and made fashionable an already existing custom. Victoria and Albert shared a heart-felt enthusiasm for Christmas and each year of their marriage, decorated trees provided a focal point for their domestic celebrations.
'If there is one thing inseparable from Christmas in general and the little ones' seasonable gatherings in particular, it is - a cracker. With what a delightful look of expectation they have waited for it to go "bang", and how they have screamed as they scrambled after the surprise which came in response to the explosion ...'.
The Christmas cracker was created by Tom Smith, a confectioner's apprentice in London in the early 19th century. The Christmas cracker was inspired by the sugared almond bon-bons, wrapped in coloured tissue paper. For seven years he worked to develop the bon-bon into something more exciting, but it was not until he sat one evening in front of his fireplace that his great idea came to him. Watching the logs crackle, he imagined a bon-bon with a pop. He made a coloured paper wrapper and put in it another strip of paper impregnated with chemicals which, when rubbed, created enough friction to produce a noise. He knew that bangs excited children (and were said to frighten evil spirits) - and the mottoes and poems he inserted inside the crackers amused adults.n coloured tissue paper.
'He was dressed all in fur from his head to his foot, And his clothes were all tarnished with ashes and soot ... His eyes how they twinkled! His dimples how merry! His cheeks were like roses, his nose like a cherry ... He was chubby and plump, a right jolly old elf.'
In medieval England and for centuries afterwards, the figure of Father Christmas represented the spirit of benevolence and good cheer. In the 19th century, his role changed to something more like that of the European Saint Nicholas. At about the same time, Dutch emigrants took the story of a legendary gift-bringer called 'Sinterklaas' to America, where he eventually became known as Santa Claus.
The names may be different, but there were enough similarities between all these symbolic personages to allow, by the early 20th century, Father Christmas, Santa, St Nick and others to merge. And the resulting 'right jolly old elf' is now the universally recognised symbol of Christmas.
Gifts have been exchanged at Christmas and New Year for many centuries. By the early 20th century, the availability of a huge range of gifts for both children and adults had increased dramatically. The streets of London thronged with shoppers in the days up to Christmas, and the shops were open and ablaze with a riot of light and colour even on Christmas Eve.
Children's gifts proved a particularly lucrative market, and the sheer variety of games, toys and other gifts thrilled Christmas shoppers. Some gifts were considered suitable for both sexes. These included rocking horses, wooden farmyard animals, board games, picture and adventure books, magic tricks, Noah's Arks and mechanical or stuffed animals.
'In the present circumstances many people are asking, ought we celebrate Christmas at all? There can be no doubt that this is the very year when we should think, not less, but more about Christmas - not only as an escape from the horrors of war, but as a remembrance of nobler ideals.'
So wrote the editor of the Picture Post in December 1939. People were encouraged to spend available money, either on National Savings Certificates and War Bonds to support the war effort, or on everyday goods to support commercial traders. Where possible, this seems to have been taken to heart, and although Christmas during wartime was a greatly reduced affair, the spirit of the season remained strong.
'Parties ... owe much of their success to the thought expended on food and drink. Even the impromptu need not take the hostess by surprise if the store cupboard is kept well-stocked with pastry shells in airtight tins and good supplies of canned and bottled delicacies.'
The image of the housewife as 'happy homemaker' was powerful in the 1950s, and at no time was she under more pressure than at Christmas. The pressure to produce not only a perfect Christmas dinner but also several days' worth of festive meals and snacks was enormous. Advice came from all quarters: 'helpful' parents and in-laws, household manuals and popular magazines.
Magazines such as Ideal Home and Good Housekeeping suggested ways to save money, short-cuts designed to enable the hostess to cut down on preparation time, and ideas for making entertaining both more exciting and easier. Despite this, playing the perfect hostess on top of other domestic duties was, it seems, a strain and the hostess often spent most of the party in the kitchen and most of the holidays exhausted!
(Source: BBC UK

For more information on the History of Christmas in Britain, please click here)

E&V Chelsea Team would like to wish you a Merry Christmas and an amazing New Year ahead!