"Heron" watching in the City of London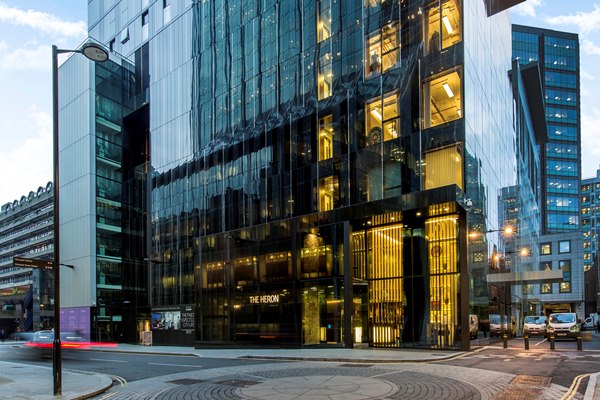 The Square Mile or better known as City of London has been the core of central London since back in the medieval times. It is considered a city within a city that only covers a square mile and has become in the last few decades one of the strongest financial hubs in the world. It is home to some of the most well renowned global companies, such as: Aviva, Lloyds Banking Group, BT Group, Unilever and world famous law firms like Hogan Lovells, Linklaters, Eversheds and Allen & Overy. Apart from its financial side, the City of London boasts of a rich cultural background with Europe's biggest multi-arts and conference venue - The Barbican Centre.
But, did you know you can also spot some"herons" in the City of London?
Unlike the usual heron watching that you may venture upon, these particular ones are quite different and definitely don't require any enhancement devices in order to see them as they majestically emerged as two major building developments called 'Heron'.
The first one, completed back in 2011, is a 230m high commercial skyscraper called Heron Tower and is considered the tallest building in the City of London financial district.
The second one, which will be the focus of this article, was completed in 2013 and is a residential building called The Heron.
Funny enough, Heron International which is the property development company that has established both buildings, doesn't have anything to do with the birds that go by the same name. It actually resulted from a combination of letters of its founder's name Henry Ronson.
The Heron, also known as Milton Court, is a 36-storey apartment building strategically located near the Barbican Centre. Its construction was finalised in 2013 and it was the first residential development project in the City of London for over 30 years.
The initial project had foreseen the construction of 44 floors; however after being heavily criticised it was reduced to 36 floors. Heron International and the City of London Corporation have funded approximately 85% of its total cost and the rest was financed by the Guildhall School of Music and Drama. The funding from the school came with a big reward as the lower floors of the building are now providing new and modern facilities, and that includes a splendid wood-panelled 608-seat concert hall, a horseshoe shaped drama studio, as well as a studio theatre, studio suites and a lot of rehearsal space.
The Heron benefits from plenty of natural light through its majestic eight-storey high atrium that is at the heart of the building, as well as through a fantastic glass façade at the front. All apartments have been completed with high quality fixtures and fittings, bespoke sized herringbone oak floors, dramatic feature stone walls and appliances that would satisfy even the most refined taste. The building has fantastic facilities and services, including a private gym and valet parking, a 24 hr porter service, lounge and recreational areas, a bar, a screening room, meeting rooms and a gorgeous roof garden.
If you think living in the City if the right place for you and would like to be part of The Heron dream, Engel & Völkers has the perfect home as we currently have a fantastic apartment for sale in this building.
This is an impressive two bedroom flat situated on the 20th floor. It has an open plan living and dining room and boasts with floor to ceiling windows that give the apartment a very light and airy feel and offer excellent views over the Square Mile and the rest of London. It benefits from a private balcony which faces North West, a secure parking space and access to the private club, roof garden and all the other facilities of the building. It is an ideal home for a busy professional or an investment opportunity for a buy-to-let.
If you would like to book a viewing or have any questions, please do not hesitate to get in touch with our team. Check our Homepage for more interesting Sales and Lettings properties.