Welcome to the Virtual Engel & Völkers Showroom Greece
Experience the fascinating brand world of Engel & Völkers from the comfort of your home – with our virtual Showroom Greece! In our world's first completely digital real estate showroom you will find everything you already know from our local shops and much more. Let us take you on a little tour:
Experience the whole world of Engel & Völkers digitally
Whether real estate, yachting, aviation, our Polo School or the GG Magazine: in our virtual showroom you can experience the whole world of Engel & Völkers. Just like in one of our more than 800 shops worldwide, in the virtual showroom you will discover unique real estate offers, comprehensive and exclusive services and learn everything about our more than 40-year success story.
You can explore our virtual showroom comfortably via keyboard and mouse or, in a particularly spectacular way, via VR glasses. The sidebar takes you quickly and easily to the individual premises. Click on the interactive points to obtain further information or, if you wish, to go directly to the appropriate Engel & Völkers website. If you have any questions, click on the speech bubble in the lower right corner of the screen to start our chatbot. This will support you with further information and, if necessary, forward you to one of our real estate consultants. In this way, you have access to all our first-class services in our virtual showroom – and all from a single location.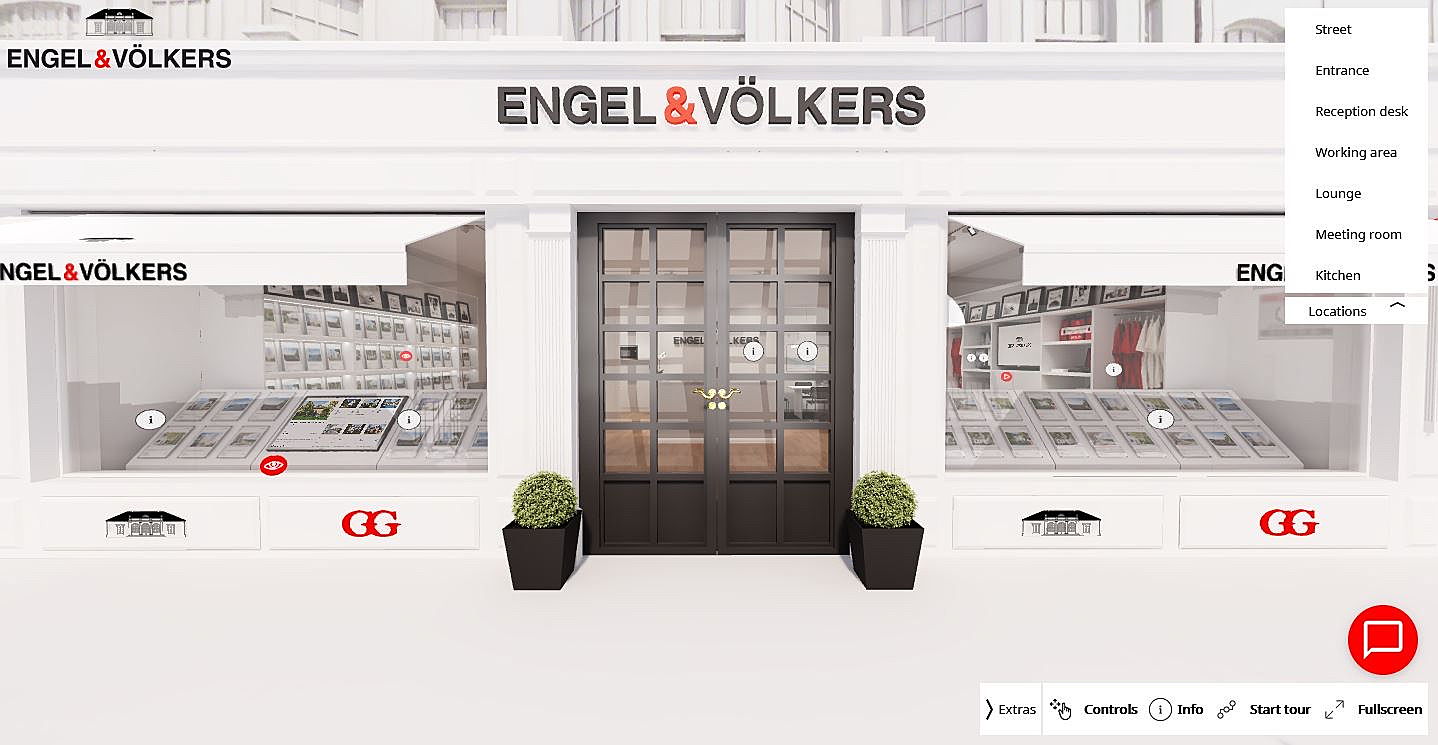 First-class advice as if you were there
No Engel & Völkers shop would be complete without our first-class, expert advice. In this respect, our virtual shop is no exception: with a click on the reception desk, you have access to our live chat, where our real estate consultants can help you with your real estate matters. In addition, we offer you the opportunity to receive advice via video chat in our virtual meeting room. Conversations that take place in the live chat can also be saved so that you can easily resume and continue your consultation at a later time.
Discover our virtual showroom now
There is so much more that could be said about our virtual shop. But it is even better to experience it for yourself. Simply click on the link below and take a trip to the world's first virtual Engel & Völkers Showroom. We look forward to your visit!
Contact us now
Engel & Völkers
Licence Partner Greece
Athens Tower 2-4, Mesogion Avenue (10th Floor)

Greece
Virtual Showroom
Find your next home
Real Estate
Greece Athens Real Estate
Virtual Tour Home
Vacation Home