What you should know about Arezzo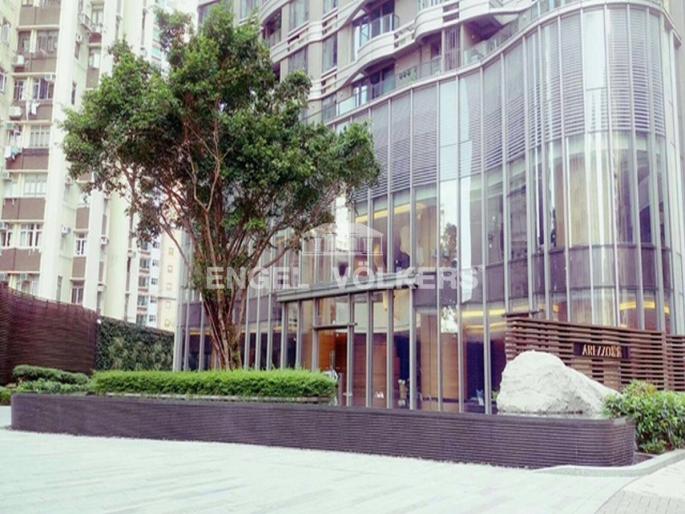 Exquisite residence with Arezzo
Nestled in a distinguished neighbourhood of historical architecture, renowned schools, and parks, AREZZO, located in Mid-Levels, has long been one of Hong Kong's most sought-after addresses. It breathes the air of culture and refinement. AREZZO enjoys easy access to the Central and SoHo districts. AREZZO was completed in 2015.
AREZZO overlooks the spectacular views of Victoria Harbour, Central Business District, West Kowloon Cultural District and the Stonecutters Bridge. With a new residential community in the mid levels, AREZZO is a new remarkable addition on Seymour Road, now joining other two unique residences AZURA and ARGENTA to create a distinctive Mid-levels residential community offering an exclusive living experience that is developed by Swire Properties.
AREZZO is a 48-storey development comprising 127 exquisite residences with stunning city views of Victoria Harbour and the Hong Kong skyline. To ensure high privacy, the design of 3 apartments per floor. 3-bedroom units from 871 to 1,314 sq ft 2-bedroom units from 930 to 976 sq ft Special units and Penthouse from 1,421 to 2,851 sq ft. There are 120 apartments, comprising 40 units ranging from 973 sq ft to 976 sq ft with a two-bedroom layout and 80 units ranging from 911 sq ft to 1,314 sq ft with a three-bedroom layout.
Each floor offers 3 passenger lifts and 1 service lift while the lift lobby design allows more natural light into the interiors and better ventilation. Offering a selection of spacious two- and three-bedroom apartments, it has a floor-to-floor height of over 3.1 metre and expansive window design that allows ample natural light flowing into the apartment. Upon arriving at the double-height lobby, feel the elegant radiance infused by the alluring art piece designed by American artist Nikolas Weinstein. You can enter through the lushly landscaped courtyard and experience a sense of privacy and serenity. All the apartments have high-quality contemporary fixtures and fittings and all have balconies. The high floors have superb harbour views.
AREZZO enjoys a fabulous and vibrant community unlike any other. AREZZO also has seven premium units, including three units with their own flat roof on 2/F, a three-bedroom unit of 1,421 sq ft and a four-bedroom unit of 1,774 sq ft on 49/F, a four-bedroom simplex of 2,851 sq ft on 50/F and a four-bedroom penthouse of 2,779 sq ft on 51/F with its own private rooftop garden and pool.
AREZZO's double-storey clubhouse features a banquet room, an indoor and outdoor children's playground, an entertainment room, a gymnasium and a lounge. Residents can also enjoy an outdoor landscaped swimming pool, and a private access to Caine Road via shuttle lifts in the adjoining residential development ALASSIO. Relax in the private clubhouse and enjoy the dedicated management services of Swire Properties, one of Hong Kong's premier developers.
Mid-level West
Situated west of the Central district, this area stretches from Robinson Road and Conduit Road to the end of Bonham Road. This is the most congested section of Mid-Levels. A good number of major development have taken place here, many of which are 40-storey apartment blocks consisting of apartments between 400 -1200 sq ft. These state-of-the-art high-rises offer stunning views over the Harbour. As the area is served by only two major roads, traffic can get pretty congested at times. Nearby Sai Ying Pun and Kennedy Town are now home to some of the hottest eateries in the city. Just a short stroll down the escalators, residents enjoy easy access to Central Business District, SoHo & Lan Kwai Fong. The residence is well located only a few minutes walk from the shops and restaurants of SoHo.
One of the major pluses is the famous "pedestrian escalator" which provides easy, direct access to the heart of Central and the business district. It passes the entertainment areas of SoHo and Lan Kwai Fong and therefore attracts a good number of young executives with an active lifestyle. You may access Soho with a local street market and traditional eateries.The famous art and antique areas along Hollywood Road are also in close proximity to a distinguished neighbourhood of historical architecture, renowned schools, and parks. The zone is extremely expat-friendly with high levels of spoken English boutiques and supermarkets that can suit multicultural tastes.
Transport
It takes just about 5-15 minutes to get access to all of Central's shops and entertainments and it is quite close to Central's financial districts. They provide fantastic transport links, including buses, trams, the subway system and ferries to Hong Kong outlying islands.