Walking On Sunshine at Azura - Hong Kong Island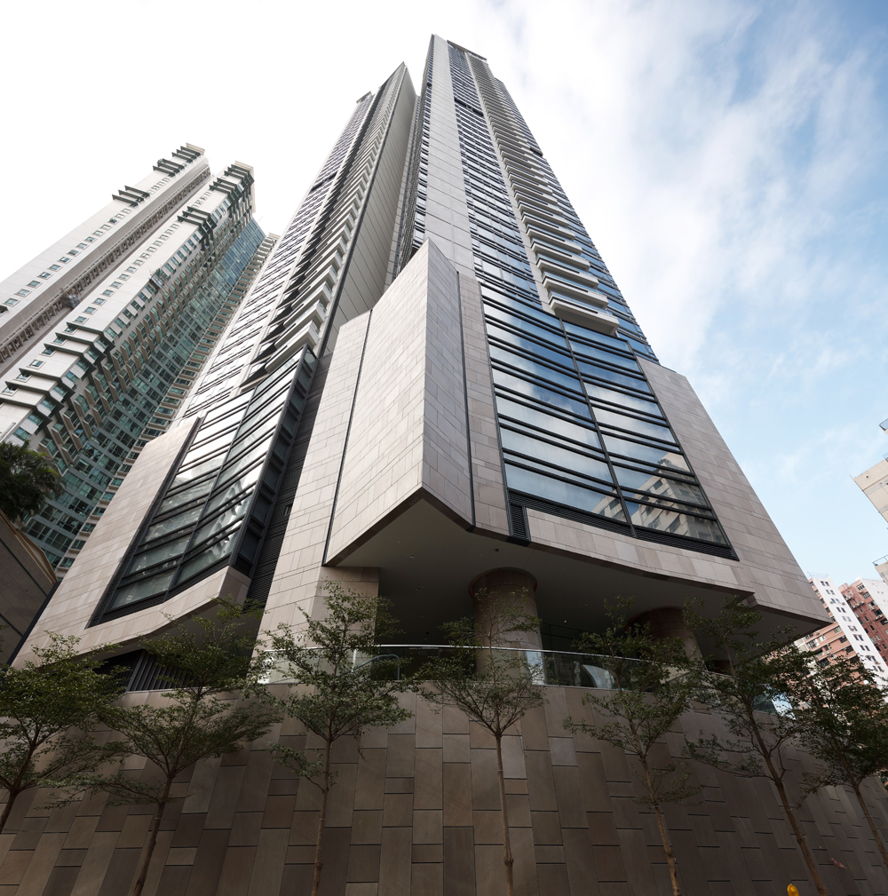 Perched up high in Mid-Levels West on Hong Kong Island, there stands a residential building with one of the most spectacular views of Hong Kong's skyline. Built in 2012, Azura or 蔚然 in Chinese is located at 2A Seymour Road in Mid-levels West. The following are some of the currently listed apartment units available for inquiries should you be interested in this stunning and elegant one of a kind residential building. The prestigious Azura residences has set new standards in quality and luxury style living with intelligently designed spacious interiors and top of the line finishing details.
Azura by Swire Properties (one of the premier luxury real estate developers in Hong Kong) is a 177 metre-tall very glamorous residential skyscraper in the Mid-levels West neighbourhood of Central and Western District on Hong Kong Island. This stunning architecture towers up high at 50 storeys with 126 apartment units in total. Each floor in the Azura consists of three distinct units, ranging in size fro1650 square feet to 2100 square feet, with the bigger apartments having up to three and four bedrooms respectively. Azura is one of the tallest buildings in Hong Kong.
Let us walk you through this elegantly beautiful building…
Amenities, Special Features, and Layout of the building units:
The apartment units feature floor to ceiling windows that look out to the stunning Hong Kong city views, hardwood floors, modern bathrooms with top quality finishes, fully stacked kitchen with top-end kitchen appliances and spacious bedrooms with more views looking out towards the surrounding neighbourhood.
I want to live here! Let's see the homes!
LUXURY HOME FEATURES
AZURA
The first is an apartment for sale, which consists of 3 bedrooms and 2.5 bathrooms in a 1,297 square feet space (saleable area approx.) and listed at the current price of $72,000,000 HKD. This apartment is located on one of the very high floors of the building, offering spanning panoramic views of the iconic Victoria Harbour skyline views, viewing in all its glory from the unit's large private balcony.
The second unit is an apartment that is also listed for sale, which consists also of 3 bedroom, 2.5 bathrooms in a 1,297 square feet space (saleable area approx.) and listed at the current price of $68,000,000 HKD.
The third Unit available for viewings is also of the same layout and size as the previous ones, with 3 bedrooms and 2.5 bathrooms in a 1,297 square feet space (saleable area approx.) and listed at the current price of $65,000,000 HKD. All of the apartments feature a large private balcony when one can enjoy the glorious views of Hong Kong's famous skyscrapers, glowing skyline up high.
What is the Mid-Levels West neighbourhood like?
This neighbourhood is one of the city's most prestigious areas to live in and a good old trusted favorite amongst expats, foreigners and the international crowd. It is the perfect mix of living in the busy metropolitan and close to the green natural spaces in Hong Kong, like Hong Kong Park, and the Botanical Gardens, as well as the Bowen Road hike trails. English is widely spoken in this neighbourhood so expats and foreigners need not worry about having to deal with language barriers.
We can't talk about Hong Kong Island without touching on The Mid-levels. There is a reason why this prominent area named Mid-Levels is so popular amongst expats, business professionals and the affluent crowd. Literally translated from Chinese as "Half mountain", situated halfway up the famed Victoria Peak and directly above Central, Mid-Levels is one of the most expensive and affluent residential areas in the Central and Western District on Hong Kong Island.
The Mid-Levels is bound by Bonham Road, Caine Road, Upper Albert Road, Kennedy Road to the north and Conduit Road to the south. With the famous Mid-Levels escalator that connects to and from Central, making the area highly accessible and ultra convenient for residents of the well established and sought after neighbourhood.
What makes The Mid-levels such a hot commodity is its conveniently central location on Hong Kong Island and for its breathtaking panoramic views of Hong Kong's famous Victoria Harbour Skyline. It's close proximity to the financial and commercial districts of Central and Admiralty make it the perfect residential neighbourhood for business professionals, families and expats. The added value of The Mid-Levels area is that it is close enough to the bustling city action for convenient access but just far enough out of reach where residents can still feel the tranquility of a proper residential neighbourhood, without being affected by the loud noises and bright lights of action packed Hong Kong. Not to mention, The Mid-Levels is closer to nature where many parks and hike trails are - a great added bonus especially for those are who seeking the perfect balance between urban city-living and the serenity of natural surroundings and greenery. This area's ultra-luxurious homes attract many wealthy people who are willing to pay top market prices for a home that has so many favourable qualities. There are not many neighbourhoods in Hong Kong where one can breathe in the beauty of nature right outside their doorsteps yet still be walking distance to the center of the city.
The Mid-Levels is also a top desired residential neighbourhood for families with children due to the many prestigious and reputable schools and universities that are located in the surrounding areas, such as the University of Hong Kong, King's College, Ying Wa Girls' School, St. Paul's Co-educational College and St. Joseph's College. The University of Hong Kong is world-renowned and one of Asia's best institutions for higher educations. Conveniently, it's main campus is situated at the western end of Mid-Levels. Other schools in the area include; Island School - a secondary school that is part of Hong Kong's international Standard English Schools Foundation, St Margaret's Girls' College, Woodland Mid-Levels Montessori Pre-School, Glenealy School and more. For parents who are choosing a home with school districts in mind, it really doesn't get much better than living in Mid-Levels.
For general lifestyle services, Mid-levels and its close surrounding areas are chalk full of everything from restaurants, cafés, bars, nightclubs to public city parks like Hong Kong's Zoological and Botanical Gardens. There's also tons of cultural venues,shopping malls, local and gourmet supermarkets, banks, hair salons, pet-related services, clothing boutiques, health-care shops…the list goes on and on. There is never a lack of lifestyle options in this area.
When it comes to healthcare services, The Mid-Levels is extremely convenient for medical options. There are a few prominent hospitals in the district. There's The Canossa Hospital, which is a non-prfoit, private hospital that is located on the corner of Old Peak Road and Robinson Road. There are also a few medical centers and dental clinics, Hong Kong Central Hospital, Tung Wah Hospital, the Matilda International Hospital and Queen Mary Hospital not too far away. Being so close to Central, there are plenty of additional medical practitioners of all different disciplines for your choosing.
For all these reasons, The MId-Levels neighbourhood is favoured by many expats and the international crowd. Being one of the city's most prestigious locations and a long-time favourite amongst city-dwellers, the hunt for the perfect home is quite competitive. There are not many areas in Hong Kong where you can live in quiet and peace yet be literally minutes away from downtown Central, with large accommodations that are close to most of Hong Kong's top attractions, neighbourhood parks, and public transport lines. Mid-Levels is a top choice neighbourhood for almost all demographics. There's a great multicultural feel with the diversity of residents who live in this neighbourhood, all from different racial and cultural backgrounds. If you are a single expat, young business professional or even a full-fledged family with young children, this is truly a great area to live in Hong Kong.
Hong Kong's famed Mid-Levels will always remain a top choice for expats and international home seekers.
Transportation in the area:
Transportation is easy to come by in this neighbourhood. There are many easily accessible transportation lines, from minibus, buses and taxis to MTR lines. It's a very convenient area for residents who chose to live here. Azura is nestled between these main roads in Mid-levels West: Caine Road, Castle Road and Conduit Road. Efficient transport lines connect you from Mid-levels to the rest of Hong Kong.
Nearby MTR Stations:
Hong Kong MTR Station
Central MTR Station
Sheung Wan MTR Station
Sai Ying Pun MTR Station
Nearby Schools:
The University of Hong Kong
King's Coll Old Boys' School
Island Christian Academy
San Wui Commercial Society School
Other Notable Attractions In the neighbourhood:
There are a number of unique attractions around Azura, with some being:
PMQ - Also known as the old Police Married Quarters (PMQ), this mixed-use venue for arts and design is used as a creative and innovative space to nurture local designers, startups and businesses. The building's original police residential units have now been turned into studios, boutiques, art shops and offices for creative enterprises and exhibition spaces. There are also a number of trendy restaurants here such as Sohofama (for fresh, organic Chinese cuisine) and Aberdeen Street Social (a social restaurant by Michelin Star Chef Jason Atherton).

Dr Sun Yat Sen Museum - Located at Kom Tong Hall, 7 Castle Road, Central, The Sun Yat Sen Museum commemorates one of the most influential Chinese persons, as is part of the Hong Kong Museum of History. The four story museum exhibits precious histoircal artefacts and gives a comprehensive overview of Dr. Sun Yat Sen's life and career in revolutionizing and setting up the Republic of China. His achievements are recognized and admired by locals and overseas Chinese. You can also find Sun Yat Sen Park not too far away in Sai Ying Pun, just a couple of MTR stops from Central.
Liang Yi Museum - This museum can be found on 181 Hollywood Road. It was opened in year 2014 and is Hong Kong's largest private museum of design, craftsmanship and heritage, houses some of the most previous antiquities collections.
Soho - A well known area in Central (South of Hollywood), Soho is one of the swankiest and popular nightlife and multicultural attractions for wining, dining and shopping in Hong Kong. Super chic and trendy, it's often likened to the uber-cool meatpacking district of New York City.
Lan Kwai Fong - We almost feel LKF doesn't need an introduction. Lan Kwai Fong is Hong Kong's most popular nightlife spot and home to hundreds of trendy restaurants and bars. There's no area that's more popular for expats and foreigners. This Central hotspot is famous for its nightlife scene and a place that all will visit at some point when living in Hong Kong.
Real Testimonials from residents who live in this neighbourhood:
This area is great! It's so convenient, especially if you are someone who likes to live in a place of action. There are so many different types of restaurants, bars, coffee shops, shopping malls, boutiques,hair salons, beauty salons and more to choose from. The options for eating are out of this world. There are all kinds of international cuisines in Central, which is only minutes from Mid-Levels. As long as you can name the kind of food you want, you can find it here.
People generally do not sleep early in Hong Kong because they have a nightlife habit after work. I enjoy the nightlife scene, and living in MId-Levels allows me to still have that but not be in the thick of it all. I can walk home and feel completely removed from the chaos of Central.
If there's one thing that stands up amongst the rest, it's safety. Hong Kong in general is one of the safest big cities in the world. Mid-levels is a perfect place for families with children. The area is very family oriented and walking around late at night is very safe.
There are excellent places to eat and drink, with an awesome culture of "work hard, play hard. I love that this area is targeted for expats, and I've met a lot of great people here from Australia, New Zealand, Canada, The United States, France, Italy…etc. IT's a very diverse neighbourhood with a wonderful mix of cultures.
You don't need a car to live here. It really is so convenient. Even though there are not direct MTR lines in Mid-levels, you are surrounded by surrounding MTR stations that are just walking distances away. It helps to have a car, but it's absolutely not necessary. Taxis are everywhere and fares are cheap. Buildings have free shuttle buses, and there are always minibus and bus lines that run to and from the main hubs of the city.
Pet friendly and very family oriented. It's one of the main reasons we moved here. Because it's mainly a residential area, it's a lot quieter up here, with less noise pollution, and the air is better here too.
Azura Address:
2A Seymour Road, Mid Levels West
Year Built:
2012
If we have piqued your interest, do feel welcome to contact our team at Engel & Volkers for more detailed information and viewings of the luxury homes for sale and rental. Engel & Voelkers are the leading experts in featuring real estate properties in the best areas of Hong Kong. We assure you that you will find your ideal dream home with our help.