City Living At The Summa in Sai Ying Pun, Hong Kong Island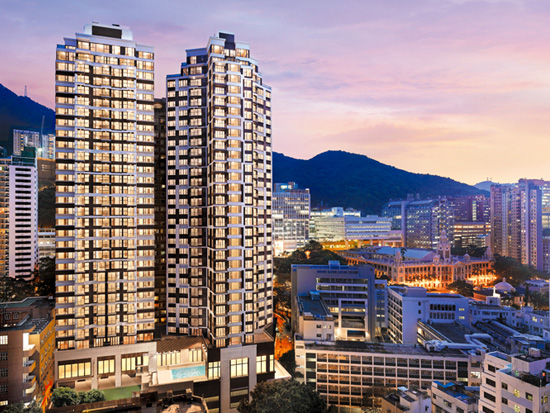 Located in Hong Kong's uber-chic Sai Ying Pun neighbourhood, we are proud to present to you "The Summa". Whether you are looking for an upgrade or just a change of pace, The Summa is a luxurious and elegant residential building that is worth taking a look at. These intelligently designed apartment units are making moves in the real estate world in Hong Kong, and ideal for city-style living.
Tucked between Pok Fu Lam Road, High Street, Bonham Road, and Western Street, The Summa in Sai Ying Pun, which was constructed in the recent year 2013 is the ideal fusion of glamorous style and futuristic, smart technology. Perfect for city dwellers, with practical floor plans, and spacious layouts, these apartments are the picture of decadence, while still comforting and welcoming to residents.
Let us walk you through The Summa residential building…
The Summa is one of the more brand new developments in the neighbourhood and consists of two blocks. Each of the two blocks are 33 stories high with three to four apartment units on each floor (totalling to 169 units), ranging in size from 238 square feet (saleable area approx.) studio units to the much larger duplex units measuring 2298 square feet (saleable area approx.) in size. Most of the elegant apartments within the building face the beautiful harbour views.
Amenities, Special Features, and Layout of the building units:
All of the apartment units in The Summa are finish with top quality finishes, and designed by the most practical of layouts, meeting the highest standards possible. All of the kitchens come fully equipped with complete appliances with split-type air-conditioners installed. Specific appliances equipped in the apartment units include: washer, dryer, fridge, gas stove, extractor fan. Hardwood floors run throughout the apartment units, while quality height ceilings tower overhead. All of the units have a private balcony for residents to enjoy the open views of the city. Well spaced rooms and bathrooms provides every amenity a home needs, with balconies that overlooks the exquisite cityscape and bustling streets.
A plethora of facilities are available for residents to use within the residential building.The building has all the luxe amenities you could dream of: a full-time doorman providing 24 hour security that keeps guard at the building to keep residents feeling safe,, including an indoor and outdoor swimming pool with a sun deck, gymnasium, stretching corner, conference/function room, audio room, inside and outside children's play area, as well as a functional barbeque area and communal garden area.
What's the neighbourhood like?
The Summa residential building is located in a new trendy hot spot called Sai Ying Pun, an area that is become a big up and coming neighbourhood rapidly the last 2-3 years. Sai Ying Pun is in the northwestern part of Hong Kong Island, and administratively is a part of the Central and Western District.
Sai Ying Pun's cantonese is 西營盤, which directly translates to English as "West Camp", specifically a military camp, due to the fact that the area was formerly an early British Military outpost. The location of Sai Ying Pun is uniquely built on the steep lower slopes of Victoria Peak and on the western relcamaation. Sai Ying Pun is tucked neatly between Shek Tong Tsui and Kennedy Town to its west, Sheung Wan and Tai Ping Shan to its east, the Mid-levels to its south (higher up the hill) and Victoria Harbour to its north.
The Sai Ying Pun area is a popular choice for people seeking a new home, primarily expats and the international crowd. It is close enough to Central (just mere minutes away), but far enough from the chaos that comes with living smack in the center of all the crazy action. Sai Ying Pun has quickly become the perfect balance of traditional old school charm and international chic, with wet markets and quaint little local shops mixed in between trendy restaurants, bars, and coffee shops.
Transportation in the area:
Transportation in Sai Ying Pun is ultra convenient for residents and visitors of the neighbourhood. Originally, there was no MTR line passing through Sai Ying Pun, but this all changed when the Sai Ying Pun MTR station was opened in early 2015. With any new MTR station openings, there is undoubtedly an influx of businesses, establishments and population that floods to the district. The MTR station is one of the main reasons that Sai Ying Pun became a hot spot so quickly. The area has changed dramatically in the last few years, from a rather remote and deserted area to one that has quickly gathered fame.
Nearby Schools:
Sai Ying Pun is an education hub, with many famous school and universities spread around and nearby the neighbourhood, making it an ideal location for students and families with children. Some of the schools around The Summa Residential Building include:
The University of Hong Kong

St. Louis School
St. Paul's College
St. Stephen's Church College
Nearby Restaurants, Bars and Coffee Shops:
From a virtually old ghost town back in the day, Sai Ying Pun has quickly picked up the pace to becoming one of the hottest spots in town for foodies, and social drinkers. With so many of Hong Kong's best eateries making Sai Ying Pun home, this neighbourhood is a dream to live in, especially for foodies. Even if you are not a foodie, let's be real now...who has ever complained about having to many food and beverage options? One of the main reasons this area has become so popular has much to do with its variety and quantity of great restaurants, bars, and coffee shops. If you want good eats, this is the place you want to be! Sai Ying Pun residents can get a taste of "mini Central" when living in this neighbourhood. You get all the perks, without any of the hectic crowds of people, noise and congestion.
Thai On High - Run by Thai people, this cozy little Thai restaurant is as authentic as it gets in Hong Kong. If you are craving seriously delicious home-cooked thai dishes, this is a spot you don't want to miss! You can find Thai On High at: 41 High Street, Sai Ying Pun, Hong Kong.
Potato Head - Hailing from Indonesia, Potato Head is a Beach Club located in Seminyak Bali that opened its first location in Hong Kong's very own Sai Ying Pun just a couple of years ago. Think tropical, soulful fare and fantastic drinks to match. With a restaurant side, bar, and lounge, Potato Head is a real destination for good times and you don't even need to go to Bali to experience it! There is also a small retail space inside the Potato Head that features goods from you can purchase from Indonesia. You can find Potato Head Hong Kong at: G/F, 100 Third Street, Sai Ying Pun, Hong Kong.
La Paloma - Fiesta, Fiesta! This laid-back and lively restaurant is all about fun casual fare and drinks. A "Chiringuito" style concept, it focuses on being a relaxing bar that serves mainly delicious drinks (think Sangria) and lots and lots of varieties of tapas. La Paloma follows the vibe of a "Chiringuito" beach-like vibe with its colorful and vibrant decor. You can find your most-loved Spanish favorites here at: 1 Floor, 189 Queen's Road West, Sai Ying Pun, Hong Kong.
Winston's Coffee - Seated right next to the Sai Ying Pun MTR station on Queen's Road West, this quaint aussie-style coffee shop with friendly staff and hipster vibes has quickly become a neighbourhood must-go since it first opened in the recent years. The place is small, but it's cool and the drinks and food are unbeatable. Oh, and it's also dog friendly! That's a huge plus for the residents of this neighbourhood as there are so many dog owners who choose to live in dog-friendly Sai Ying Pun district. You can find Winston's Coffee at: 213 Queen's Road West, Fu Kwok Building, Sai Ying Pun, Hong Kong.
Ping Pong 129 - Ping Pong 129 is a very unique establishment. The space was formerly a ping pong hall that has been transformed in to a dark and mysterious Ginotería (a gin and tonic bar). This bar is a retro hot spot amongst artists, hipsters and of course, gin lovers. With over 40 different types of gin from around the world, you can lay back on the sofas and take in the cool vibes of this refurbished industrial bar. You can make your way to Ping Pong 129 at this address: L/G, 129 Second Street, Nam Cheong House, Sai Ying Pun, Hong Kong.
Fish School - Tucked away in an alley on Third Street, Fish School is all about seafood, specifically fish of course, being its big speciality. This restaurant uses fresh local ingredients prepared with a modern twist. For something that's different from the masses, head to Fish School at: 100 Third Street, Sai Ying Pun, Hong Kong.
Stack - Pancakes! Flapjacks! Need we say more? If you have a love for breakfast food, Stack is a place you want to definitely check out. They don't just make traditional pancakes. The creations really test the boundaries of what is considered traditionally delicious, including pancake sandwiches, savoury pancakes, and more! Head down to Stack at the following address: 1 Third Street, Sai Ying Pun, Hong Kong.
Craft Brew & Co. - With multiple locations in Hong Kong, of course Craft Brew & Co would also make its presence known in Sai Ying Pun. If you like Brews on tap, this is the place for you. You can find this chilled out beer-focused bar at: 36 High Street, Sai Ying Pun, Hong Kong.
Yuan Is Here - This tiny Taiwanese food spot ranks pretty high on our list of neighbourhood favorites. Yuan is here is a real hole in the wall, no frills kind of place. The place is so good that most of their popular dishes are usually sold out before 7pm and there is always a long queue that people are happily willing to wait in. Make sure you go early to grab a seat or get takeout. They also serve a Taiwanese favorite, bubble teas here! You can find Yuan Is Here at: 73 Third Street, Sai Ying Pun, Hong Kong.
Uncle Padak - KFC! Nope, not Kentucky Fried Chicken, this is even better. We're talking about Korean Fried Chicken, a staple that has become a local favorite the last few years. Uncle Padak serves some of the best Korean Fried Chicken in Hong Kong. The fried crispy goodness comes paired with a selection of sauces, and korean side dishes like rice balls and grilled corn to name just a few. It's a fast food kind of place but trust us, it is mouthwateringly worth a taste, but we can bet our money that you won't be taken just one bite. It's that good. For some of Uncle Padak's delicious fried chicken, just make your way to: 59 High Street, Sai Ying Pun, Hong Kong.
Shopping Destinations in the neighbourhood:
There's tons of places for shopping in Sai Ying Pun, from wellness and health shops, supermarkets, to a large wet market where you can purchase everything from fresh produce to freshly caught seafood. The area is so self-sufficent that you don't need to venture out of the area to get your daily errands done.
What else is there in the Sai Ying Pun area?
Sun Yat Sen Park
Sai Ying Pun/Sheung Wan Dog Park
The Summa Address:
No. 23 Hing Hong Road, Sai Ying Pun
Year Built:
I want to live here! Show me the homes!
LUXURY HOME FEATURES:
THE SUMMA 高士台
These are a two of the currently listed apartment units for sale at the Summa in Sai Ying Pun, located on the western part of Hong Kong Island:
The first is a one bedroom, one bathroom, 505 square feet (saleable area approx.) unit listed at a sale price of $13,800,000 HKD.
The second apartment is a unit with one bathroom within a saleable area of 264 square feet (Saleable Area Approx.). This chic studio layout is a perfect fit for one person or a young couple. The cozy unit features a private balcony, modern bathroom, and a high-end open layout kitchen.
Constructed in 2013, this elegantly designed building is fairly new and in prime condition. As a luxury brand new and very prestigious building, all of the apartment units are finished and furnished in top grade quality with intelligent and practical layouts. All of the kitchens are equipped with full, state of the art appliances, and provided with split-type air-conditioning systems.
Facilities and amenities are plentiful for residents to enjoy, such as a swimming pool, gymnasium, function room, audio room, indoor and outdoor children play area, and a nice bbq area.
If we have piqued your interest, do feel welcome to contact our team at Engel & Volkers for more detailed information and viewings of the luxury homes for sale and rental. Engel & Voelkers are the leading experts in featuring real estate properties in the best areas of Hong Kong. We assure you that you will find your ideal dream home with our help.