Ultimate Convenience and Elegance at its best at SOHO 189, Sheung Wan, Hong Kong Island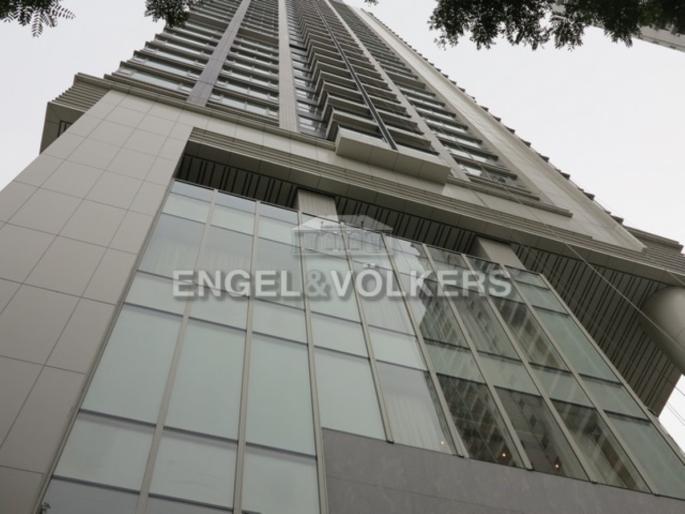 Our new neighbourhood watch guide each week will help demystify the various locations of Hong kong, helping you choose the most ideal spot to find a home. This week, we will be focusing on Sheung Wan on Hong Kong Island since our luxury home features this week include some of the most popular housing choices for both veteran residents and relocating newcomers.
Our luxury feature this week is none other than Soho 189 - a hugely popular building amongst the expat crowd. Soho 189 is a lavish, modern apartment complex that is excellently located in one of the most urban and trendiest neighbourhoods in Hong Kong, the western district of Sheung Wan. This modern 32-storey high-rise was built and completed in 2013 and located on the border or Sai Ying Pun and Kennedy Town on Queens' Road West. The building has 149 units in total. Tailored for the high-end crowd, the developers of the building features top-grade fixtures, fittings and design materials in each apartment unit. The majority of the apartment units were sold as fully furnished apartments. The interior of all of the units are spaciously and practically laid out, a well-rounded and neatly designed space. Sizes of the apartment units range from 507-1567 Sqft saleable areas.
The building's amenities are plentiful, with a 3-storey clubhouse featuring a resort-style swimming pool, sky garden, gym, outdoor children's play area, BBQ area, high-end facilities and top-notch management. Soho 189 is perfect for bachelors, bachelorettes and small families who want convenience and comfortable living at its best. With all amenities imaginable included within the building complex, one can live luxuriously in the the beating heart of Hong Kong Island.
What's there to know about the Sheung Wan neighbourhood?
Sheung Wan is a neighbourhood located on the North-West of Hong Kong island, tucked comfortably between Central and Sai Ying Pun. Administratively, it is part of the Central and Western District. The name Sheung Wan literally translate to "Upper District"in Chinese because it occupies relatively high ground in comparison to Central and Wan Chai. It is also interestingly known as "Gateway District"- most possibly a reference to the location where the British first entered and occupied Hong Kong territory.
Historically speaking, Sheung Wan was one of the earliest places where the British settled. Specifically, back in 1842, Possession Street (between Queens' Road Central and Hollywood Road) is the site of the British force's original occupation of the city.
Sheung wan is nestled between Sai Ying Pun to its west, Central to its east, Victoria Harbour in the north and Victoria Peak in the south. Mid-levels can be considered a part of Sheung Wan because a part of the area is located within the district of Sheung Wan.
Notable streets to look out for when searching for real estate in Sheung Wan:
Aberdeen Street, Bonham Strand, Bonham Strand West, Bridges Street, Cleverly Street, Des Voeux Road Central, Des Voeux Road West, Gough Street, Hillier Street, Holllywood Road (stretches all the way to Central), Jervois Street, Ladder Street, Man Wa Lane, Morrison Street, Possession Street, Pound Lane, Queen's Road Central, Queen's Road West, Rumsey Street, Shing Wong Street, Tai Ping Shan Street, Upper and Lower Lascar Row, Wellington Street (also stretches to Central), Wing Lee Street, Wing Lok Street and Wing Sing Street.
When it comes to transportation, Sheung Wan is one of the most convenient locations to live in Hong Kong. To begin with, one will find the city entirely accessibly by way of MT via the Sheung Wan MTR Station which forms part of the Island Line on the MTR metro system. Throughout Sheung Wan, you can easily hop on to the Tram or "ding ding"to take you to various areas throughout Hong Kong. Not only is it a scenic and leisurely ride, it's one of the cheapest ways to see Hong Kong, next to walking. Also located in Sheung Wan is the Hong Kong-Macau Ferry Terminal in the Shun Tak Center where you can take high-speed ferries and helicopters to Macau and several other destinations in Mainland China. Multiple bus routes also run throughout Sheung Wan. The bus terminus located at Central-Macau Ferry Terminal is one of the biggest bus termini on Hong Kong Island. The bus lines here will take you to practically anywhere you need to go in Hong Kong. On top of these modes of public transportation, taxis are very commonly found in the area and easy to hail down. Green Minibuses also serve this area frequently, making Sheung Wan one of the easiest places to get around.
What else is there in the Sheung Wan Area?
Some of the more notable features of Sheung Wan include the following:
* Blake Garden - Also known as Blake Gardens is a small urban park near Man Mo temple. The park features areas for playing football, basketball, badminton, and volleyball. How can you not get your fitness on when you live so close to this playground?
* Hollywood Road Park - is an urban public park in Sheung Wan that is characterized by its unique Chinese architectural style with zig-zagging bridges, emerald green and royal red pavilions and Chinese banyan trees throughout. What better place to take a stroll and relax amidst the Hong Kong busy lifestyle?
* Man Mo Temple - otherwise known as "Man Mo Miu"is a Chinese temple meant for the worship of the civil or literature god Man Tai/Man Cheong and the martial arts god Mo Tai/Kwan Tai. Although there are several other Man Mo Temples in Hong Kong, the one in Sheung Wan is the most well known of them all. Located at 124-126 Hollywood Road in Sheung Wan, this is the largest Man Mo temple and was built in 1847. It was graded as a Grade I historic building in 1993 and it is now a declared monument in Hong Kong. You can visit Man Mo temple from 8AM-6PM daily.
* Pak Tsz Lane Park - is a park located in a quiet square behind Aberdeen Street, Hollywood Road, Gage Street and Peel Street. The park is famous for its monument which celebrates the late 19th century revolutionary anti-Qing Dynasty activity of the members of the Furen Literary Society and the Hong Kong chapter of the Revive China Society. This is the place where the revolutionists met, and also the site of where Yeung Ku-Wan (the president of the societies) taught his students and later assassinated by Qing Dynasty agents.
* Sheung Wan Civic Centre - located in the Sheung Wan Municipal Service Building on Queen's Road Central, the Sheung Wan Civic Center is a popular theater venue and performance arts center featuring a theatre, lecture hall, exhibition hall, rehearsal hall, dance practice room, art studio 1&2 and music practice room 1&2.
* Shun Tak Centre - this commercial and transport complex in Sheung Wan is home to a 4-storey podium containing a shopping centre, car park, two 38-storey office towers, as well as the well-known Hong Kong-Macau Ferry Terminal. Just a 45-minute ferry ride will get you to the Macau, otherwise known as the Las Vegas of the Orient.
* Soho, Hong Kong (Soho is also considered a part of Central) - this vibrant and exciting area means "South of Hollywood Road"and is a popular destination for tourists, and expats.The area now consists of trendy restaurants, bars, lounges, art galleries and antique shops. Buildings in the SoHo area are an eclectic mix of commercial and residential buildings, with the commercial businesses normally on the lower floors and the residential units on the higher floors. Dotted with older buildings, many of the apartment units are walk-ups, a characteristic feature of Hong Kong homes.
* The Center - you are bound to have seen this building at one point or another, seeing as it is the fifth tallest skyscraper in Hong Kong, after ICC (International Commerce Centre), Two IFC (International Finance Centre), Central Plaza and China Tower. An interesting fact: The Center is one of the few skyscrapers in Hong Kong is that entirely steel-structured with no reinforced concrete core! This majestic skyscraper is located on Queens Road Central, half way between the Sheugn Wan MTR station and Central MTR Station.
* Western Market - Located at 323 Des Voex Road Central in Sheung Wan, the Western market is notable for being one of the oldest structures in the district. The four-storey building is designed architecturally in Queen Anne Revival style that was made popular during the British Empire during the late Victorian and early Edwardian times. The beautiful red brick work with polychromatic effect was brought to Hong Kong by the British, and is a characteristic feature of the building. One can visit here for Bavarian-style bakeries, Chinese dessert shops, fabric stalls, restaurants and cafés.
Here are some Must-Try restaurants in Sheung Wan:
* Pololi - famous for its Poke, this hawaiian-inspired restaurant was one of the first of its kind to pop up in Hong Kong. For those who have yet to try to delectable dish, Poke is a traditional Hawaiian dish consisting of sashimi-grade seafood, seasoned with a variety of spices, sauces, and garnishes, often on top of a bed of savoury and slightly acidic sushi rice. It's a great place to get a quick and delicious protein packed meal.
* Teakha - a quaint, charming and hip little corner café in Sheung Wan that serves delicious brunch-style dishes, baked goods, cakes, and teas and coffee. It's a feel-good neighbourhood joint that's worth a visit.
* Fu Sing - with multiple branches (the others are in Causeway Bay and Wanchai), Sheung Wan is lucky to have this delicious Dim Sum restaurant in its neighbourhood. There's no better way to get a taste of local Hong Kong than by "touching the heart"with some mouth-watering dim sum. Don't forget to order the BBQ pork buns!
What people have to say about living in Sheung Wan:
" I really liked living in Sheung Wan. Easy walking distance to all the stuff in Central, good transport links (walking, MTR, Airport Express, Ferry terminals…"
"It's a very interesting neighbourhood that has a mixture of old and new Hong Kong. It's got a cool local culture without the overdevelopment of Causeway Bay and Central districts. Now there's a lot of hipster coffee shops, trendy global restaurants popping up all over the neighbourhood too!"
"What I like about Sheung Wan is that it's so close to the central hubs of Hong Kong but the rents are still much more reasonable than the central areas."
"I absolutely love living in Sheung Wan and have friends who have moved here from other areas of Hong Kong once they saw how reasonably priced and convenient it is here."
"Rents are affordable (for Hong Kong!), and it's literally a 10 minute walk to Soho and Central where you can find all the bars and restaurants you could ever need. My husband works in Central and can walk to his office in under 10 minutes. Even though I work in Kowloon side, it is so easy to get to from Central via all the bus lines and MTR. A mere 5 minutes walk from our place brings us to the Macau ferry terminal, and another 5 will bring us to the IFC and Airport Express. It's just super convenient! Personally, I wouldn't live anywhere else!"
"Sheung Wan is definitely my favourite neighbourhood. While it used to more local and not very expat-filled, that's changed somewhat in the last few years. There's an increasing number of trendy business establishments, bars, restaurants, art galleries, posh serviced apartments - all of which are opening in the area like wild flowers. It's now become an even cooler area to live in, especially if you like a mix of local culture and expat lifestyle."
"I moved to Sheung Wan about a year ago and absolutely love it here. I find that the transport links here are excellent. I take the tram to work, so my commuting cost is next to nothing. There are a decent amount of good restaurants at a reasonable price. The rents are cheaper than most of mid-levels and Central district. Sheung Wan can get a little big crowded, but hey, so is the rest of Hong Kong most of the time!"
"Sheung Wan was an awesome place to live - close to everything you could possibly need. There's a lot of dried seafood shops in the area, so the smell can take a little bit of time to adjust to, but that's what makes it Hong Kong!"
"Where I lived in Sheung Wan, the smell that hit me when I walked out onto the street was the incense burning in all the tiny little temples around there. Loved it."
"Sheung Wan is a great area to live if you seek convenience and efficiency. We lived in Sheung Wan prior to moving to our midlevels apartment. The only complaint we have is the noise levels as it can get quite loud with the wet markets, fruit and vegetable stalls, dried seafood shops and trams going back and forth. We loved it prior to having kids because it is just such a convenient location that is close to everything. It's more noisy during the week, but the weekends and Sundays are quite quiet. The best thing about Sheung Wan is that public transport is right at your doorstep."
"I loved living in Sheung Wan. There is a big wet market where you can buy fruit, vegetables and meat for a very cheap price. If you are a person who loves to cook at home, this is one of the more convenient areas to live in."
"I like that Sheung Wan is so accessible. The area is not far from the MTR stations and is within walking distance to Central, SoHo and other trendy hot spots. There are many supermarkets nearby, along with restaurants, cafés and shopping that are all within close walking distance."
"Sheung Wan is good depending on which street you live on. Some streets are busier and noisier than others, so be careful when choosing your apartment."
If we have piqued your interest, do feel welcome to contact our team at Engel & Volkers for more detailed information and viewings of the luxury homes for sale and rental. Engel & Voelkers are the leading experts in featuring real estate properties in the best areas of Hong Kong. We assure you that you will find your ideal dream home with our help.