Causeway Bay - Neighbourhood Watch & Luxury Home Feature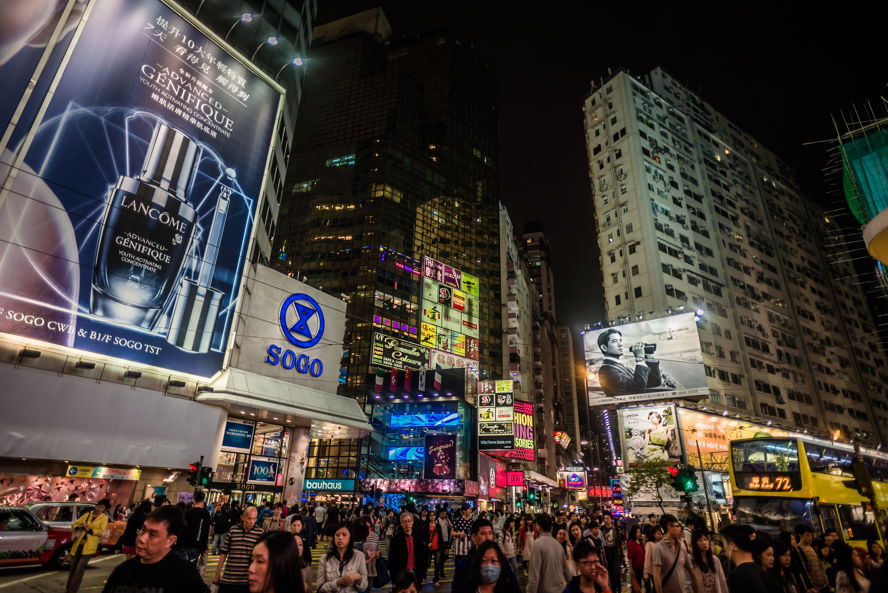 Causeway Bay, or Tung Lo Wan is one of the busiest and most well-known districts tucked away on Hong Kong Island. It can be likened to New York City's Times Square, where all of the face-paced action packed lifestyle happens. Causeway Bay is one of Hong Kong's biggest and main shopping, commercial and residential districts and is a very popular choice amongst young singles, business professionals, and couples for its ultra-convenient location. We cannot talk about consumerism without speaking of Causeway Bay. Almost every square inch of this district is devoted to retail and F&B, with its endless options of international and local style shopping malls, department stores, boutique, street market stalls, restaurants, coffee shops, bars, lounges, karaoke lounges, fitness facilities…the list truly goes and on and on. Whatever you need in Hong Kong, you can most probably find in famed Causeway Bay.
This area bordering the Eastern District was once a warehouse district but has grown to become one of the most densely built and populated areas in Hong Kong with plenty of residential options for your pickings. Predominantly local, Causeway Bay is such a popular choice amongst youngsters and new visitors because it is essentially in the centre of everything! If there is one word to describe Causeway Bay, it's convenience. You can find everything you could possibly want and need just right outside of your door step. The streets of Causeway Bay are filled with a mixture of commercial, retail and residential buildings. Think massive billboards, bright lights, shocking neon signs, constant activity and busy streets. For those who love to live in places where there's the feeling of constant city life, Causeway Bay is perfect because there is never a dull moment in this area.
When it comes to residential living in Causeway Bay, there are truly bountiful options to choose from - mostly consisting of high-rise apartment buildings and walk-ups in older local style buildings - both of which are hugely popular amongst locals and expats. Due to the district being one of the most densely built areas in Hong Kong, the residences here tend to be on the smaller size, which makes it ideal for bachelors and bachelorettes.
If you are a person who loves vibrant city-living in the heart of one of the most exciting neighbourhoods in Hong Kong then you might want to consider finding a home in Causeway Bay.
Reasons to Consider living in Causeway Bay:
The Shopping - Causeway Bay is a real shopaholic's haven, where everything from world-class international luxury brands, up-market fashion concept stores to local fashion boutiques can be found. People travel from far and wide across the world just to shop in Causeway Bay. Some of the most popular shopping destinations that can be found in Causeway Bay include but are not limited to:
Lee Gardens One & Two - One of the best Hong Kong luxury shopping destinations located in the heart of Causeway Bay's shopping district.


Hysan Place - A new and modern shopping mall and office building that offers endless stores of hip and fun brands.


Lee Theatre - A former venue for both stage performances and cinema screenings built in 1925, this place has been redeveloped in to a shopping plaza that houses the world's most famous international lifestyle labels and fashion flagship stores, with a focus in the hottest in Japanese and Korean fashion/lifestyle brands.


Times Square - A major shopping centre and office tower complex, and one of the largest and most famous shopping malls in Hong Kong filled with hundreds of stores ranging from mid-price to high-end luxury fashion. Times Square is home to Lane Crawford ( a high-end luxury retail giant) and City Super (a mega Lifestyle Specialty Store offering a premium selection of food, wine and lifestyle products from around the world). This shopping mall has over 230 stores, selling everything from luxury fashion, accessories, electronics, toys, books, music equipment to restaurants of all types of global cuisines.


Fashion Walk - Also in the heart of Causeway Bay, Fashion Walk is a unique indoor-outdoor hybrid space that offers the latest must-haves in fashion, lifestyle and F&B - a very popular shopping area for fashion trendsetters and cutting-edge concept stores. There are also a great variety of restaurants there, making it an ideal one-stop shop for residents and visitors.


Sogo Department Store - The largest Japanese lifestyle department store that carries a wide selection of international fashion and lifestyle brands selling everything from apparel, skincare products, cosmetics, jewellery, leather goods, children's clothes & toys, electronics, home appliances, home supplies…etc. It even has its very own Japanese style supermarket carrying premier produce and products.


Island Beverly Centre - Anyone who grew up in Hong Kong, whether local or international know Island Beverly as the treasure trove of quirky local Asian boutiques where one can find unique and affordable youth street fashion and accessories.



Jardine's Crescent Street Market - Hong Kong is known for its roadside market stalls that sell everything you could possibly imagine. Jardine's Crescent is one of the most famous in Hong Kong - a tightly packed roadside market that's a hidden gem for discovering bargain clothing, accessories, and domestic goods.
Super Convenient Access to Transportation Lines
The convenience and ease of transportation are one of the biggest selling points for residential homes in Causeway Bay. Nearly every public transport line crosses Causeway Bay, making it one of the best locations for people who value convenience as their number one priority.
You will never be bored!
It's always "Lights, Camera, Action" in busy Causeway Bay District. If you don't value too much serenity and instead prefer to live in areas with lots of action, then this is the neighbourhood for you. You will never find a dull moment - this district is the epitome of a city that never sleeps.
The things that actual Causeway Bay Residents have to say about living in this neighbourhood:
"It's a nice area with everything you could ever need, but the downside is that it's extremely crowded and very noisy. If this is something you can cope with then Causeway Bay could be the area for you."
"We live in Causeway Bay and we love it here. It's very "downtown" with Times Square at its focal point. Expect a lot of people and traffic, but you will never be bored living here. It's a shopper's paradise, with major supermarkets like CitySuper, Sogo and Park n' Shop in walking distance from each other, a million restaurants to choose from of all different cuisines, cinemas, Victoria Park, Hotels, IKEA…I could go on and on."
"If you like the pace of big city living where you can walk anywhere in a highly saturated area, then this is a great area to live. "
"Causeway Bay is essentially the centre of everything. Transport is so convenient, and every line runs through here - MTR, Buses, Minibus, Trams, Taxis - you name it, it's all here."
"It's always incredibly busy! It's bearable most days throughout the week but on Sundays, it is a circus! If it rains, you can expect to get hit by a hundred umbrellas just trying to cross the street."
"It's like the equivalent of living in Times Square in NYC, except Causeway is even more hectic. The area comes alive at night and is great but make sure you have a peaceful place to call home otherwise the noise and constant movement will drive you insane."
"I'm a night owl, so I can always depend on Causeway Bay to find something to eat, drink, do anytime of the day. It's literally 24 hours. This is the neighbourhood that never sleeps."
"The building we live in is a very old Chinese walk-up. It looks run-down from the outside but the inside is very comfortable with high ceilings and thick, soundproof walls. My one recommendation living in this neighbourhood, or any other really noisy Hong Kong neighbourhood for that matter is to pay attention to the noise from inside your flat. You will need decent windows and walls to block the noise from the streets."
FEATURED LUXURY HOME ALERTS:
FONTANA GARDENS
Fontana apartments is technically in a neighbourhood called Tai Hang, which is conveniently located on the edge of Causeway Bay is in one of the quieter residential neighbourhoods but still a stone's throw away from all the action of urban city lifestyle. This home is an apartment currently on the market for sale. This apartment consists of 4 bedrooms, and 2 bathrooms in an approximate living area of 2560 sqft. It is currently listed at the market value of 80,000,000 HKD.
This beautiful 4 bedroom apartment comes with its balcony and its own car park, and is only several minutes walk to Causeway Bay.
Person of contact: Thomas Friedrichkeit - Thomas.Friedrichkeit@engelvoelkers.com
PARK HAVEN
Park Haven is an apartment complex with several apartments currently listed up for sale in Causeway Bay. This particular featured unit consists of 3 bedrooms and 1 bathroom, in an approximate living area of 850 sqft. This apartment is currently listed at the market price of 30,800,000 HKD.
YOO RESIDENCE
Yoo Residence is another one of our featured apartments listed on the market for sale and conveniently located in Causeway Bay. This modern sky-rise residential building has many units and this particular unit featured here consists of 1 bedroom and 2 bathrooms. The living area of the apartment is approximately 443 sqft and is currently listed at the market price of 16,980,000 HKD.
This building is fairly brand new, constructed in 2015 only. Yoo Residence is the first residential project in Hong Kong by world-renowned property brand "Yoo". Yoo Residence is a stylist tower with 144 units with 1/2 bedroom units designed in comfortable layouts. Its unique location in Causeway bay offers a quiet residential lifestyle with harbour views as well as lush green views even in the midst of the bustling concrete jungle of Causeway Bay. The building is easily accessible by all public transport lines. The building comes with top of the line amenities and has its own clubhouse with gym, outdoor swimming pool & jacuzzi, business/function room and sky garden.
If we have piqued your interest, do contact our team at Engel & Volkers for more detailed information and viewings of these luxury homes for sale.
See more properties to buy and rent around Causeway Bay.