Clear Water Bay, Hong Kong - Neighbourhood Watch & Luxury Home Features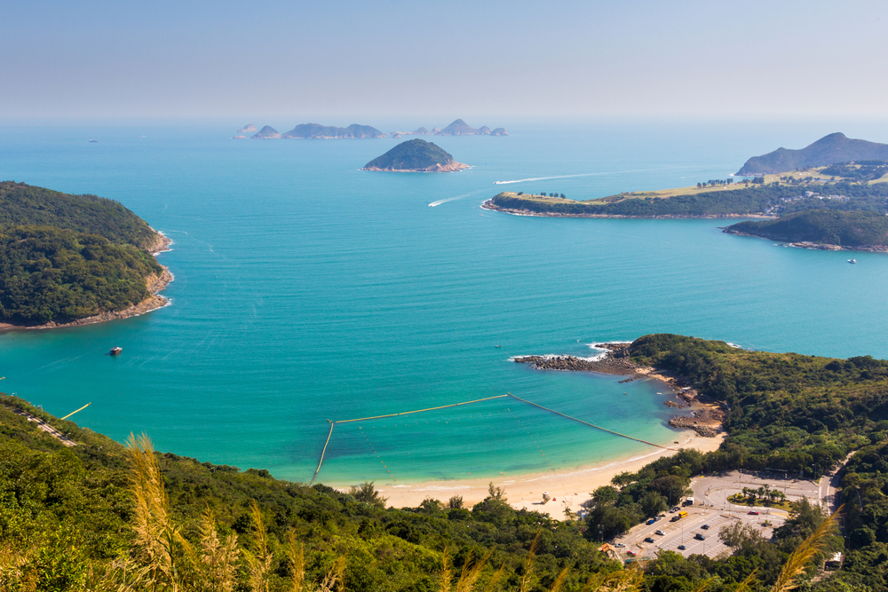 Most people who visit Hong Kong or even local residents only know Hong Kong Island and maybe Kowloon relatively well, but what about the whole other large region of Hong Kong that we call "The New Territories"?
The New Territories is a hidden gem that not many people really talk about for a few reasons. First of all, it's far from the city center where all the action takes place. Second, it's seen as part of the Outlying Islands of Hong Kong where people don't often venture out to. For those of you who do not know the New Territories, it is one of the three main regions of Hong Kong and makes up 86.2% of Hong Kong's entire territory and homes around half of the population of Hong Kong. Many people view Hong Kong as the epitome of a concrete jungle, full of towering skyscrapers and nothing else. Actually, more than half of Hong Kong is beautiful nature with soaring mountains, fantastic hiking trails, long expanses of sandy beaches and glistening blue waters.
Clear Water Bay is a magnificently beautiful area in Hong Kong that houses a lot of luxury homes, which will be our focus in this article's Neighbourhood Watch. For those of you who are seeking more serenity, tranquil lifestyle, natural surroundings and resort-vibes - Clear Water Bay may just be the location that will steal your heart away. Clear Water Bay is one of the most gorgeous bays on the eastern shore of Clear Water Bay Peninsula of Hong Kong, located within Clear Water Bay Country Park. There are two lovely beaches in Clear Water Bay, efficiently dubbed as "Clear Water Bay First Beach" and "Clear Water Bay Second Beach". Clear Water Bay is known for its beaches and Hong Kong dwellers love to frequent this area to go on hikes, relax on the beaches and take their super-yachts out. The beaches here are even more beautiful during the summer and almost feels like you are taken away from Hong Kong to tropical paradise. The beaches at Clear Water Bay are cleaner than other beaches in Hong Kong, and the sand is softer and more untouched as well - making it a prime location for people seeking out luxury homes in one of the most luxurious areas of Hong Kong. There's a reason why this quiet side of Hong Kong's Clear Water Bay is ideal for property buyers seeking open green spaces. Expats especially find this area to be very desirable, even more so the ones with families. Being further from the city and requires a longer commute to city center, Clear Water Bay is a magnet for the entrepreneurs and self-employed who don't need to work the daily 9-5 grind that is so typical of Hong Kong work life. Families love this area because there's much more space and nature compared to places like Hong Kong Island and Kowloon.Clear Water Bay attracts families with children because of its quality schooling from kindergarten to primary schools.
Clear Water Bay is so interesting in the midst of Hong Kong real estate because of its relatively unspoiled areas with nature, hills, country parks and long stretches of stunning coastline. It's one of the few neighbourhoods in Hong Kong where you can live in a house rather than a high-rise apartment complex, making it very popular for families with young children and/or pets. It's an area for people who crave more space and luxury living in a more rural and quiet environment, away from the hustle-bustle of typical Hong Kong life. There are various types of housing options in Clear Water Bay, ranging from stand-alone residences, town homes, complexes, village houses to waterfront luxury homes with private gardens and swimming pools. Clear Water Bay is one of the view areas in Hong Kong that offers better value for money than being closer to city-center. Where else can you find a location in Hong Kong that can beat these sea and mountain views?
If you are moving to Hong Kong or considering a move within Hong Kong to a new neighbourhood, there are a ton of decisions to weigh out before settling on the perfect area for you to live. The great thing about Hong Kong is that there is something for everyone, as small and dense as the city is. You can find something to your liking whether you are a city-dweller, or nature-lover.
Each week, we will announce our best features on the market along with local, authentic information about its relating neighbourhood. We will give you the low down on what its residential life is like in various neighbourhoods around Hong Kong and also our featured homes in those areas. This week, we would like to introduce you to three of our luxury houses that are listed for sale.
FEATURED HOME ALERTS:
ROYAL CASTLE

Also located in The New Territories of Hong Kong, in Clear Water Bay is a home named "Royal Castle".
Royal Castle is a 5 bedroom home with 2.5 bathrooms and an approximate living area of 212.28m².
This luxury house is currently listed at 98.800.000 HKD.
Now on to the amenities and special features of this stunning house, which also comes with a sea view of Clear Water Bay and its own swimming pool. Can you really ask for more? The home is a stunning, spacious family-style home with a large open kitchen, dining room and lounge/living room that overlooks the garden lawn and the beach that is so exclusive it's practically its own private beach. The second level of the house is made up of a large open casual living area with two large rooms for entertaining, a healthy sized study, and en-suite guest bedroom and a powder room. The master bedroom is furnished with a large walk-in and en-suite bathroom with a spa-style bath tub, separate shower and a double his and hers sink basins. There are two other large bedrooms in the house that share a bathroom. With five bedrooms, the Royal Castle is elegant with palatial grandeur, making it perfect for those who seek classical luxury. Did we mention that this home is designed with an elegant and majestic staircase? A true castle fit for a king in Hong Kong! What are you waiting for?
Person To Contact: Annette Steadson
SHEUNG YEUNG
Our fourth and final feature of luxury homes in Clear Water Bay is Sheung Yeung - a 4 bedroom, 4 bathroom house with an approximate living area of 195.1m².
This luxury house is listed at a price of 100.000.000HKD.
A little different from the previous two homes, this rare and exclusive Hong Kong home is designed with a resort-style living aesthetics with stunning mountain views, making it a true haven of tranquility. Sheung Yeung comes with its own immaculately- designed 8000 sq ft garden and has a parking area that can accommodate 12-15 cars! There's definitely no trouble for guest parking here! Excluding the garden area, this luxury home consists of 2100 sq ft net area - a truly private and serene residence in Clear Water Bay. This is a home you do not want to miss and is unlike anything you will see in Hong Kong.
Person To Contact: Annette Steadson
If we have piqued your interest, do contact our team at Engel & Volkers for more detailed information and viewings of these luxury homes for sale.
See more properties to buy and rent around Clear Water Bay.