Signs Of A Dog-Friendly Neighbourhood In Hong Kong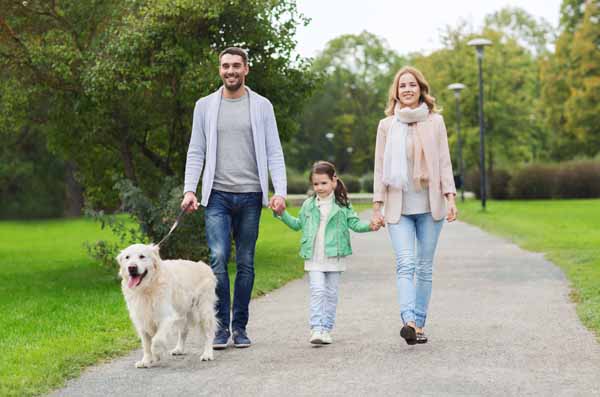 Are you a dog lover? With an increasing number of households having a furry family member, it's not surprise that finding a pet-friendly (dog-friendlly) neighbourhood is an all-important consideration for many homebuyers and home-renters. Homes and neighbourhoods that are not dog-friendly are immediately vetoed off the potentials list for many of us. But owning a dog in the city is a different story — especially in a city that is as densely populated as Hong Kong.
Hong Kong is not known as the most dog-friendly city in the world to begin with, and it is a city that has proven to be tougher than most when it comes to finding dog-friendly housing options in equally dog-friendly neighbourhoods. Just because a property is dog-friendly doesn't necessarily translate its neighbourhood being dog-friendly. But how can you tell which neighbourhoods in Hong Kong are truly welcoming to our furry four-legged best friends?
Despite being somewhat challenged in the square-footage department, not to mention the scarcity of such things as backyards, gardens, and wide expanses of outdoor spaces, Hong Kong residents are not hesitant about sharing their homes and lives with their furry best friends. For the size that Hong Kong is, there is an enormous number of dogs currently living in the city. Although every neighbourhood in Hong Kong could technically be dog-friendly, some communities and neighbourhoods make having a dog easier, more comfortable, more fun and more stress-free. Here are some neighbourhood features to look out for on your the home-hunt in Hong Kong.
You see a lot of dogs and their owners out and about on the streets
The most obvious sign of a dog-friendly neighbourhood is obviously one where there are lots of dogs out and about with their owners. Wherever you see lots of dogs easily is a sure sign that the neighbourhood is truly welcoming to our furry pets because people like to live in and nearby areas where its accessible and convenient for both them and their dogs. You want to choose neighbourhoods where the people, neighbours, landlords, property managers, small-business owners are welcoming to both you and your dog and the best indicator of that is if there are lots of other dogs walking around. Wherever there is a large concentration of dogs, there are sure to be lots of dog owners and dog lovers who care about animals. This is the type of environment you wan tot surround yourself in, with like-minded people who share the same interests and love for animals as you do to create a safe and happy place for your dog to reside in. Any neighbourhood with lots of dog activity is also much more likely to have neighbours who love dogs equally as much. If you are a dog owner, you don't want to live in a neighbourhood that resents animals. You and your dog will never feel welcome or relaxed living there and the other neighbours will find any excuses to drive you out of the neighbourhood.
Hong Kong is not a city that prides itself on being the most dog-friendly, but there are pockets of the city that are more dog-friendly there others. These are the neighbourhoods where most dog owners tend to congregate around. Like attracts like. Read on to find out where some of these top dog-friendly neighbourhoods are in Hong Kong for you and your pooch.
There's a dog park nearby — with tons of happy dogs playing in it
Why is it so important for a dog-friendly neighbourhood to have a quality dog park or allocated areas where dogs are allowed to run freely? Dogs require exercise to stay healthy, just as humans do. As the famed Cesar Milan says, the three most important factors in raising a healthy dog are: Exercise, Discipline and then Affection (in chronological order). A dog cannot be properly trained and disciplined without first being exercised. If you don't even have the space to exercise your dog, how can you raise a healthy pet? It's crucial for your dog to have lots of exercise to keep them active and stimulated, and we have compiled a list of some of the more dog-friendly neighbourhoods throughout Hong Kong as the best places to live if you are a dog owner.
Sadly, there aren't a great number of dog parks in Hong Kong. Even the majority of the ones that call themselves "dog parks" are depressing alternatives for what a real dog park should look and feel like. Some dog parks in Hong Kong are no bigger than a shoebox. Unfortunately, our already densely built city doesn't allocate much more disposable space to build proper dog parks, but we do have a few that can pass the test and gets the job done. It also depends on what breed of dog you have. If yo have a small to medium-sized dog, you can get away with a smaller dog park but bigger dog breeds will require more space in order to have a truly pleasant experience.
The biggest dog and most popular dog park in our city is the dog park in Cyberport Waterfront. This is the go-to park for most dog owners, especially those who have larger dog breeds. This is probably one of the biggest public parks in Hong Kong that actually allow dogs to enter. Most other public parks expressively forbid dogs of any kind. Other smaller alternatives are fenced off areas created just for dogs in the city, such as the small dog play area in Sai Ying Pun/Sheung Wan near the fire department and another one in Happy Valley opposite of the Police Station adjacent from Sing Woo Road. You should visit the dog parks on different days and times of the week to see how populated it gets. Take time to observe not just the dogs, but the owners too. Do the dogs play happily and nicely with each other? Are the owners keeping an eye on their dogs? How clean is the dog park? Are the owners picking up after their dogs? All of these signs will indicate what type of dog and owner frequent the park, and if this is the right area for you and your pooch.
Hanging out in this dog-centric areas is another great way to help you make new friends in your neighbourhood. The reason why you want to live in dog-friendly neighbourhoods is that generally speaking, fellow dog-owners and dog-lovers will be more inclined to watch out for your dog as well should anything happen. If your dog were to run loose and go missing, at least you have that many more pairs of eyes on the lookout for your missing furry friend. If you were living in a not-so-dog-friendly neighbourhood with a runaway pooch, chances are nobody would care or be inclined to helping you.
You can easily find pet-centric establishments — veterinarian, animal clinics, animal shelters, doggy daycares, and pet supply stores
Pet-focused business establishments don't just randomly pop up in neighbourhoods for no reason. Locations are chosen carefully with proper market research. Veterinarians, animal clinics, animal shelters, doggy daycares, and pet supply stores are set up in congregations in specific neighbourhoods for a reason — because those neighbourhoods have the most dogs and other types of pets. The existence of all of these above pet essentials show that the community and neighbourhood you are in care for the well-being of their animals. These pet-focused establishments won't set up shop in neighbourhoods where there are no pets and are not pet-friendly, therefore seeing any of the above (even better if there are multiple of each) is always a telltale sign that your dog and other pets will be welcomed, loved, and well taken care of.
There are pet-friendly cafés and restaurants in the proximity
If everything has ticked off so far, you are on the right path to finding a truly dog-friendly neighbourhood in Hong Kong. If a neighbourhood is on the right track to becoming your new dog-friendly home, go one step further and check if the business establishments in the area are also dog-friendly. You can tell a great deal from a business establishment's pet policy. If local cafés, restaurants, shops welcome dogs, add extra bonus points! You can usually tell right away how high a neighbourhood rates on the pet-friendly scale just by walking up and down the streets to peruse all the local restaurants and coffeeshops. A truly dog-friendly neighbourhood will welcome your furry best friends just as much as they will welcome you, and maybe even more sometimes. Do the people in the neighbourhood say hello to your dog first or to you first? If your answer is of the former (and trust us, it happens)!, you are lucky enough to have landed yourself in one of the rare pockets of Hong Kong that genuinely welcomes dogs!
For example, if you walk through the neighbourhood of Sai Ying Pun, you will be sure to see at least a couple of dogs lounging on the outside patios of restaurants next to their dog owners, or leashed in close proximity while their owners are enjoying breakfast, lunch, tea or dinner. If restaurant staff offers dog bowl with water, and dog treats to dogs, that's an even better sign. Some restaurants in the past have even offered dog-friendly menus catered just for dogs! How amazing is that? These little extra things will enhance the daily life for you and your dog and make your new neighbourhood feel like home.
There are plenty of sidewalks and allocated places to walk
As we've said, dogs require exercise in order to stay happy and healthy. A dog that is not exercised will lead not only to health complications and destructive behaviour. This is how many abandoned dogs end up on the streets in Hong Kong. Hong Kong owners just don't understand the exercise can solve 99% of dog behavioural problems. Dogs need daily walks, which is why you want do live in a neighbourhood that makes dog-walking easy and accessible. You want to look for neighbourhoods that have proper sidewalks, with very little car traffic. In addition to sidewalks, look for neighbourhoods that are close to nature trails, hike trails or even beaches. Extra brownie points if the neighbourhood provides free waste bags, dog-accessible water fountains, water bowls, dog waste areas — these are telltale signs that an area welcomes dogs.
It can be tough in Hong Kong to find neighbourhoods like this because of the densely packed spaces. Space is not a luxury for us humans, let alone dogs. Usually residential areas up on the hills will have a higher chance of being more dog-friendly as there is less traffic, less congestion and more open space.
Our Picks For The Top Dog-Friendly Neighbourhoods In Hong Kong:
Midlevels - The Peak
Kicking off our list of Top Dog-Friendly Neighbourhoods in Hong Kong is Midlevels all the way to The Peak. With quieter side streets ideal for walking, this neighbourhood is a good option for dog owners and their dogs.
The best thing about living in this area is that you are walking distance from the heart of Central and in close vicinity to great hike trails. An added bonus is that it is home to one of the most famous skyline views of Hong Kong. It is absolutely breathtaking once you climb to the top. The most popular hike is up towards The Peak and the Bowen Road trail but be extra careful anywhere around Central when taking your dog for a walk. There have been many deadly incidents of dog poisonings, so don't let your dog eat anything off the road.
This area is targeted for the deep-pocketed, so be prepared to pay hefty prices to be a part of this neighbourhood.
Sai Ying Pun
Sai Ying Pun has been a trendy up and coming neighbourhood for the past couple of years. It is also an increasingly popular area for dog owners because many of the buildings in the vicinity surprisingly welcome dogs of all breeds and sizes - Island Crest residential building s a prime example. If you prefer buildings of a smaller scale, there are plenty of older walk-up buildings too.
There are a ton of pet shops, dog-grooming boutiques, and dog-friendly cafes and restaurants spread throughout Sai Ying Pun. Just a few minutes walking distance away is a popular dog park where owners and their beloved pooches flock to every day of the week. Did we mention that the dog park opens up to a beautiful view of the waterfront facing Kowloon side and is situated right next to gorgeous Sun Yat Sen Park?
Happy Valley
Happy Valley has always been a top choice for dog-owners and dog lovers. Blessed with more open space than most other neighbourhoods on Hong Kong Island, the area is spotted with trendy cafes, bars, restaurants, shops, hike trails and dog park that are convenient for both you and your pooch. The great thing about Happy Valley is that it has much less traffic than its surrounding neighbourhoods such as Causeway Bay and Wanchai. It's made up of hilly streets that are great sidewalks for daily dog walks. There are also plenty of veterinarians, pet shops, pet groomers, pet supplies stores, pet hotels, and doggy daycares.
Although Happy Valley isn't as dog-friendly as it used to be, it is still an area that draws in dog owners. There aren't that many neighbourhoods in Hong Kong where there's such a large concentration pet shops, dog hotels, full-service daycare centers with boarding facilities, and a quaint little dog park as well in a quiet residential area.
Sadly,a number of local restaurants and bars no longer allow dogs to be within a certain distance of their establishments, but there remain a few that will still happily welcome your pet to sit with you - Classified is one of our favourites and you can be sure to meet other dog owners with the pooches enjoying a cup of coffee here and there.
Pokfulam
A top pick for many dog owners, Pokfulam is a true retreat and a real breath of fresh air. This area is home to a myriad of dog-friendly housing options and let us not forget the beautiful Cyberport Waterfront Park that is (shockingly) dog-friendly. This is really rare because most public parks in Hong Kong do not allow dogs, but Cyberport is a true paradise for dogs and their owners. There are certain areas where you can even let your dog(s) go completely off-leash,which is almost unheard of in Hong Kong.
Pokfulam is only a short distance away from Kennedy Town, Sai Ying Pun, Sheung Wan and Central but you will feel like you have left Hong Kong's hustle bustle behind. It is a prime location for those who need to be close to work but prefer to be away from the city noise.
RepulseBay - South Bay - Stanley - Tai Tam - Redhill
These four famous bays spread along the shores of Island South are stunning locations to live with your pets. These neighbourhoods are great for people who want not to stray too far away from the city but still feel a sense of tranquility that is not readily available in the city center of Hong Kong.
Although most of the public beaches don't allow dogs, there are a few dog-friendly locations such as Stanley Promenade and Stanley's private dog beach where your pooch can happily enjoy the plentiful space and cleaner air. The marketplace and all the restaurants along the Stanley Promenade are dog-friendly, so you can take the little ones with you everywhere you go.
Tin Hau
This is a quiet residential neighbourhood that sits right next to busy Causeway Bay.Tin Hau is another popular up and coming area of choice with the influx of carefully curated restaurants and cafés loved by foodies and bloggers. It is a pretty dog friendly neighbourhood considering the number of pet shops and vet clinics available, as well as the broad range of housing options that allow pets of all sizes.
The great thing about Tin Hau is that it is situated in the heart of Hong Kong Island. You will be mere minutes away from Times Square, one of the most iconic tourist destinations of the city. It's a perfect neighbourhood for those who are seeking a healthy work-life balance that can accommodate the needs of their pets as well. More and more young couples and families have moved to this area for the particular reason.
Lamma Island
An expat's paradise, Lamma Island is the home away from home that offers everything your dog is sure to love. There are plentiful beaches, hiking trails, dog-friendly houses and establishments. Lamma is more suitable to those who want to live the relaxed village lifestyle surrounded by nature. It's one of the most dog-friendly parts of Hong Kong.
Transportation may be an issue for some people because to get there, you must board a ferry. But for those who don't mind the distance, it's only a ferry ride away and you can even bring your dog with you as long as they are muzzled on board.
Sai Kung
If your furry friend's happiness is the key driving factor in where you want to live, then look no further. Sai Kung's housing options are plentiful, and range from budget-friendly walk ups to opulent villas and mansions for the wealthy.This area is filled to the brim with outdoor activities — from country parks,beaches, pet shops to the town center's promenade — you can be assured that your dog will have a magnificent time living here. Sai Kung is considered the ultimate front-runner in dog-friendly neighborhoods in Hong Kong.
Again,similar to Lamma and Yuen Long, transportation is the biggest issue for most people. Be ready for long commutes to get in to the city, and having a car is a basic necessity here.
Yuen Long
This location is a bit further away from the city centre but totally worth the slight inconvenience if you crave more space and to be surrounded by nature instead of sky-rises. Yuen Long has a lot to offer, especially for pet owners.There are a number of dog-friendly and affordable housing options (apartments and village houses), dog training camps and boarding resorts, and beautiful country parks that will make you forget you are in Hong Kong.
What are some strategies you used to find a dog-friendly neighbourhood in Hong Kong to settle in? Where are your favourite dog-friendly neighbourhoods? We would love to hear your tips and comments!