Living In Greenery Garden in Pok Fu Lam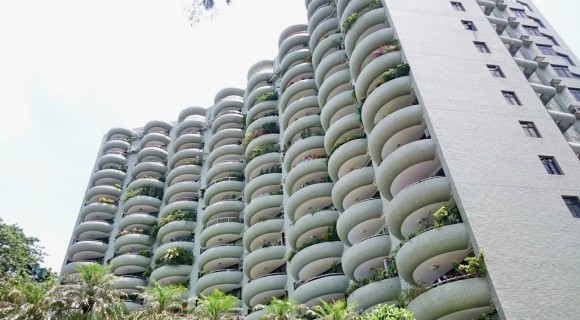 Pok Fu Lam, the western side of Hong Kong Island, is a less populated area with a mix of modern and unique style apartments. Conveniently connecting Aberdeen and Mid-West District, Pok Fu Lam is notable for its green living environment, thus attracts the pursuer of pleasance and comfort residence.

As its name suggests, Greenery Garden in Hong Kong is naturally enveloped with a vast stretch of green, contrasting with those of the "concrete jungle". Situated at the junction to the tranquility of Mount Davis, the modernity of Cyberport and the hustling city of Mid- West District, Greenery Garden combines all the advantages in one.

In the vicinity of Mount Davis, Greenery Garden benefits from its altitude and stands at a higher place for a nice outlook to mountains and the far sea. Built along the mountain, the scattered residence keeps good privacy and high levels of tranquility and comfort. There are two apartments in each floor. Each unit is approximately 1,200 sqft in space. Lined up with another three blocks, each unit has an extended round balcony that shares a wide and unobstructed view to afar. In addition, there is the inclusion of one car parking space. Greenery Garden also has extensive clubhouse facilities including a swimming pool, tennis court, squash court, gymnasium and children play area.

With the extension of West Island Line, the commute to Central or to Southern Island is more convenient. Easily accessible up to the hub of the city and with a gorgeous view down to the Southern district, the choice of a leisurely or vibrant weekend is just within a 15-minute reach.

The luxurious greenery area in Hong Kong is perfect for living in as well as for outdoor activities close to nature. Mount Davis Fort which is nearby is a good spot for historical exploration on Hong Kong military past. A 20-minute more in travel time takes you to the Pok Fu Lam Country Park.

Richly endowed by the nature and surrounded by a full set of infrastructure, Greenery Garden is a perfect fit for a young family looking for long-term development and property value growth. Slightly more affordable when compared with other luxurious properties of the same region, Greenery Garden records a good transaction history and constantly creates noise among investors.

In short, Greenery Garden has it all and a good fit for investment.