Happy Valley - Luxury Home Features and Neighbourhood Guide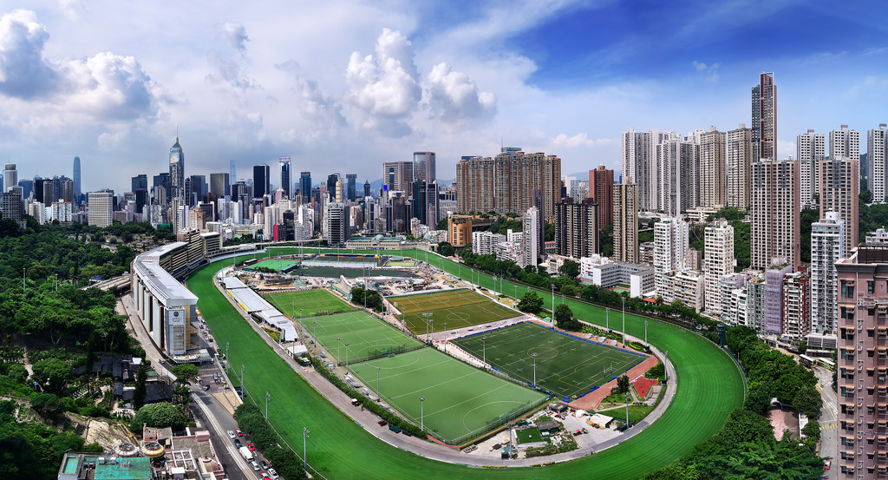 Welcome to our Hong Kong neighbourhood feature again!
Finding a home can be exciting, overwhelming, and slightly annoying if you don't have a proper plan of action. Although Hong Kong is small, there is still a diverse collection of neighbourhoods to pick and choose from - enough to make your head spin. This is why we have come up with a neighbourhood feature to introduce you to all of the exciting neighbourhoods of beautiful Hong Kong.
Our exciting neighbourhood watch guide each week will help demystify the various locations of Hong kong, helping you choose the most ideal spot to find a home. This week, we will be focusing on Happy Valley on Hong Kong Island - an always popular choice for people seeking the ultimate high in luxurious homes. If elegance and convenience is what you are seeking, then Happy Valley is a neighbourhood you will want to get to know better.
Located on Hong Kong Island, Happy Valley is an upper-crust residential neighbourhood that is both a beautiful and convenient area to live in. The area has a lot to offer, with a plethora of good quality amenities, public facilities, delicious restaurants and hip bars, it is also the grounds of Hong Kong's famous midweek horse races and many major sports events. In Chinese, the name of this neighbourhood literally translate to "Horse-racing ground". Let's dig a little deeper in to the history of Happy Valley to find out it's been dubbed the name. This area was formerly known as Wong Nai Chung Valley, a mud-filled river that collected waters from the Wong Nai Chung Gap and surrounding areas. This was pre-construction of the Happy Valley Racecourse in 1846, when rice paddies were still prevalently abundant in the area.
Today, Happy Valley is made up of upper income residential areas, with a population mix of both Hong Kong locals, expats, and foreigners. Two of the most notable and stand-out residential buildings in the neighbourhood are "High Cliff" and "The Summit", which form the "chopsticks" of Hong Kong because of it's appearance next to each other.
Considering its location for being quite central to all other parts of Hong Kong - Causeway Bay and Wanchai are its neighbours - Happy Valley feels surprisingly far removed from the hustle bustle of the city. The suburban and residential vibe of the neighbourhood is what attracts a lot of residents to set up home here. It's quieter than most parts of Hong Kong, with less traffic and lots of desirable housing options. The neighbourhood is all about community, making it a highly popular choice for expats, foreigners and families.
Speaking of community, Happy Valley is a very self-sufficient neighbourhood when it comes to not having to leave the area to get all your daily needs. There are plenty of options for shopping in the neighbourhood, from small-scale boutiques, fruit and vegetable stalls, supermarkets to a wet market.
How's The Transportation in Happy Valley?
Some people assume that Happy Valley is inconvenient because of its inland location, meaning that it does not have its own MTR station. However, this couldn't be less true. Transportation in Happy Valley is very convenient for both residents and visitors. Although there is no Happy Valley MTR station, there are a mix of trams, minibuses, and taxis that serve the area. Residents will find that the rest of Hong Kong is easily accessible by way of the Causeway Bay MTR station (Island Line) just a short distance away via minibuses, trams or even by walking.
Tram - There is a tram terminus in Happy Valley, at the corner of Wong Nai Chung Road, Blue Pool Road and SIng Woo Road. Trams pass by frequently traveling in both directions along Hong Kong Island, and can take you to most parts of the city easily.
Buses/Minibuses - The Happy Valley area is well served by both minibuses and bus lines, serving all areas of the district.
Notable Features In Happy Valley
Happy Valley Racecourse - this is one of the main attractions in Hong Kong, and one of the two racecourses for Hong Kong horse racing. Located in Happy Valley, it is surrounded by Wong Nai Chung Road and Morrision Hill Road.


Hong Kong Sanatorium and Hospital (HKSH) - is a prestigious and reputable private hospital in Happy Valley with some of the best medical services available to Hong Kong residents.



Hong Kong Football Club - is a private members sports and social club in Happy Valley.
Fitness and Healthy Living in Happy Valley
Happy Valley is prime training arena for fitness and health fanatics. It is nearby plentiful hiking trails and home to the famous Happy Valley Race Track. It is hard to find decent outdoor space to workout in Hong Kong. With the addition of smog and traffic, it can become downright demoralising, inconvenient and even unhealthy. Plus, not everyone likes to exercise within the confines of a gym. At Happy Valley Race Track, you have a proper track that can meet most of your fitness activities, from running, body resistance exercises to circuit training. Not to mention, the view is fantastic and comes with an panoramic view of Hong Kong's show-stopping skyline.
Happy Valley is also full of member's sports club such as The Football club that attract fitness lovers far and wide. The area is populated with athletes, and for good reason!
It's no wonder that fitness enthusiasts flock here to take up residence.
As for eateries, there are plenty of options in the area where one can indulge in healthy options:
For those who prefer healthy home-cooking, Happy Valley is an ideal place for home chefs. There are a range of supermarkets and health food stores on almost every block. There is even a wet market where you can buy affordably priced produce that cannot be found in regular supermarkets.
As for health services, there is no shortage of medical establishments in Happy Valley. The area is close to a number of reputable hospitals, including the Hong Kong Sanatorium and Hospital ( a private and world-renowened private hospital), and the Hong Kong Adventist Hospital just up the hill seated on Stubbs Road. The charity-funded Tung Wah Eastern Hospital is also in the area, as well as St Paul's Hospital close by in Causeway Bay. It's no wonder that this area is so popular amongst families with children.
Are there any schools in and around Happy Valley?
There's a reason why Happy Valley is such a family-friendly residential neighbourhood. One of the top features that make up a family-friendly neighbourhood is the abundance of quality schools in the district. Within the district itself, there are a plethora of options to choose from when it comes to education, which include: Catholic Girls' Marymount Secondary School on Blue Pool Road, St Paul's School on Ventris Road, and the private French International School on Blue Pool Road that cater to a large population of expat families. Other schools in and around the area include the English Schools Foundation establishments, Lingnan Primary School and Kindergarten, Hillside International Kindergarten, as well as the prestigious Chinese International School.
Are you a pet owner?
Although Happy Valley isn't as dog-friendly as it used to be, it is still an area that draws in dog owners. There are a number of pet shops, dog hotels, full-service daycare centers with boarding facilities, and a quaint little dog park as well.
Sadly, a number of local restaurants and bars no longer allow dogs to be within a certain distance of their establishments, but there remain a few that will still happily welcome your pet to sit with you - Classified is one of our favourites and you can be sure to meet other dog owners with the pooches enjoying a cup of coffee here and there.
Nearby Schools:
Rosaryhill School
Po Kok Primary School
Precious Blood Primary School
French International School (FIS)
Useful Nearby Addresses:
Choosing the right neighbourhood is all about convenience. Knowing what is in the area is the number one deciding factor for whether you choose to make a place a home or veto it.Happy Valley is renowned for being in a very convenient location with supermarkets, hospitals, and schools nearby. Here are some of the places that you will want to know are in close proximity to this iconic residence:
Hong Kong Sanatorium & Hospital, Happy Valley

HKSH is a private hospital in Happy Valley with best quality services and world-reknowned doctors and surgeons. The hospital also has a 24 hour outpatient triage center.

Private Hospital
Fusion Supermarket, Village Road, Happy Valley
Jason's Marketplace
Parkview Supermarket, Fusion by ParknShop, Hong Kong Parkview
Good Eats and Drinks in Happy Valley
Amigo (79A Wong Ngai Chung Road, Amigo Mansion) - A true classic, Amigo Restaurant is the Godfather of restaurants in Hong Kong and has stood the test of time. You can find exquisite and authentic French delicacies and wine here, perfectly complimented by romantic and old-school ambience.
Hoi Ping Road Tower - This tower houses dozens of International restaurants and one can surely find a taste that fits on any given day! Did we mention about the views up high too? You can enjoy a nice meal and drinks while enjoying the spectacular Hong Kong views.
Classified - A well known establishment in Hong Kong, this trendy café can be found all over Hong Kong. Serving all-day breakfast selections, smoothies and other delicious lunch and dinner eats, this is a trusted staple that you can't go wrong with! Even better that there's one in Happy Valley, and it's dog-friendly as well!
Yakitorei - this tiny hole in the wall features some of the best Japanese skewers in the neighbourhood. This late night eatery opens until way past midnight on the weekends, where you can toss back sake and watch the chefs grill up your favourite meats and vegetables right in front of you.
On top of eateries, there are a lot of great speciality shops in Happy Valley like quality butchers, delis, wine cellars, alcohol shops, vegetable and fruits stalls, and more to do your shopping at.
LUXURY HOME FEATURES
HIGH CLIFF
As one of the tallest residential buildings in Hong Kong and a winner of a number of elite design awards, this is one of the best luxury homes in Hong Kong, with eye-catching views that you can boast about and fully enjoy. Needless to say, as one of the tallest skyscrapers in Hong Kong, the views are unbeatable. High Cliff building stands in front of Mount Nicholson overlooking Happy Valley and Victoria Harbour. We can assure you that the skyline views are out of this world! High Cliff is really quite a feast for the eyes. Not only is it tall and majestic in appearance, the building is made up of the best quality materials - adorned in top-grade steel and glass throughout. Perched beautifully atop of Mount Nicholson, lucky residents can enjoy an unobstructed view from the high floors of the buildings which overlooks the glistening South China Sea.
One of our luxury home features is available for sale inside the Highcliff residential building. It is a four bedroom and three bathroom, 2,739 Sqft unit listed at a current sale price of HKD$170,000,000.
Amenities, Special Features, and Layout of the building units:
Bedroom
Bathroom
Living Room
Dining Room
Helper's Quarters
Fully fitted kitchen
Views of the city and ocean
Parking space
Central Air Conditioning
Sauna and Steam
Outdoor Swimming Pool and Children's Pool
Children's Playground and Indoor Play Area
Residents can enjoy a private swimming pool, gym, and carpark within the building, and is perfect for those who like to have everything at their fingertips. Having a swimming pool and gym available in such convenience proximity makes it ultra easy to keep fit and stay in tip top shape.
The amenities in High Cliff are even more to boast about. Throughout the building, the visual theme is beautifully created in colourful and striking matching mosaic tiles. The vast, oval outdoor swimming pool continues this gorgeous visual feature from the grand lobby mural of sweeping blues, and warm red, orange and yellow tones.
The gym is a high tech gym that is fully equipped with state of the art fitness equipment and changing facilities that can fulfill all of your fitness and health goals. You are going to want to work out in this gym!
Families with children will be ecstatic to know that this building is very children-family as well. The building comes complete with an equally vibrantly colored and picturesque children's playroom, where kids can hang out and play after school. In Hong Kong, it's difficult to find play areas for children that are safe. High Cliff provides a perfect space for families, parents, and children to gather.
The iconic building also houses three distinct function rooms to complete an "All-in one" one stop shop. You don't even need to leave the building to have every amenity at your disposal. What a gift!
THE ALTITUDE
Located at 20 Shan Kwong Road in lush suburban Happy Valley, we have a rare unit available in the residential building "The Altitude". The six bedroom, four bathroom unit within an approximate saleable area of 3,072 Sqft is listed at the current sale price of HKD $103,000,000. In a prime location, the building is situated in the beating heart of Happy Valley, close to all the shops, restaurants, cafés, bars, and public parks. Just a short walk away is the Happy Valley racecourse and the Jockey Club, where one can participate in the excitement of the midweek horse races. This residential building (built in 2011) is 32 stories tall with a total of 126 apartment units. The blocks face southwest and have spanning views of the Peak. All of the apartment units feature quality-sized balconies with top of the line interior finishings.
The Altitude's convenient location in Happy Valley is one of its biggest selling points. Located in a serene and comfortable environment with close proximity to Hong Kong's exciting city life, this rare find will not stay on the market for long. This currently listed apartment has 3 bedrooms - two of which are ensuite - with spacious living and dining areas and a generous sized balcony. Fully equipped with world leading brand kitchen finishings and electrical appliances, this home is perfect for small families. Recreational facilities in the building are plentiful, including a gymnasium, jacuzzi, sauna and steam room, lounge, multi-function room, multimedia entertainment room, mahjong rooms, children's play area, BBQ area and a communal landscaped garden for residents to hang out in. The Altitude is a building you don't want to miss!
We have put together a further list of some of the top residential buildings in this neighbourhood:
Beverly Hill
Beverly House
Blue Pool Lodge
Broad View Villa
Broadville
Broadwood Park
Celeste Court
Colonnade
Comfort Mansion
Friendship Court
Gracedale
Highcliff
Hooley Mansion
Horace Court
Leighton Hill
Race View Apartments
San Francisco Towers
Splendour Court
The Summit
Valley View Terrace
Ventris Court
Ventris Place
Villa Lotta
Villa Rocha
Village Terrace
Winfield Building
What people have to say about living in Happy Valley:
" We love living in Happy Valley. We've got spectacular views of the racecourse on top of the hill. It's in the city but feels somewhat removed from it because no MTR lines pass through here. There are playgrounds, a dog park, tons of little shops and boutiques, restaurants, pet shops, supermarkets, massage spas…."
"What a great area we live in! We are a family with children and Happy Valley has that pleasant village feel we look for. The transportation situation can be a bit of a pain depending on where you live in Happy Valley. If you live at the bottom of the hill, there are bus stops, tram stops and plentiful taxis to hail down. However, if you live up the hill, it can be a mission to find transport down during busy times If you have our own car/driver then this doesn't apply of course."
"A very relaxed area compared to places like Central and Midlevels. Happy Valley is right next to Causeway but no MTR lines pass through. There's less crowds and noise but getting to Causeway is a breeze. You can walk, or take public transport since both are equally efficient. If you like outdoor space, sports and such activities, this is a a great area because there are many Clubs here that cater to your needs."
"One of the more dog-friendly neighbourhoods in Hong Kong. There's a dog park, and very close to plenty of hike trails. It's a very quaint neighbourhood and convenient in all aspects."
"Happy Valley is really nice. I could't ask for a nicer place to live in Hong Kong. I moved to Happy Valley from Causeway Bay, where it's very congested and densely populated. I had to get out of that area as it was just too noisy for me and was impossible to sleep without ear plugs. Happy Valley is nice and quiet, which I like but still central enough to be convenient if you need to get to other areas in Hong Kong. There are enough conveniences in the neighbourhood to make your life quite easy, with a number of restaurants, cafés, supermarkets, coffee shops, a wet market, dry-cleaning places, pet-supplies stores and more. The transportation links here are convenient and reliable. You have the options of taking the tram, minibuses, and taxis all around the neighbourhood. It's a very dog-friendly place too, which cannot be said for a lot of other areas in Hong Kong.
"My husband and I have lived in Happy Valley for 3 years now and we love it. It's a very convenient area that's close to pretty much everything. The transportation is also very convenient, lots of taxis, tram, minibus and bus routes serving the area. Just a short walk or minibus away is Causeway Bay, where you can get to all of Hong Kong by MTR and other bus lines. We like that it feels far removed from the noise of the city but it's still close enough to the central hubs to be convenient."
"I personally love living in Happy Valley. Of course, it depends on what your needs are. It is not as "happening" as places like Central and Soho but if you are looking for a true residential area, Happy Valley is as close as it gets in Hong Kong, while still remaining convenient. Happy Valley is close to the busy districts of Causeway Bay and Wanchai, where you can get all of your shopping, eating, and drinking fix. Because Happy Valley is very residential and suburban, it is extremely quiet, lacking in the traffic noise that you will be faced with in most other Hong Kong neighbourhoods. That's a huge bonus in my books. Another value add to living in Happy Valley is the amount of greenery that you are surrounded with. THere's mountains everywhere, where you are surrounded by hiking trails. It's really a beautiful area to live while still being convenient and close to the city.
If we have piqued your interest, do contact our team at Engel & Volkers for more detailed information and viewings of these luxury homes for sale. Engel & Voelkers are the leading experts in featuring real estate properties in the best areas of Hong Kong. We assure you that you will find your ideal dream home with our help.