High Cliff - Living in Heaven In the Sky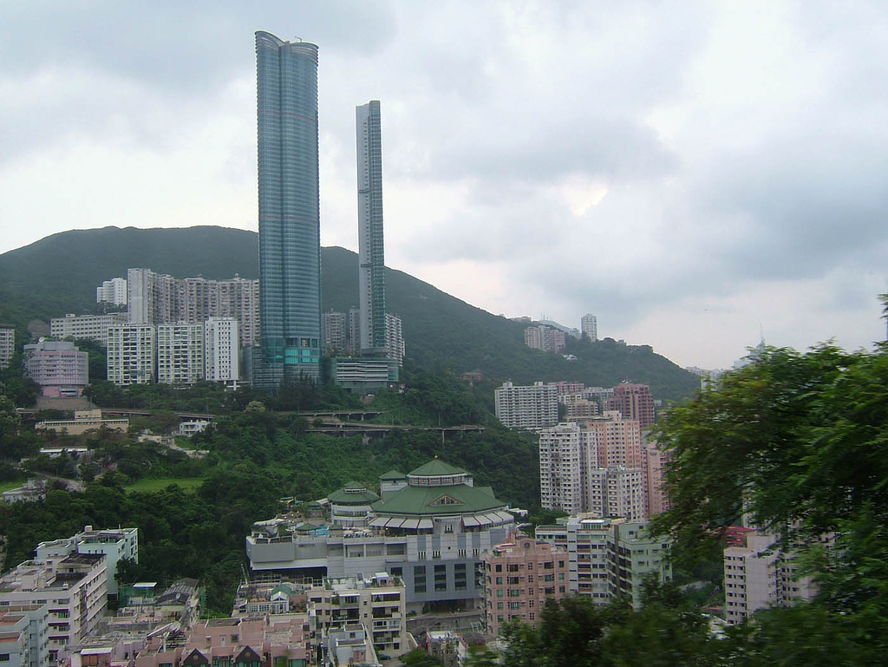 It is no surprise that Hong Kong is well known for its eclectic mix of skyscrapers, but there are certain ones that stand out amongst the masses. These are the certain skyscrapers in Hong Kong that truly lives up to its name and celebrity status in the real estate world. Anyone who's been around Hong Kong long enough has surely gotten a glimpse of this statuesque and magnificent sight of a building.
The building we are speaking of is none other than High Cliff or otherwise known as 曉廬 in Chinese is currently the tallest residential skyscraper in Hong Kong (and the 95th tallest building in the world) towering at 252.4 metre (828 feet tall) situated on a south slope of Happy Valley on Hong Kong Island. You may not know this building by name, but you will surely know it by sight. High Cliff is a 75 story building houses 70 floors of actual livable space, whose construction started in the year 200 and was completed in 2003 under the spectacular design work by DLN Architects and Engineers. High Cliff's design has achieved much global acclaim in the design space, securing the number one place as the Winner of 2003's Emporis Skyscraper Award, and coming in a close second place to 30 St Mary Axe in London. This astounding architectural piece of art was also chosen for exhibition at the Museum of Modern Art (MOMOA) in New York for its innovative design of soaring silhouettes and unique azure blue.
If you want views, High Cliff is the place for you!
As one of the tallest residential buildings in Hong Kong and a winner of a number of elite design awards, this is one of the best luxury homes in Hong Kong, with eye-catching views that you can boast about and fully enjoy. Needless to say, as one of the tallest skyscrapers in Hong Kong, the views are unbeatable. High Cliff building stands in front of Mount Nicholson overlooking Happy Valley and Victoria Harbour. We can assure you that the skyline views are out of this world! High Cliff is really quite a feast for the eyes. Not only is it tall and majestic in appearance, the building is made up of the best quality materials - adorned in top-grade steel and glass throughout. Perched beautifully atop of Mount Nicholson, lucky residents can enjoy an unobstructed view from the high floors of the buildings which overlooks the glistening South China Sea.
I want to live here! Let's see the homes!
Chances are if you have read this far in the article, you have developed a keen interest for considering this building to be a potential new abode. Good news is, that's what we are here for! To help you find a place that you can comfortably call "home sweet home". It could really take months to find a home of your liking in Hong Kong, so we have done the tedious work for you by highlighting some of our best properties in the area. We understand that you are not just investing in a property. When you say yes to a property, you are also investing in its neighbourhood. This is why we decided to give you a preview of the ins and outs of the available property units, should you be interested for further inquiries. There's no point of looking at properties if you don't even enjoy the neighbourhood and building now is there?
With that being said, here is one of the currently available units in the luxurious High Cliff Residential Building.
This particular unit is a 4 bedroom apartment within a 2739 Sqft (Saleable Area Approx.), and listed at the price of $175,000 HKD for rental.
So what else comes with living in this phenomenal building? Let's take a look at some of the amenities and special features of this apartment.
Let us walk you through the this majestic building…
As if the building itself isn't grand enough already, every detail in High Cliff is of grandeur. From the moment you enter the building's lobby, to finally being inside the home units, every detail in the High Cliff was designed with greatness in mind. As you enter the lobby, you will be met with an electrifying 4-storey mural of azul blue that compliments the building facade, along with a mixed palate of reds, deep oranges, and glowing yellow tones. The mix of warmth and cool colors bring a sense of unity and warming comfort to the eyes. Through the floor to ceiling glass windows that spiral up alongside a grand staircase, you can see through the towering glass walls the dramatic skyline views down towards to bustling city of Hong Kong Island.
Completed in year 2003, this building is one of the two statuesque and famous buildings that dominate the skyline of Hong Kong Island. With a total of 113 units, there are two apartment units on each floor, with some special double units on the top-most stories.
Inside the Units...
Every unit inside the building was designed with the perfect combination of intelligence, innovation, artistry and creativity. Each layout is smartly sculpted to maximize the use of space, allowing for the top most standards of a large and proportional home - a real comfort to come home to while being treated to the luxury of getting away from the hectic city life down below. The wonderful thing about this location is that it is physically very close to the city center, but with the feeling of being world's apart from the busy streets and dense population that tends to flood Hong Kong. It is close enough but far enough removed for residents to live in true tranquility and peace.
Each Unit's layout comes with a separate living room, dining room, kitchen, bedroom(s) and bathroom(s), built-in storage. The space is utilized beautifully, ultra-modern, and designed to impress.
The building is made of the finest of materials - cherry wood timber flooring, Siemens; Gaggenau and Poggenpohl kitchen products and appliances; Italian-sourced marble and mosaic tiles; luxurious bathtubs from France, showers from Germany - you name it, High Cliff has got it! The best quality materials resonate with international luxury in this astounding residence. Excellence in details is what High Cliff has successfully achieved.
Amenities, Special Features, and Layout of the building units:
Bathroom
Living Room
Dining Room
Helper's Quarters
Fully fitted kitchen
Views of the city and ocean
Parking space
Central Air Conditioning
Sauna and Steam
Outdoor Swimming Pool and Children's Pool
Children's Playground and Indoor Play Area
Residents can enjoy a private swimming pool, gym, and carpark within the building, and is perfect for those who like to have everything at their fingertips. Having a swimming pool and gym available in such convenience proximity makes it ultra easy to keep fit and stay in tip top shape.
The amenities in High Cliff are even more to boast about. Throughout the building, the visual theme is beautifully created in colourful and striking matching mosaic tiles. The vast, oval outdoor swimming pool continues this gorgeous visual feature from the grand lobby mural of sweeping blues, and warm red, orange and yellow tones.
The gym is a high tech gym that is fully equipped with state of the art fitness equipment and changing facilities that can fulfill all of your fitness and health goals. You are going to want to work out in this gym!
Families with children will be ecstatic to know that this building is very children-family as well. The building comes complete with an equally vibrantly colored and picturesque children's playroom, where kids can hang out and play after school. In Hong Kong, it's difficult to find play areas for children that are safe. High Cliff provides a perfect space for families, parents, and children to gather.
The iconic building also houses three distinct function rooms to complete an "All-in one" one stop shop. You don't even need to leave the building to have every amenity at your disposal. What a gift!
Transportation in the area:
Being perfectly located on upper Stubbs Road in Mid-levels East, High Cliff is highly accessible by public transport - both bus, mini-bus and taxi services - are available throughout the area. Residents need not worry about getting to and from High Cliff due to its convenience and ease of travel. The residential location is only a short 10 minutes car ride from the main shopping districts in Causeway Bay, and a 15 minute short commute and the financial center of Central district.
The majority of residents in this building will have a private car, and High Cliff includes carparks, visitor carparks as well as electric vehicle charging stations for those with the very popular Tesla in Hong Kong. One of the biggest headaches about owning a car in Hong Kong is the lack of parking spaces available, but this is not a worry that you need to have when living here. There's ample space for both your own car and for visitors who come by.
Residential Apartments like this that have everything amenity included is a rare find in Hong Kong.
Nearby Schools:
Rosaryhill School
Po Kok Primary School
Precious Blood Primary School
French International School (FIS)
Useful Nearby Addresses:
Choosing the right neighbourhood is all about convenience. Knowing what is in the area is the number one deciding factor for whether you choose to make a place a home or veto it. High Cliff is in a very convenient location with supermarkets, hospitals, and schools nearby. Here are some of the places that you will want to know are in close proximity to this iconic residence:
Hong Kong Sanatorium & Hospital, Happy Valley
HKSH is a private hospital in Happy Valley with best quality services and world-reknowned doctors and surgeons. The hospital also has a 24 hour outpatient triage center.
Private Hospital
Fusion Supermarket, Village Road, Happy Valley
Jason's Marketplace
Parkview Supermarket, Fusion by ParknShop, Hong Kong Parkview
Nearby Restaurants:
Catalunya (G/F, 32 Oi Kwan Road, Guardian House) - For authentic and delicious Spanish fare. Think Tapas, Sangria and more! This is one of the most popular restaurants in the nearby area.
Amigo (79A Wong Ngai Chung Road, Amigo Mansion) - A true classic, Amigo Restaurant is the Godfather of restaurants in Hong Kong and has stood the test of time. You can find exquisite and authentic French delicacies and wine here, perfectly complimented by romantic and old-school ambience.
Hoi Ping Road Tower - This tower houses dozens of International restaurants and one can surely find a taste that fits on any given day! Did we mention about the views up high too? You can enjoy a nice meal and drinks while enjoying the spectacular Hong Kong views.
There are also a ton of restaurants, bars, lounges and hotels in the surrounding areas of Causeway Bay and Happy Valley. Your options are truly limitless if you decide to make High Cliff your home.
What else is there in the area?
This area is surrounded by the best hiking trails in Hong Kong. One such notable hike is the "Twin Peaks" or otherwise known as "Thousand Steps" and sometimes even "The Terrible Twins), the name is well-deserved as it is dubbed one of, if not the toughest hike in Hong Kong. For an intensive lower body workout that packs a serious punch, look no further than these traversing hills. It's like an outdoor stair-master that lasts two to three hours long from start to finish. Although grueling and very difficult, the views up top are enough of a reward to be worth the sweat, blood and tears. This is definitely a hike trail you want to try at least once and you will be so proud of yourself for having conquered one of Hong Kong's most notorious hike trails! And this is all in your backyard, uber close to High Cliff!
Interesting facts about this building:
High Cliff is situated in close proximity to another residential building called "The Summit", which is another equally thin and tall majestic building in Hong Kong. The visual effects of these two skinny buildings together look like a pair of chopsticks, hence the two buildings are often referred to as "The Chopsticks". A rather fitting name for Hong Kong real estate isn't it?
If friends ever come and visit, they will have no trouble finding the building. A strikingly tall and stunning building like this is difficult to miss!
High Cliff Address:
41D Stubbs Road, Stubbs Road, Hong Kong
Year Built:
2003
If we have piqued your interest, do feel welcome to contact our team at Engel & Volkers for more detailed information and viewings of the luxury homes for sale and rental. Engel & Voelkers are the leading experts in featuring real estate properties in the best areas of Hong Kong. We assure you that you will find your ideal dream home with our help.