International Spotlight: Berlin Studio House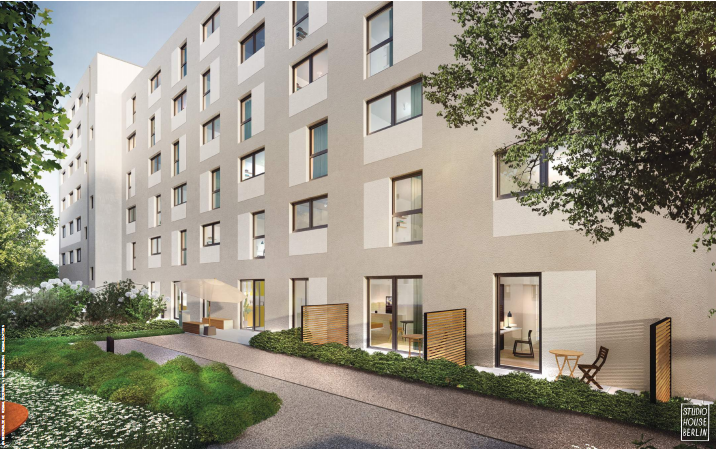 Are you about to embark on a young professional life as a student? Are you looking to be an investor who is ahead of the curve? If you responded yes or are entertained by the possibilities of a new future, then Berlin may just be the answer you are looking for.
Berlin has been generating a great deal of buzz in the real estate world as of late. If you are looking for sound overseas property investment opportunity, Germany's budding capital is your location of choice - a real crown jewel - and for very good reasons. Berlin, as the capital of Germany, is the fourth largest economy in the world. A safe and prosperous city, It is now home to a growing startup, arts, culture, science and creative scene that is attracting renowned companies from all over the world and creating thousands of jobs annually. Along with free education from some of the best universities in all of Europe, no capital gains tax, and low interest rates for financing are driving Berlin up the ranks as being the No.1 city for the best investment prospect in all of Europe in 2016.
Both on a national and international level, Berlin is considered one of the more affordable, stable and powerful economies for foreign investment because of its price and quality on the global market. The city's growth in attractive foreign investment can be attributed to its growing young population base, gaining reputation as a startup and technology hub, as well as the availability of land for property development. The value of real estate in Berlin is the top most reason to study or invest in the inspirational Europe an city.
Engel & Voelkers is delighted to present you the new exciting project : "Studio House Berlin"
Studio House Berlin is an innovative new project designed specifically for supplying modern studio apartments for students and young people from all over the world. It's aim is to offer students and young professionals ideal living spaces for rent and at the same time provide opportunity for foreign investment in Berlin's strong real estate market. STUDIO HOUSE BERLIN can be summed up in three words: comfort, efficient and modern - all qualities that attract today's young residents looking for the ideal space for both work and leisure. STUDIO HOUSE BERLIN was designed with functionality, modern design and intelligent layout in mind. The studio apartments come furnished with their own bathroom, open kitchens, shared facilities, and is centrally located in one of the most popular areas of Berlin with access to excellent public transport to the city's educational institute sand major attractions. STUDIO HOUSE BERLIN is a home for students - an investment opportunity for you - all in the popular area of Mauerpark, Berlin.
Here are some great reasons to invest in STUDIO HOUSE BERLIN and on the Berlin real estate market :
Real Estate With A Bright Future In A Strong Economy
Berlin is prime breeding grounds for real estate investment due to its strong growth, hence providing attractive returns in a stable environment. With top-level educational institutes dotting the city, Berlin is a thriving and bustling magnet that attracts students and young professionals from all over the world. STUDIO HOUSE BERLIN offers the perfect balance between the scale of investment and rental revenue by meeting the growing demand for student accommodation with a tailor-made concept. Furthermore, this investment opportunity offers an all-inclusive package working with reputable and reliable partners on a product that is high in demand.
Berlin is continuously growing and expanding, so why not grow with it?
Excellent Quality Of Life
STUDIO HOUSE BERLIN overlooks the Mauerpark and takes advantage of the high quality living in one of Berlin's most popular neighborhoods. Its location is easily accessible by the various transportation lines and hubs -bus stops, tram stops, subway stations, and urban rail stations, bike stations, car-sharing stations, electric scooter rentals -making it a highly convenient point for regional, national and international travel. The district flourishes with parks, cafes, restaurants, shops, fitness clubs, malls and markets, making the green city a hot spot place for culture,sports and recreation among students, young singles and families. The vibrant life of Berlin makes it a truly enjoyable city to live in and an excellent choice for property investors.
Superior Interior Design & Well-Managed Complex
Studio apartments within the complex come fully furnished with functional equipment and tailor-made furniture. Each studio apartment is equipped with its own bathroom, open kitchen, and high-speed internet. STUDIO HOUSE BERLIN prides itself on youthfulness and effortless communication among the residents. The apartments are bright and modern with a clear color concept, carefully selected material sand optimum use of space that reflect the youthful nature of its residents. It's perfectly designed shared spaces - co-working space, spacious lobby, shared communal areas with functional amenities - create a friendly environment for student exchange and cooperation. Residents can comfortably rely on the complex's specialized property management company to administer to their every needs as well as provide professional letting services to investors.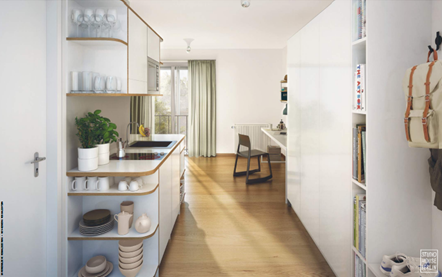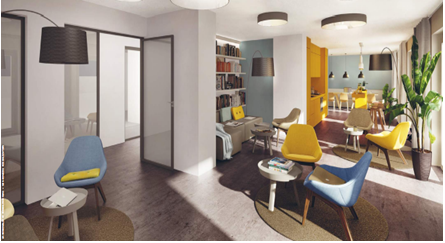 A Real Home For Students - An Investment Opportunity For You
The STUDIO HOUSE BERLIN complex offers 193 furnished studio apartments strategically designed with student living in mind. It's diverse and open-plan layout ensures a communal spirit among its residents.
There are six floors in total. Starting at the first level, the 20 studio apartment on the ground floor faces the courtyard with individual terraces. Each of the 5 floors following have a total of 34 apartments. The top-most sixth floor has a total of 27 apartment units. Each floor is easily accessible by elevator.
The studio apartments range from 21 sqm up to 38 sqm in size.
The purchase pricing of a furnished studio unit starts at 106.000€. The price per unit increases according to unit size and floor up to 247.000€.
With its high-quality furnished studio apartments for students in a much sought-after location, STUDIO HOUSE BERLIN offers investors an attractive foot hold on an inflation-proof real estate investment offering stable return sand a way to expand on existing portfolios. This innovative living contract is a favorable investment model in the real estate realm.
What About Foreign Investment?
Purchasing property in Berlin can be very simple. Our international team of experienced consultants are present to assist you all the way from selecting the first prospective apartments, to negotiation, legal advice, to handing over the keys and managing your purchased property at your requests. Financing is available for international buyers and our finance team is ready and happy to help in any way that you need.
To learn more about Berlin Studio House and real estate investment in Berlin, contact us :
Shop : +8522561 3616
Office : +8523997 3200
Email: midlevelswest@engelvoelers.com
Sales are fast. Don't miss the chance !