All About Jadewater Apartments in Aberdeen Hong Kong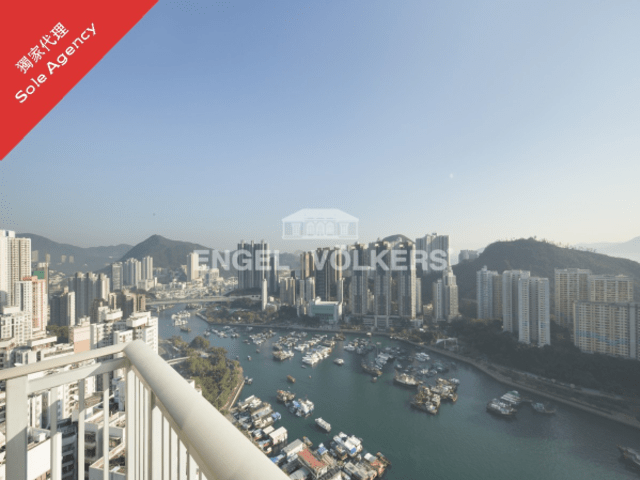 Spectacular views from Jadewater
Nothing says more perfections like being able to see sun sparkle off the harbour while relaxing in your own apartment with a balcony. This building features the spectacular views of the harbour with famous attractions around.
Located at Aberdeen Avenue, in the southern part of Hong Kong Island, Jadewater is a desirable residence providing a total height of 45 floors with 180 units and developed by Panhai International. It was incorporated in 2009, a luxury private residence with seaviews on Hong Kong Island and a rare supply in Aberdeen. The residents are diverse, besides local Chinese, also Americans, British Japanese and Koreans.
Each room enjoys a very high ceiling about 3.1-3.5 metres, facing south to the sea with a terrace. The building is adjacent to the Aberdeen Wholesale Fish Market with a view of the Shek Pai Wan Typhoon Shelter Waterway and the the Ap Lei Chau Complex. The Aberdeen Wholesale Fish Market is busy with crowds in daytime, and the typhoon shelter has been unique and the Jumbo Kingdom floating restaurant is within this shelter.
The surrounding areas
The shelter previously was a fishing area with excellent natural shelter, and until today, you could still see Aberdeen harbour teeming with fishing boats and running in and out of the fishing wholesale market on the waterfront or either mostly anchored at the typhoon shelter. Other shopping malls available in the area with entertainment complex known as Marina Square. There are diverse restaurant options around the area, regardless Jumbo Floating Restaurant, a popular tourist spot. There are also Chiuchow-style restaurants, traditional Chinese restaurants, Japanese restaurants, Thai and Vietnamese restaurants to choose from.
This open sea views with high-rank international school such as Singapore International School and Canadian International School. That makes this residence suitable for a family with children, especially having high quality education is one of your concerns in moving homes. More options of schools available on Nam Long Shan. Both Canadian International School and Victoria Shanghai Academy are International Baccalaureate World Schools and are located on Ap Lei Chau right near Aberdeen.
Recreations
Within the same area, there are some frequent spots for recreational purpose that is good for hikes or walking dogs. Aberdeen Country Park and Aberdeen Reservoirs are two common spots for local citizens to have barbecues or picnic for leisure.
For alternative, The Aberdeen Promenade and Ap Lei Chau Wind Tower Park are very suitable for people who love to jog and exercise after work. And if you are more into a range of sports, such as ice hockey, ice skating, yoga and Judo etc, you may be interested to become a member of The Aberdeen Marina Club in Wong Chuk Hang that helps you socialise with someone like you.
Famous tourist spots
It can be easy to find your way to Repulse Bay, Stanley and Ocean Park. The beach life can help you relax a day of tough work and won't cost you a lot from Aberdeen. Both beaches are famous for weekend retreats and allow you to drop off easily with minibuses transfer from MTR or a direct 15-20 minutes drive from Causeway Bay.
Easily accessible location
External public transport mainly consists of public light buses and buses. There are many routes and close to the MTR Wong Chuk Hang Station. It is also well-linked with Repulse Bay, Outlying Islands, Causeway and Central. To arrive at Aberdeen or Aberdeen Harbour, residents can take buses at the bus stop "Aberdeen Promenade, Aberdeen Praya Road". This bus stop is beside Aberdeen Harbour. For MTR coverage, the closest station for now are Lei Tung and Wong Chuk Hang on the South Island. Driving out from Aberdeen is easy with Aberdeen Tunnel through Wong Chuk Hang and connects well with Happy Valley and Ap Lei Chau. There are also regular ferries to Yung Shue Wan and Sok Kwu Wan on Lamma ISland, Cheung Chau, Po Toi Island and to Ap Lei Chau Main Street.
In addition to the accessibility of the central areas, it has also private clubs, 84-inch long garden pool, a sunlit terrace by the pool and a barbecue pit. At the ground floor of Jadewater, there is a bar for a leisure drink during weekend.
And if diversity around the living area can energize you more, Jadewater is your best choice among other WanChai private residences. The natural beauty of the views can never haunt you. Feel free to contact Engel& Voelkers to find out your next valuable long term investment or perfect rental service.