Kennedy Town - Neighbourhood Watch & Luxury Homes Feature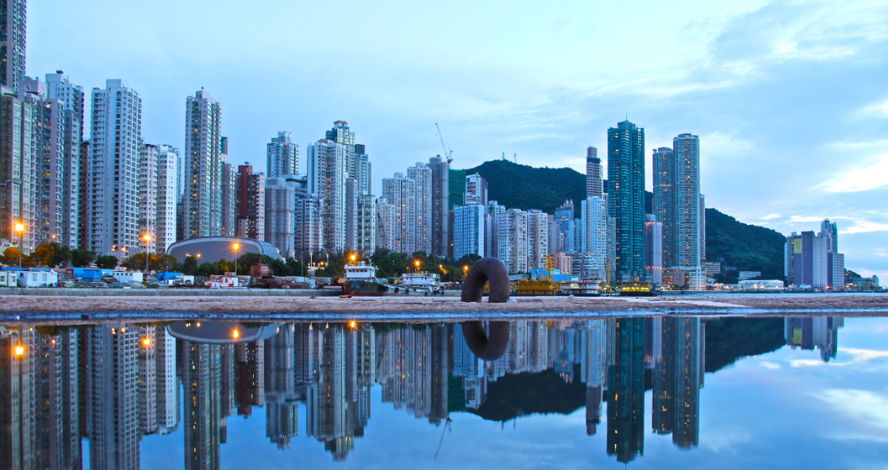 Welcome to K-Town.
Nope, We're not talking about the ubiquitous Korea-Town found all over the world. We're talking about Hong Kong's very own, one and only "K-Town" or otherwise dubbed as Kennedy Town - "where old meets new".
Kennedy Town has been an emerging up-and-coming new district for the past few years. Originally made up of a population of primarily local Chinese residents, the latter years have seen a growing number of expats moving to the newly developed areas along the popular waterfront. With the announcement of a new MTR station set to open, it was only a matter of time before the neighbourhood founds a new ring to its name. Unsurprisingly, the new MTR station had set in motion for the exciting revitalisation of the former traditional and ultra-charming inner-city district.
A once quiet neighbourhood, this all changed fairly quickly with the MTR station's arrival a few years ago. Like most changes that develop upon the impending arrival of a new MTR station, Kennedy Town was shaken up from its core from the sleep town it was once to becoming one of the most frequented and currently very hipster part of the Hong Kong. Anytime that a new MTR stop opens, the area in question becomes the city's new hot spot, connecting Hong Kongers to parts of the city that had long been forgotten and left as no more than a ghost town. This can be good or bad, depending from which end of the spectrum you choose to look at it. For those that favour classicism and tradition, the influx of new trendy businesses and luxury apartments has rattled the neighbourhood to its core, changing its facade that its been accustomed to for many years. For the liberals, youngsters and expats, its a welcomed change. Suddenly, a old classical neighbourhood is catching on and becoming more "international" if you will. Even with the flux of trend and hip business ventures popping up on every street corner like wild flowers, the neighbourhood reserves and endures its unique charm, seamlessly merging old and new, local and western. It's a unique area, one that has a lot of people feeling very excited for its limitless potential to be the city's next hot spot. Historically, Kennedy Town was populate by lower income demographics compared to neighbourhoods like Central and Mid-levels, but with a growing number of new luxury residential developments, all of that is changing. Kennedy Town is gradually moving more up-market and increasingly catering to the expat and international crowd.
The beauty of Kennedy Town is that it is the perfect mix of old and new, an attribute that has helped catapult the district to being one of the hottest neighbourhoods in Hong Kong the past few years. Can you say "Superstar-dom" fast enough? This waterfront haven has everything to offer, for locals and expats alike. Kennedy Town is home to one of the last remaining undeveloped strips of waterfront that Hong Kong boasts, and dotted along the waterfront praya are a plethora of restaurants, bars, cafes that have made Kennedy Town so popular the recent years. In just a few short years, Kennedy Town has transformed itself from the sleepy ghost town at the Western end of Hong Kong Island to one of its hippest, coolest neighbourhoods. Since then, the hipsters and vibrant entrepreneurs have rolled in, building this neighbourhood to be a area that's not only effortlessly cool, but filled to the brim with a taste of the world's best cuisines. No longer is Kennedy Town a place with only local tea shops and dai pai dongs, the streets are now bustling with some of the coolest places to eat, drink, and chill in Hong Kong.
Aside from adult fun and activities, Kennedy Town is perfect for kids as well. With places like the Kennedy Town heated pool where kids can swim all year around, Belcher Bay Park which features a huge playground and grassy lawn for kids to tumble around in, and ice cream shops like Grandy and Ice Monkey, Kennedy Town is a great fit for families with young children as well. There are not a lot of neighbourhoods in Hong Kong that are good for almost everyone along the age spectrum, but Kennedy Town has surprised us all with accomplishing this challenging task for being a "one size fits all". The elderly love this area for its slower pace of life and ode to old, classical Hong Kong culture. Expats, singles, and young professionals love this area for its vibrant hip and trendy culture. Families and young children find Kennedy Town fitting for nearly all of their lifestyle needs in Hong Kong. It's a neighbourhood that has a lot to offer, a rare gem in Hong Kong. There's a great number of family friendly restaurants too.
Since we are on the subject of children. Let's talk a little bit about schools! There are a number of option for preschool in Kennedy Town, such as Woodland Pre-School, ESF Kennedy School and Harbour School. There's even Jadis Blurton Family Development Center for the beautiful children who require special needs. For more alternative and holistic learning, there's the new Wilderness International Kindergarten that offers a new way for children to enjoy outdoor learning.
For Fitness fanatics, fret not! There are so many options for fitness activities in Kennedy Town, from Crossfit and Yoga, to outdoor workout bootcamps, and 24-hour gyms - this neighbourhood knows how to complement its residents' desires to stay fit and healthy.
As you can see, the activities that anyone can do in Kennedy Town is plentiful!
Where exactly is Kennedy Town located?
Kennedy Town is located at the most western end of Sai Wan (Western District) on Hong Kong Island. Kennedy Town is administratively considered to be a part of Central and Western District in Hong Kong. The neighbourhood occupies the northwestern part of Hong Kong Island is is bordered by the following 4 areas distinctively:
Belcher Bay of Victoria Harbour to its North

Sulphur Channel to its West
Shek Tong Tsui to its East
Mount Davis and Lung Fu Shan to its South
The following are some of the most famous and currently up-and-coming trending streets in Kennedy Town:
New Praya
Catchick Street
Belcher's Street
Smithfield
Davis Street
Pokfield Road
Victoria Road
What about Transport? How Convenient is it?
Although located on the most western part of Hong Kong Island, Kennedy Town is laughably easy to get to. Generally speaking, it's about a 10 minute taxi ride to and from Central, and by minibus or bus it's about 15 minutes. You can easily walk to Central from Kennedy Town, which would take no more than 30-40 minutes at a brisk and steady pace. There are multiple bus lines, tram lines and taxis that run in the area. As Kennedy Town is relatively compact and concentrated, it is a lovely neighbourhood to explore on foot, where you can experience the sights and taste all the eateries along the way.
Where does the name Kennedy Town come from?
Kennedy Town was aptly named after a man by the name of Arthur Edward Kennedy, who was the 7th Governor of Hong Kong during the years between 1872 to 1877.
Want to know what other people have to say about living in Kennedy Town? Read on and find out!
"Kennedy Town is such a cool neighbourhood! There's this very cool and hip vibe about it, lots of changes in the recent years but good change. Great changes. I love it here."
"Kennedy Town is great. It's not as congested as the nearby neighbourhoods like Central, Sheung Wan and Mid-levels. If you get a sea-facing unit, you will have really awesome views of the waterfront!"
"Can we just say foodie heaven? Wow, the range of places to eat in Kennedy Town has literally exploded in the last 2-3 years, with an unimaginable variety of choices all within walkable distances. It's just too convenient. I've lived in many other neighbourhoods in Hong Kong, but Kennedy Town by far is my favourite so far."
"It's really convenient. It's close enough to Central, but I don't have to feel suffocated being in the midst of all the noise, people and congestion. When I come home, I can feel relaxed. And transportation to Central is quick and easy. You can go by bus, tram, taxi or MTR, which makes for commuting during rush hour so efficient."
"There are so many options for supermarkets here, as well as local wet markets. It's wonderful!"
"I absolutely adore living in Kennedy Town, but my only complaint about it is that the car-parking situation here is awful. There is an acute shortage of street parking. If you have a car, make sure you get a flat that comes with a designated car park. Good thing is that Hong Kong is so convenient you don't need a car. But if you do and you drive a fair amount, then this is a good tip to remember."
"It's generally very quiet here especially later towards the evening. There's relatively little traffic and street noise, which is surprising for a city like Hong Kong."
"There are plenty of after-school educational providers where children can learn English, Music, Chinese, Math, Dance - if you have children."
"Kennedy Town is an amazing area. I have lived here for the past 3 years. At first I was worried about the MTR line opening and making the neighbourhood too crowded and busy, but that hasn't really happened as much as I had been afraid it would. The area is really very convenient and I love all the trendy new eateries, bars, and cafes that have popped up everywhere."
"I have lived in Kennedy Town for almost 10 years. I find this to be a super convenient location. Transport is really efficient. I can get to most places in HK island in record time, and then shoot right over to Kownloon either by MTR or via the Western Tunnel in under 10 minutes. I love this area because you get the best of both worlds - the old Hong Kong and the new Hong Kong - it's lovely."
I want to live here! Show me the homes!
Chances are if you have read this far in the article, you have developed a keen interest for possibly living in Kennedy Town. Well, luckily, that's what we are here for! To help you find a place that you can comfortably call home. It could really take months to find a home of your liking in Hong Kong, so we have done the tedious work for you by highlighting some of our best properties in the area. We have searched high and low for the best options for those who are interested in living in the Kennedy Town neighbourhood and here's what we've gathered for you. We understand that you are not just investing in a property. When you say yes to a property, you are also investing in its neighbourhood. This is why we decided to give you a preview of the ins and outs of the area before showing you our properties. There's no point of looking at properties if you don't even enjoy the neighbourhood now is there?
With that being said, here are some of our best luxury home features in this neighbourhood.
Here are some properties that could potentially become your new home in amazing and charming Kennedy Town!
LEXINGTON HILL
Luxury Apartment for Sale, Kennedy Town, Hong Kong Island
4 Bedrooms
3 Bathrooms
1,484 Sqft (Saleable Area Approx.)
Price - $78,000,000 HKD
A brand new luxury apartment constructed in year 2014, this gorgeous 4 bedrooms (two of which are Ensuites), is a rare find in Hong Kong. Conveniently located near the new western MTR station, it's got everything that one could ask for in a luxury home in the city.
THE BELCHER'S
Apartment for Sale, Kennedy Town, Hong Kong Island
3 Bedrooms
2 Bathrooms
1,113 Sqft (Saleable Area Approx.)
Price - $34,800,000 HKD
This lovely luxury residential building was construct4ed in year 2001. Housing 3 bedrooms, 2 bathrooms within an approximate saleable area of 1,113 Sqft, this property is situated in a quiet location in Kennedy Town overlooking expansive sea views. The property is conveniently located next to the MTR station, along with all other major transport lines.
BELCHER'S HILL PENTHOUSE DUPLEX
Apartment for Sale, Kennedy Town, Hong Kong Island
4 Bedrooms
2.5 Bathrooms
1,472 Sqft (Saleable Area Approx.)
Price - $34,000,000 HKD
Belcher's Hill Penthouse Duplex was built in 2011 and is indeed a rare find in Hong kong. This unit is a brand new duplex property on the top floors of Belcher's Hill residential building, overlooking the gorgeous Kennedy Town Sea Views. This duplex is modern and nicely decorated with wooden flooring and chic white walls. The four bedrooms all feature large bay windows. The living room boasts full height glass balcony doors that open up on to its own private balcony. The unit is furnished with a fully fitted kitchen with all of the state-of-the-art essential kitchen appliances. The 2.5 Bathrooms within the unit are tastefully designed with modern touches.
CADOGAN
Luxury Apartment for Sale, Kennedy Town, Hong Kong Island
3 Bedrooms
2 Bathrooms
915 Sqft (Saleable Area Approx.)
Price - $25,000,000 HKD
This property was constructed in 1980. The 3 bedroom, 2 bathroom unit also features a quality-sized living room. The building has its own fitness gym room.
THE SAIL AT VICTORIA
Apartment for Sale, Kennedy Town, Hong Kong Island
3 Bedrooms
3 Bathrooms
790 Sqft (Saleable Area Approx.)
Price - $17,500,000 HKD
Built in year 2009, this luxury apartment in Kennedy Town features its own private balcony overlooking beautiful sea views.
If we have piqued your interest, do contact our team at Engel & Volkers for more detailed information and viewings of these luxury homes for sale. Engel & Voelkers are the leading experts in featuring real estate properties in the best areas of Hong Kong. We assure you that you will find your ideal dream home with our help.