Living in Marinella Apartments in Wong Chuk Hang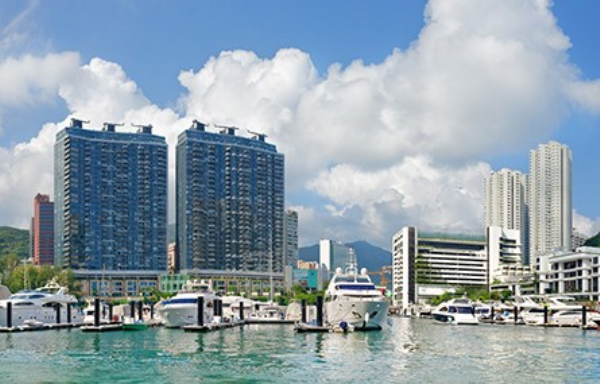 Wong Chuk Hang's Marinella
Marinella is a cornerstone residence in Wong Chuk Hang on Hong Kong Island's Southern side and neighbours the Aberdeen Marina Club, with access to the club on foot and also the Marina. All have Aberdeen Harbour views from its towers and houses.
The Marinella estate itself is a luxury property development with concierge services, security and fantastic facilities, including, gym, pool and a 24hr concierge. There are six residential towers in the estate with apartments ranging in style from single floor apartments with private elevator, to duplex units. Balconies feature in nearly all of the units and romantic views at sunset are a hallmark of this estate.
Wong Chuk Hang itself, has been developing fast in recent years with the build out of the MTR's Southern line to Ocean Park. Once an industrial hub for Hong Kong, you can see the change in demographics around the neighbourhood, from old printing press businesses, to car detailing and repair shops to now, funky burger bars, private kitchens and quite amazingly tony Grade A Commercial buildings, housing a very mobile corporate workforce.
Marinella is fortunate as the catchment area for schools encompasses a wide number of schools, including Hong Kong International, the Singapore International School, Kellet School and the Canadian International school. This location gives families the security that their children have multiple options in Hong Kong's competitive acceptance programme.
In China, apartments in the Marinella estate in Wong Chuk Hang is "famous". It is one of the few estates that many Chinese people know by reputation, the others being Leighton Hill, Bel-Air, Larvotto, the Arch and the Cullinan. All these other comparables are luxury estates with similar facilities and a strong transaction history. Targeting these estates to live and own is a smart and safe choice given the tight supply.
Engel & Volkers covers Marinella extensively and is one of the key estates we monitor closely and have a strong market share in to look after our landlords and searching clients.
Being one of the Southern District's benchmark luxury estates, this location means that it is 15mins to Central via the MTR, 15mins to Causeway Bay, 5mins to Aberdeen Center and 15mins to SouthBay or Repulse Bay Beach.

Lastly, and maybe most importantly is the easy access to running tracks through Aberdeen Country Park, where you not only pass by Hong Kong's southern reservoir, but you will often see deer, wild boar and kytes nesting in the nature reserve. These trails take you to Wanchai, the Peak or the beaches further south on Hong Kong island.

If running is your thing, the trail from Marinella, along Aberdeen Harbour's upgraded waterfront can extend as far as Pokfulam if you really wanted a challenge!

In short Marinella is an extremely convenient location to live and one that affords the comfort of a luxury estate with a strong reputation as being a "blue chip" investment.