Living in Seaside Bel Air Residences on Hong Kong Island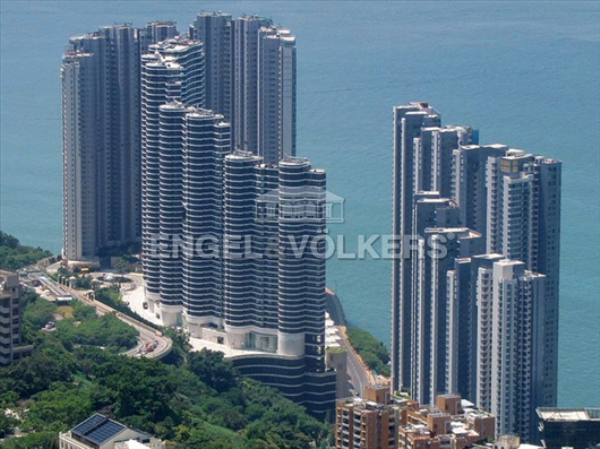 Oceanfront, turquoise sea views, soothing ocean symphonies, breezy clean air, resort-style living. Welcome to Bel-Air on the most Southern side of Hong Kong Island!
Located South of Hong Kong Island, Bel Air is one of those residents that everyone knows about, primarily due to its popularity and scale. Bel-Air is a beautiful, prestigious and much sought after residential area in Hong Kong. Built in 2003, the Bel-Air estate comprises of 6 phases and 3 individual clubhouses for residents to use. Being part of Cyberport, residents have access to many facilities, including a 5-star hotel, international restaurants (Chinese, Mexican, American, and more), a cinema, and a supermarket.
Bel Air, otherwise known as 貝沙灣 in Cyberport, is a large luxury residential estate that is split in to six different phases. These are the following phases in Bel-Air:
Phase 1 and 2 are referred to as Residence Bel-Air

Both Phase 1 and 2 come with a clubhouse for residents and 7 blocks or towers that are about 48 stories high. All of the blocks feature sky gardens and beautiful ocean views.

Each floor of Residencef Bel-Air has two distinct units, each with 3 bedrooms, 1 kitchen, and a private balcony overlooking the sea views.
There are also single family homes near Residence Bel-Air.
There are 8 individual towers in Phase 1, from tower 1 all the way up to tower 8.
There are 8 individual towers in Phase 2, from tower 1 all the way up to tower 8.

Phase 3 is referred to as Bel-Air on the Peak

Each floor of Bel-Air on the peak comes with three distinct apartments, two of which are larger Units (A & C) and a smaller 2-bedroom Unit (B).
Bel-Air on the Peak also comes with its own clubhouse for residents to use, and is significantly newer, with more amenities and essential features than Residence Bel-Air in Phase 1 and Phase 2. The clubhouse includes an indoor pool, fitness gym, restaurant, snooker room, and children's game room.

There are 9 individual towers in Phase 4, from tower 1 all the way up to tower 9.
Phase 5 is home to Villa Bel-Air.
There are 8 individual towers in Phase 6, from tower 1 all the way up to tower 8A and 8B.
Amenities, Special Features, and Layout of the building units:
Living in Bel-Air is similar to living in a luxurious ocean-front resort that is fully self-sufficient. You would be hard pressed to find a more convenient real estate development anywhere else. Bel-Air as a whole has two clubhouses. One is called the Bay Wing, while the other is called the Peak Wing. Each of the clubhouses feature a spa, indoor and outdoor swimming pools, game room, fitness center, children's play room, restaurant, and personal cinema.
The whole developmental estate is very large and spans across the entire waterfront of Cyberport. Aside from the various phases of 1-6, there is also an office building, Le Meridien Cyberport, and a large retail/entertainment Centre and mall in very close proximity.
Doesn't this property sound amazing? Wait, there's more!
Here's everything available to you in the Clubhouses if you are a resident:
Clubhouse Bay Wing
Address: Club Bel-Air Bay Wing, Residence Bel-Air, 48 Bel-Air Avenue, Island South Hong Kong
Club Size: Over 87,000 Square Feet
Opening hours: Monday to Sunday 08:00 - 22:00
These are all the amazing and full-scale amenities that you can find in the clubhouse: Aerobics Room, Band Room, Billiard Room, Children's Play Area and Children's Library, Grand Theatre, Hair Salon (IL Colpo), Indoor Swimming Pool, Lobby Lounge, Music Room, Outdoor Swimming Pool, Private Wine Cellar, Table Games Room, Tennis Court, Arts and Craft Room, Beauty Salon (Mulan Spa), Changing Room, Function Room 1-3, Gymnasium, Indoor Sports Hall, Karaoke Room, Meditation Room, Online Games Room, Pilates Room, Reading Lounge, and Table Tennis Room.
Quite a list isn't it? The clubhouse is so self-sufficient that residents practically don't ever need to leave the area to get daily tasks done. Having a clubhouse like this is great for families with children too.
The Club Bay Wing Lobby Lounge is a perfect place for residents to eat and gather. With 66 seats, serving both Chinese and Western food, this is a great little spot for a quick bite close to home.
Clubhouse Peak Wing
Address: Club Bel-Air Peak Wing, Bel-Air on the Peak, 58 Bel-Air Peak Avenue, Island South, Hong Kong
Club Size: Over 40,000 Square Feet
Opening hours: Monday to Sunday 08:00 - 22:00
The Clubhouse Peak Wing comes with: Aerobics Room, Changing Room, Indoor Swimming Pool, Dining Room, Meditation Room, Billiard Room, Children Play Room, Grand Function Room, Terrace, Gymnasium, and IL Colpo (for hair and beauty treatments). The Dining Room is a French castle themed restaurant that offers both Chinese and Western cuisines from a daily a la carte menu along with Chef's recommendations.
Club 8
Address: Club Bel-Air no.8, Bel-Air on the Peak, 8 Bel-Air Peak Avenue, Island South, Hong Kong
Opening hours: Monday to Sunday 08:00 - 22:00
This smaller clubhouse within the Bel-Air Estate has an outdoor swimming pool that is available for all residents, a conference room, a reading lounge, a Club 8 dining room, with fast internet service provided. The Club 8 Dining Room is exclusively for residents of Bel-Air No.8.
There's even recreational classes too!
Bel-Air offers classes for residents too, such as: Swimming, tennis, badminton, table-tennis, Taekwondo, Pilates, Pilates reformer machine, basketball, yoga, gymnastics, mini soccer, tai-chi and more! What better place is there to live for families with young children? The whole estate is made for self-sufficency and ultra convenience. Although Cyberport is farther from city center, it doesn't pose a big problem because there is so much to do in the area. One doesn't even have to leave Cyberport to run errands, go to the supermarket, eat, watch movies, take classes and so on.
If you crave convenience and the feeling of living in a small seaside resort, this is a place you don't want to miss! Speaking of convenience and resort-style living, if you are an animal lover, you will be ecstatic to know that Cyberport is home to the best and biggest dog-friendly parks in Hong Kong.
Real testimonials from people who currently live or have lived in Bel-Air:
What a wonderful place to live. Especially if you're a dog owner, as there's such a huge expanse of plush grass for your pup to roll around on and get on daily walks in a nice natural environment. A place like this is so hard to come by in Hong Kong. I don't think I've ever been happier and I've definitely never seen my dog smiling so much since I moved to Hong Kong!
These are the Pros about living in Bel Air for me. I have lived in Bel-Air Phase 3 for more than 2 years now just to give you some background. The area is very residential, so it's generally very quiet. The layout of the apartment units are nicely designed, without any awkward use of space. There's great facilities, with swimming pools and gym that are free for use by residents. There cons for me personally though is that I would love for more choice of proper restaurants nearby. There are restaurants, but only a handful of options. Otherwise, you have to go in to town which can add up to a high transportation tab if you cab back and forth every day. The traffic in Aberdeen tunnel can get very bad at times,which is the fastest way to get to Causeway Bay. It's actually not too bad, but of course compared to other places, it's much further from the city center.
We live in Bel Air on the Peak as a family with a 2 year old. We have been here for a year and love it. I have found that it's easy to meet people here, especially with kids. We spend a lot of time down in the clubhouses, which really makes our lives so much more convenient with a child. There are moms and dads groups and lots of activities going on there at least once a week. Also, the amenities are great. We play tennis and badminton all the time. My husband works in Central and he catches a cab to and from there every day, which works well. Although it can take significantly longer during peak hours. Otherwise, it's fairly easy to get taxis and we have never really had a big issue with it. There is also a free shuttle busy that runs from Bel-Air to Shun Tak Centre throughout the day.
I love this area. It's really like living in a resort, and a beautiful, serene one at that. We love walking through Cyberport, the waterfront park, dog park, and other surrounding areas. We love catching a movie at the cinema here too because there's way less people! Sometimes we even have the whole cinema to ourselves! It's great. We are very happy with our choice of location, and can't imagine moving any time in the near future.
My boyfriend, dog and I just moved in to Bel-Air Phase 4 and we absolutely love this place, especially the park area. This area is perfect for having pets, babies and children. It's a very children-friendly place and we always see lots of kids around. We are so excited to be enjoying our new life here.
" We have dogs so the best thing for us is definitely the Cyberport Dog Park. The view is stunning and a great outdoor area to get away from the congestion of Hong Kong city center."
"Very convenient. Almost like a small community here with our own supermarket, indoor shopping centre with a cinema (which is always fairly empty) - unheard of in Hong Kong!"
"Good public transport to Causeway Bay, Central and Quarry Bay. It's useful to have a car but not necessary"
"Great for families. There is plenty of outdoor space which makes you feel like you are no longer in Hong Kong, but we are actually right next to Central which is phenomenal."
"People think Pokfulam is far but by car, it only takes about 15 minutes to get to Central and 20-25 minutes to get to Causeway Bay. Not bad at all."
"I can't really think of any cons to be honest. I love the area and wouldn't have it any other way. If you want more breathing room and to escape high compressed living, then this is a great choice."
"There's no MTR but it's a pro for me because having a MTR line pass through Pokfulam would bring in congestion that would definitely take away from the beauty the neighbourhood has to offer. We love how serene it is here."
I want to live here! Let's see the homes!
One of the apartments available for purchase in Bel Air is a 4 bedroom, 3 Bedroom unit with a saleable area of approximately 1519 square feet. The building was constructed in 2004 and has its own private balcony overlooking the glistening blue waterfront sea views.
Transportation in the area:
Transportation is fairly efficient and convenient from. Even though it's in the southern most part of Hong Kong Island, and bit of a distance removed from city center, it's actually not as far as most people think. Commute to and from Central is only a short 10-15 minutes ride away with no traffic. There are buses, mini-buses, shuttle-buses and taxi services that run between Bel-Air, Cyberport and many of the main areas in Hong Kong Island. Many of the residents own a private car, but it's not necessary to have one. You can easily get by taking public transport. The only thing that's missing is an MTR line, but that's what makes Bel-Air truly the gem that it is. Without the influx of people coming in from the city center by MTR, there is a true sense of tranquility in this area. It feels very much like a remote island in itself, making for a perfect residential neighbourhood, especially for families.
These are the following transportation lines that you can take to and from Bel-Air:
Shuttle Bus - From Bel-Air to Shun Tak and from Shun Tak to Bel-Air
Mini Bus

No.58 - Aberdeen to Cyberport to Kennedy Town
No.58M - Bel-Air on the Peak to kennedy Town Station
No.69 - Cyberport to Quarry Bay (Shipyard Lane)
No.69A - Cyberport to Wong Chuk Hang Station
No.69X - Cyberport to Causeway Bay

Bus

No.30X - Cyberport to Central
No.73 - Cyberport to Stanley Prison
No.107P - (Monday to Saturday, Special service during peak hour) - Cyberport to Hung Hom (Laguna Verde)
No.970 - Cyberport to So Uk Estate
No. 42C (Monday to Friday, Special service during peak hour) - Cyberport to North Point Ferry Pier
Nearby Schools:
The nearest schools are: West Island School, Ying Wa Girls' School, ESF Island School, The Harbour School, German Swiss International School and Canadian International School.
There are a lot of children that live in Bel-Air, so you will be sure to meet lots of fellow parents and children for playdates and social activities.
Useful Nearby Addresses:
Choosing the right neighbourhood is all about convenience. Knowing what is in the area is the number one deciding factor for whether you choose to make a place a home or veto it. High Cliff is in a very convenient location with supermarkets, hospitals, and schools nearby. Here are some of the places that you will want to know are in close proximity to this iconic residence:
Nearby Restaurants:
Inside Cyberport mall and retail center, there are plenty of options for dining. Some of the most popular ones are:
Nam Fong - For fine Cantonese dining.
El Charro Mexican Cantina - located in The Arcade, El Charro is a great casual place to hang out and toss back a few margaritas while munching on tacos!
Delaney's - An authentic Irish Pub that offers an array of delicious Irish food and drinks with friendly staff in a sports bar atmosphere. Football and Rugby fans will surely enjoy watching the live matches here on the big screen.
Le Méridien Cyberport - a 5-star luxury modern hotel that has its own dining options
There are dozens of restaurants, bars, coffee shops and fast food options as well inside the Cyberport Arcade, such as Starbucks, Mcdonald's, a pâtisserie, sushi restaurants, and more. The plethora of options will leave you never hungry should you want to stay in the area and not have to venture out of your lovely neighbourhood.
Wait, there's more! These are some of the best lifestyle options for shopping in The Arcade at Cyberport:
Broadway Cinema Cyberport, Centaline Property, Fusion by Park n Shop, GP Wedding, Hong Kong Contemporary Living, a Hong Kong Post office, HSBC Bank (Atm service), Indigo Kids/Indigo Living for all your contemporary furniture needs, JMStyle Furniture and Gallery, Koding Kingdom (for kids to learn), Pippo Education for children, Rose Chapel for wedding ceremonies, Sense of Touch Spa, Strive Fitness Gym - just to name a handful.
As you can see, living in Bel-Air has a number of perks. If you like the style of living in a place that feels like a small and quaint village, contact our team to find out how you can find a beautiful home in Bel-Air.
If we have piqued your interest, do feel welcome to contact our team at Engel & Volkers for more detailed information and viewings of the luxury homes for sale and rental. Engel & Voelkers are the leading experts in featuring real estate properties in the best areas of Hong Kong. We assure you that you will find your ideal dream home with our help.