Living Luxuriously Way Up High on The Peak, Hong Kong Island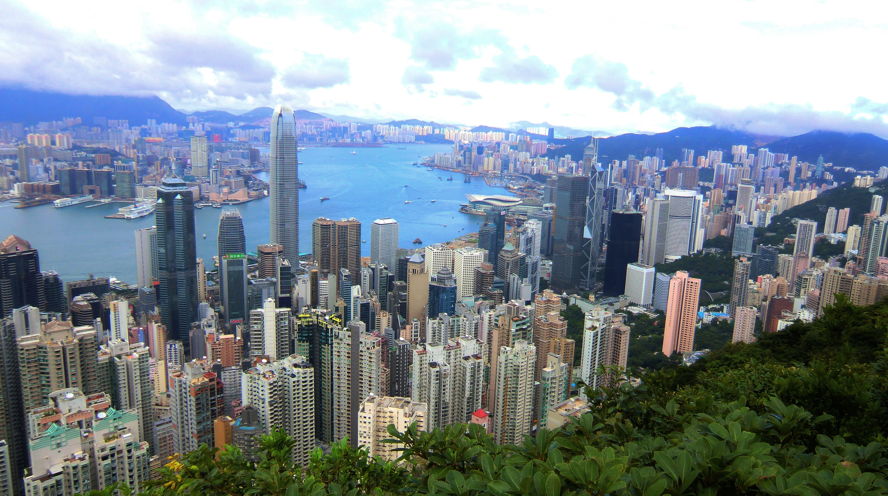 All lovers of Monopoly know one thing. There's always that one prime real estate space that everybody's hands are aggressively trying to grab. Can you guess what the much sought after real estate property is in the Hong Kong version of Monopoly? In Hong Kong's version of Monopoly, that famous space is none other than "The Peak".
Location. Location. Location.
We can't hear that enough when it comes to real estate! And as far as locations go, The Peak (also known as Mount Austin) is the creme de la creme in Hong Kong - one of, if not the most desirable place to live. It's the address that everybody wants to have. With that being said, with desirability comes high demand, which has turned this residential neighbourhood in to one of the most expensive real estate areas in the world.
Sitting up at one of the highest peaks of Hong Kong Sweeping panoramic views over the city of Hong Kong characterize Victoria Peak, or locally known as The Peak. As Hong Kong's most exclusive neighbourhood since colonial times, and with one of the world's most spectacular cityscapes as its backdrop, The Peak is famed for being home to some of the most expensive homes in Hong Kong and in the world. With prices that rival its sky-high location, this area is secluded, exclusive, and targeted for the elite of Hong Kong. This area attracts the rich and famous in ways that no other neighbourhood in Hong Kong can compare to. If you find yourself living here, you will be rubbing shoulders with some of the richest and most famous people in the world.
This high-value residential area is a neighbour to one of Hong Kong's most popular attractions, with stunning skylines, as well as great shopping and dining, making it one of the most visited areas of Hong Kong.
Our new neighbourhood watch guide each week will help demystify the various locations of Hong kong, helping you choose the most ideal spot to find a home. This week, we will be focusing on The Peak on Hong Kong Island - an always popular choice for people seeking the ultimate high in luxurious homes. It doesn't get more classic than The Peak.
What's nearby this high-end residential neighbourhood?
As mentioned earlier, The Peak is home to one of Hong Kong's most famous tourist attractions. Most tourist like to get to the Peak by the Peak Tram, which marks as a truly unforgettable experience for all who have tried it. The Peak Tram is one of the oldest and most famous funicular railways, which rises to 386 meters (approximately 1,300 feet) above sea levels. It is a trip that is not to be missed whether you are a local or a tourist.
The Peak Tram takes you up to the Peak Tower, a shopping and entertainment complex that has made its mark as one of Hong Kong's most striking landmarks. The complex offers a wonderful array of shopping and dining experiences for visitors to hunt for souvenirs and taste all of the local and international delicacies Hong Kong has to offer, all while enjoying the glorious vistas. The Peak Tower is located at Victoria Gap, near the summit of Victoria Peak on Hong Kong Island. Apart from the Peak Tram terminal, viewing terrace, shopping, dining and other gift shops, you can also find several famous attractions: Ripley's Believe It or Not! Odditorium, Madame Tussaud's Museum Hong Kong and the Peak Galleria. The Peak Galleria is where you can find the bus terminal for public buses such as the Citybus and New World First Bus, as well as green minibuses that serve the Peak residents and visitors.
All visitors who go to the Peak will want to experience the 360-degree panoramic views of Hong Kong from up high on the Sky Terrace 428. The Sky Terrace 428 earned its name for its scenic views and standing 428 meters above sea level. An added attraction as part of the Sky Terrace is the Sky Gallery, which showcases the fantastic works of Hong Kong's most talented artists.
Stunning views can be found along hikes and nature walks that surround the Peak, where visitors will be greeted with lush tropical forests and diverse wildlife. There are many walking trails at The Peak which will take you further beyond Hong Kong's cityscapes and sky-rises.
This famous residential neighbourhood is in close proximity to a number of reputable hospitals, and school institutions, making it an ideal location for families with children. As far as medical and health services go, The Peak is closest to Matilda International Hospital - a large private hospital with excellent reputation. Although The Peak is not an area that is surrounded by medical clinics and facilities, just a little way down the hill in Central is where you can find everything you need. There is Canossa Hospital, Adventist Hospital and Sanatorium Hospital in Happy Valley not too far away that are all easily accessible by public transport and car.
When it comes to school systems, German Swiss International School on Guildford Road is the closest. However, there are a number of other international schools and Hong Kong's ESF (English Schools Foundation) schools that offer high-quality education in surrounding neighbourhoods. Children who live at the Peak often travel outside of the Peak to attend schools.
Luxury Home Features at The Peak:
WATFORD VILLA
Imagine unwinding with a glass of wine, lounging in your own private garden while enjoying the glistening night time ocean views and breathing in the relaxing breeze. You can have all this at Watford Villa!
This beautiful home on The Peak is currently listed for sale at a listed price of HKD$268,000,000. The luxurious home comes with three bedrooms and three bathrooms, all within a saleable area of 2,640 Sqft.
This elegant home on the Peak features its own private garden and roof terraces, with sweeping panoramic views of natural greenery and Southside sea views. The house is located at the end of Watford Road - a serene and tranquil area that is surrounded by nature, while overlooking the Southside and Aberdeen Country Park.
The house is a multi-level home, with the entrance lobby, living room, dining room, kitchen and powder room located on the second floor. The master bedroom with ensuite bathroom and the other two bedrooms are located on the third floor of the home, giving more privacy to its residents. The family room is located on the first floor, along with the helper's quarter. The ground floors makes way in to the home's elegant private garden and swimming pool - a perfect place to entertain guests with alfresco dinner parties!
WATFORD VILLA
Watford Villa has another home for sale, which is a four bedroom and three bathroom house that is listed for sale at the current price of HKD$200,000,000. The approximate saleable area of the home is 2,640 Sqft.
A truly rare gem, the special and unique architecturally designed home is nestled amongst lush tranquil greenery and blessed with an abundance of natural light and spectacular views from across the Aberdeen Valley, the the ocean and beyond. This Watford villa home is only a short easy walk to both the Peak shopping arcade as well as the prestigious German-Swiss International school (for those who have children to keep in mind).
With a spacious living room that is perfect for entertaining, coupled with a newly renovated Grade-A kitchen and an adjoining dining room, this home is ideal for families. The design of this home captures the light and surrounding greenery perfectly through a series of panoramic floor to ceiling spanning windows, private balconies and rooftop. There are three bedrooms with one ensuite master bedroom. Designed with privacy, efficiency and convenience in mind, this home features plenty of storage, cupboard spaces, and even an undercover parking for two cars comfortably. The home also has a well-spaced maid's room and utility room.
Who wouldn't want to live here?
SEVERN 8
A classical and elegant European-style home, the Severn 8 is a house on The Peak that is currently listed for sale at a price of HKD$222,000,000. This is a four bedroom, four bathroom home within an approximate saleable area of 2,378 Sqft.
A rare find in Hong Kong, this stunning house features spectacular harbour views at one of The Peak's most prestigious addresses. This spacious 4-bedroom (three of which are ensuite!) design is complemented by light marble flooring throughout and strategically designed for families in mind. The large living room with high ceilings makes way to the private terrace of the house. The home also includes two car parking spaces, making it the perfect home for residents of The Peak.
LA HACIENDA
This elegant and charming colonial mid-rise apartment build in 1949 is currently listed for sale at a listed price of HKD$95,000,000. This home features five bedrooms and two bathrooms within an approximate saleable area of 2,865 Sqft. La Hacienda is a prestigious name on The peak. The home features a well-designed spacious layout with 15 ft high ceilings, wide expansive windows that open up to serene, lush green mount views and the Southside glistening sea views. The apartment features two regular bedrooms, three ensuite bedrooms, a study, a living room, dining room, kitchen, storage room, laundry room, helper's quarter, helper's own private bathroom and one covered car park space.
There are plenty of quality amenities couple with this home, such as communal play areas for children, a 25-meter outdoor swimming pool, and tennis courts. Not to mention, its located is prime at the Peak. It is well located close to the Peak Plaza, which is full of shopping and entertainment establishments, as well as hospitals and schools. This is a true residential home in a choice location, with even better views that cannot be rivalled.
KELLTTERIA
A beautifully designed modern townhouse that is situated in a secure complex on The Peak is currently listed for sale. This elegant townhouse features four bedrooms and three and a half bathrooms all within an approximate saleable area of 2,364 Sqft. This beautiful home includes its own private pool, a lush green garden terrace and rooftop that is idea for entertaining guests and hosting al fresco dinner parties, all while facing stunning vistas of the Southside. This home conveniently includes two covered parking space.
What residents of The Peak have to say about living in the famed neighbourhood:
"My experience of living at the Peak has been very pleasant. The higher up you get, the quieter it gets and the air is noticeably cooler. It does get more foggy and misty the higher you climb too. The residential area is very quiet, even though The Peak's tourist attractions are nearby. This area is really great for people who seek a quieter lifestyle and families. It definitely helps to have a car but one can get by without one. It's just more convenient because some of the homes are hard to get to without a your own car. The Peak is a true luxury style residential neighbourhood, with some of the most expensive real estate in the e entire world.
"The Peak is a nice area but the only major problem with this area is that most homes are not accessible by public transit, so you will either need a car or have to take long walks every day to get to public transport stations. The walks (depending on where you live on The Peak) can take up to 15-25 minutes going just one way, not counting the time spent waiting for a bus or a mini bus. Traffic can get pretty bad during rush hour, and the times when kids are being dropped off and picked up from schools. However, most of these problems can be applicable to most parts of Hong Kong and is in no way exclusive to The Peak."
"If you have the budget to live on The Peak, it's really a beautiful area to set up a home. It is quiet in the early mornings and evenings, and on clear days, the views are absolutely stunning. There's often a lovely breeze up here. It's a beautiful place to live, with the panoramic views."
"Advice I have for picking a home at the Peak is to be careful about picking one that is well maintained. A number of the homes at The Peak are older and can cause you to run in to maintenance issues that are quite the headache. But then again, poorly maintained properties are in issue in many area of Hong Kong."
"The Peak is lovely. However, it does often get misty/smoggy up here and the humidity is worst than in other parts of Hong Kong. We deal with the humidity issue easily with the Air Conditioner and dehumidifier, which helps a a lot. If you value air quality, a view, and a breeze, and want to stay on HK Island, The Peak is an area you don't want to miss."
"There are dozens of scenic hiking trails that give you access to different parts of the island and city."
" Driving or hiking to and from The Peak makes you feel like you're really not in the city. It feels like like you are enjoying the countryside."
" It's not as far out of the way as everyone thinks it is. With traffic, it's only 15-20 minutes from Central by car. It's very community like in that the neighbours all know each other since it's quite secluded."
" Humidity is a problem. There are certain months of the year where it gets especially humid. Even if you do a fresh paint job, it wears away within a couple of months"
"The Peak is a good choice is you want luxurious living at its best and money is not an issue. It's really a very nice place to live. If you choose to live in the Peak, chances are you will also have the budget to get a car, meaning traffic and the lack of public transport links won't be too much of an issue. This area also has a number of quality hospital nearby."
"If you don't mind traffic and the commute in to the city, The Peak is really a beautiful area to live in. It's away from all the noise and air pollution that clouds much of lower Hong Kong. Sitting up so high on the hills, The Peak is very much like the posh neighbourhood of highly sought-after Beverly Hills. Its an address that immediately puts the status behind your name."
"The homes up here are very spacious compared to the many other neighbourhoods in Hong Kong. If you want to live luxuriously and space is a priority for you, then The Peak is probably a good option, keeping in mind that you have the budget to spend. It is not cheap to live at The Peak."
If we have piqued your interest, do contact our team at Engel & Volkers for more detailed information and viewings of these luxury homes for sale. Engel & Voelkers are the leading experts in featuring real estate properties in the best areas of Hong Kong. We assure you that you will find your ideal dream home with our help.