Luxury Home Features & Neighbourhood Guide to Marinella in Wong Chuk Hang, Hong Kong Island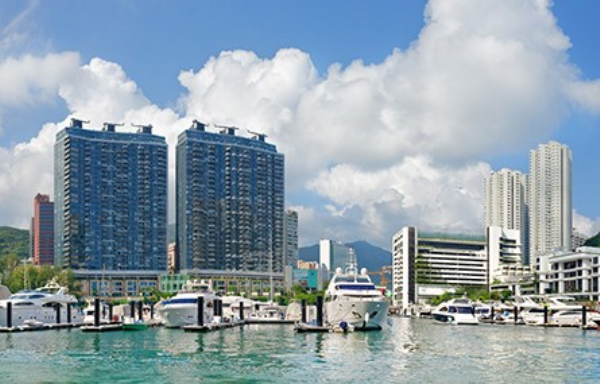 Marinella 深灣9號, Wong Chuk Hang, Hong Kong Island
Located on 9 Welfare Road, Wong Chuk Hang, we welcome you to Hong Kong Marinella - a luxury residential building on Hong Kong Island that was built and completed in the year 2012. At just 6 years old, this is a relatively new building in the city.
Marinella is in close proximity to nearby MTR Stations, including Ocean Park MTR Station, as well as the Wong Chuk Hang MTR Station.
Marinella is a very modern development that consists of 6 towers in its complex, with 26 storeys per tower. Each tower has two 2 storey penthouses along with 11 garden houses. There are a total of 411 units in the complex, summing up to 388 apartment units, 12 penthouses and 11 garden units. Marinella is located conveniently and directly next to Aberdeen Marina Club (AMC), with gorgeous views that span across the Marina and out towards the vast expanse of the Shek O coast, Deep Water Bay, Repulse Bay and the South China sea. Each of the units come completed with its own individual balcony, bathrooms, and fully furnished kitchens with state of the art, high quality luxury fixtures and appliances. Facilities of the Marinella complex include a large club house with various function rooms, a gym room, swimming pool and games rooms. Other additional facilities include a children's play room, conference room, digital cinema room, fitness room, a roof and sky garden, a music room, a reading lounge room, restaurants, and spa.
What's there to know about the Wong Chuk Hang Neighbourhood?
The name Wong Chuk Hang in Chinese literally translates to "Yellow Bamboo Ditch" or "Yellow Bamboo Grove". Wong Chuk Hang is an old industrial neighbourhood on the south side of Hong Kong Island. The area is east of Aberdeen, north of Nam Long Shan and west of Shousan Hill.
Previously a largely dominant district of car mechanics and factory workers, Wong Chuk Hang now has a trendy new face with the influx of people and business that are flooding in to the neighbourhood.
Wong Chuk Hang is now home to an array of design studios and art galleries, where artists have set up shop in the vacant spaces hidden within the area's strip of industrial buildings. With the newly opened MTR line, Wong Chuk Hang is more accessible than ever before. Since the launch of the South Island Line in 2016, properties in the Southern District have become a target of homebuyers and new business owners.
The new up and coming neighbourhood is filled with unique shops, art spaces, galleries, party venues, fashion outlets, fitness establishments, cafés, restaurants, and private kitchens that are making great use of the raw industrial atmosphere and space that is usually a rare find in Hong Kong.
Other major attractions in Wong Chuk Hang that cannot be missed are the Aberdeen Marina Club and Ocean Park, which offers a nice getaway from the often chaotic lifestyle of the city. There is significant growth in this part of Hong Kong, both within the commercial and residential space.
Schools in and around the neighbourhood
Schools that can be found in and nearby Wong Chuk Hang include St. Paul's Co-educational College Primary School, St. Stephen's College Preparatory Schools, and St Peter's Catholic Primary School, which are all under the primary school category. Under the secondary school category, there is St. Peter's Secondary School, Hong Kong True Light College, Sacred heart Canossian College, St Stephen's College and some international schools such as - Singapore International School, Canadian International School of Hong Kong,and Victoria Shanghai Academy.