Mid-Levels, Hong Kong - Neighbourhood Watch & Luxury Home Feature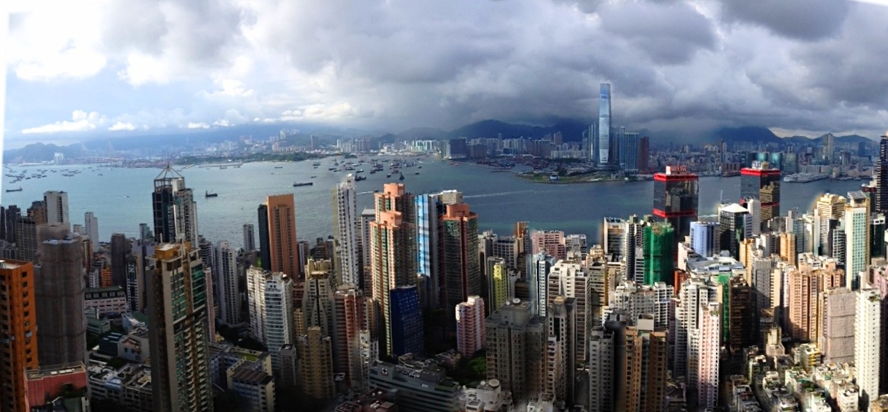 Our new neighbourhood watch guide each week will help demystify the various locations of Hong Kong, helping you choose the most ideal spot to find a home. This week, we will be focusing on The Mid-Levels on Hong Kong Island - an always popular choice for veteran residents and relocating newcomers.
We can't talk about Hong Kong Island without touching on The Mid-levels. There is a reason why this prominent area named Mid-Levels is so popular amongst expats, business professionals and the affluent crowd. Literally translated from Chinese as "Half mountain", situated halfway up the famed Victoria Peak and directly above Central, Mid-Levels is one of the most expensive and affluent residential areas in the Central and Western District on Hong Kong Island.
What makes The Mid-levels such a hot commodity is its conveniently central location on Hong Kong Island and for its breathtaking panoramic views of Hong Kong's famous Victoria Harbour Skyline. It's close proximity to the financial and commercial districts of Central and Admiralty make it the perfect residential neighbourhood for business professionals, families and expats. The added value of The Mid-Levels area is that it is close enough to the bustling city action for convenient access but just far enough out of reach where residents can still feel the tranquility of a proper residential neighbourhood, without being affected by the loud noises and bright lights of action packed Hong Kong. Not to mention, The Mid-Levels is closer to nature where many parks and hike trails are - a great added bonus especially for those are who seeking the perfect balance between urban city-living and the serenity of natural surroundings and greenery. This area's ultra-luxurious homes attract many wealthy people who are willing to pay top market prices for a home that has so many favourable qualities. There are not many neighbourhoods in Hong Kong where one can breathe in the beauty of nature right outside their doorsteps yet still be walking distance to the center of the city.
This residential district is always very sought-after. It's location truly sells itself. One cannot live more centrally than this in a family-friendly, children-family, pet-friendly, residential neighbourhood in Hong Kong. It's lack of major roads and elevated location high up on the hills make it one of the more unpolluted areas by Hong Kong standards. Hong Kong is a very convenient city to get around in, especially when it comes to public transport. The one thing that the Mid-Levels is missing is a station on Hong Kong's ultra-efficient MTR subway system. This is not too big of an issue considering Central and Sheung Wan are just a stone's throw away and is just minutes away even on foot. Even in the absence of private cars, people find that this area is still quite convenient due to Hong Kong's fleet of readily available taxis and now Uber's on-call car services.
The Mid-Levels is also a top desired residential neighbourhood for families with children due to the many prestigious and reputable schools and universities that are located in the surrounding areas, such as the University of Hong Kong, King's College, Ying Wa Girls' School, St. Paul's Co-educational College and St. Joseph's College. The University of Hong Kong is world-renowned and one of Asia's best institutions for higher educations. Conveniently, it's main campus is situated at the western end of Mid-Levels. Other schools in the area include; Island School - a secondary school that is part of Hong Kong's international Standard English Schools Foundation, St Margaret's Girls' College, Woodland Mid-Levels Montessori Pre-School, Glenealy School and more. For parents who are choosing a home with school districts in mind, it really doesn't get much better than living in Mid-Levels.
For general lifestyle services, Mid-levels and its close surrounding areas are chalk full of everything from restaurants, cafés, bars, nightclubs to public city parks like Hong Kong's Zoological and Botanical Gardens. There's also tons of cultural venues,shopping malls, local and gourmet supermarkets, banks, hair salons, pet-related services, clothing boutiques, health-care shops…the list goes on and on. There is never a lack of lifestyle options in this area.
When it comes to healthcare services, The Mid-Levels is extremely convenient for medical options. There are a few prominent hospitals in the district. There's The Canossa Hospital, which is a non-prfoit, private hospital that is located on the corner of Old Peak Road and Robinson Road. There are also a few medical centers and dental clinics, Hong Kong Central Hospital, Tung Wah Hospital, the Matilda International Hospital and Queen Mary Hospital not too far away. Being so close to Central, there are plenty of additional medical practitioners of all different disciplines for your choosing.
For all these reasons, The MId-Levels neighbourhood is favoured by many expats and the international crowd. Being one of the city's most prestigious locations and a long-time favourite amongst city-dwellers, the hunt for the perfect home is quite competitive. There are not many areas in Hong Kong where you can live in quiet and peace yet be literally minutes away from downtown Central, with large accommodations that are close to most of Hong Kong's top attractions, neighbourhood parks, and public transport lines. Mid-Levels is a top choice neighbourhood for almost all demographics. There's a great multicultural feel with the diversity of residents who live in this neighbourhood, all from different racial and cultural backgrounds. If you are a single expat, young business professional or even a full-fledged family with young children, this is truly a great area to live in Hong Kong.
Hong Kong's famed Mid-Levels will always remain a top choice for expats.
FEATURED HOME ALERTS:
LAI CHEUNG HOUSE
Constructed in year 1967, Lai Cheung House is one of our featured homes this week. This lovely and quaint apartment is located in Western Mid-Levels. This apartment consists of 4 bedrooms, 3 bathrooms, in an approximate living area of 155.98m2. It is currently listed at the market value of 39.800.000 HKD for sale.
This home is an ideal place for family living and those who enjoy hosting and entertaining guests. It has been renovated to an open plan with an expansive combined living and dining room which are adjacent to its own large, private terrace. All the bedrooms are generous in size and designed with built-in wardrobes and storage. The home comes with two ensuite bathrooms with feature modern fixtures and custom glass tiles. On top of the bedrooms, the home also offers an additional room that can be converted in to a home office. The kitchen is also designed with an open layout in mind, boasting ample pantry storage and full-sized quality appliances for those who love to cook and entertain. There is an interior courtyard that brings lots of natural light to all of the bedrooms. The home comes with one car park, perfect for residents who live in the Mid-levels neighbourhood.
Person of contact: Jennifer Kindel
SEYMOUR
Built and constructed in the year of 2011, Seymour is fairly brand new apartment on the market for sale located in the Western Mid-Levels district of Hong Kong Island.
This beautiful luxury home consists of 6 bedrooms, 5 bathrooms, all in an approximate living area of 290.6 m2. It is currently listed at the market price of 160.000.000 HKD.
WINNER COURT
Another quaint and intricately designed apartment on our list is Winner Court. This apartment is on the market for sale in Western Mid-Levels. Smaller than the previous luxury home features, this home is perfect for one person or a young couple.
Consisting of 2 bedrooms, 2 bathrooms, in an approximate living area of 93.37 m2, it is currently listed at the market price of 17.300.000 HKD for sale. This home was constructed in 1988. Winner Court is a chic London-esque apartment with open views of the city. The apartment is beautifully decorated and situated in a quiet and convenient location. The apartment is great and very bright with lots of natural light.
Person of contact: Iris Chum

If we have piqued your interest, do contact our team at Engel & Volkers for more detailed information and viewings of these luxury homes for sale.
See more properties to buy and rent around Mid-Levels Hong Kong