Lovers of Midlevels Hong Kong Should Consider These Luxury Homes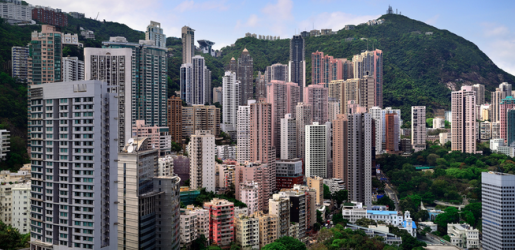 Our new neighbourhood watch guide each week will help demystify the various locations of Hong kong, helping you choose the most ideal spot to find a home. This week, we will be focusing on The Mid-Levels on Hong Kong Island since our luxury home features this week include some of the most popular housing choices for both veteran residents and relocating newcomers.
We can't touch upon Hong Kong Island residential real estate without giving some emphasis on the neighbourhood called The Mid-levels. There is a reason why this prominent area named Mid-Levels is so popular amongst expats, international elites, business professionals and the affluent crowd. Literally translated from Chinese as "Half mountain", situated halfway up the famed Victoria Peak and directly above Central, Mid-Levels is one of the most expensive, highly sought after, and affluent residential areas in the Central and Western District on Hong Kong Island.
The Mid-Levels is bound by Bonham Road, Caine Road, Upper Albert Road, Kennedy Road to the north and Conduit Road to the south. With the famous Mid-Levels escalator that connects to and from Central, making the area highly accessible and ultra convenient for residents of the well established and sought after neighbourhood.
What makes The Mid-levels such a hot commodity is its conveniently central location on Hong Kong Island and for its breathtaking panoramic views of Hong Kong's famous Victoria Harbour Skyline. It's close proximity to the financial and commercial districts of Central and Admiralty make it the perfect residential neighbourhood for business professionals, families and expats. The added value of The Mid-Levels area is that it is close enough to the bustling city action for convenient access but just far enough out of reach where residents can still feel the tranquility of a proper residential neighbourhood, without being affected by the loud noises and bright lights of action packed Hong Kong. Not to mention, The Mid-Levles is closer to nature where many parks and hike trails are - a great added bonus especially for those are who seeking the perfect balance between urban city-living and the serenity of natural surroundings and greenery. This area's ultra-luxurious homes attract many wealthy people who are willing to pay top market prices for a home that has so many favourable qualities. There are not many neighbourhoods in Hong Kong where one can breathe in the beauty of nature right outside their doorsteps yet still be walking distance to the center of the city.
The Mid-Levels is also a top desired residential neighbourhood for families with children due to the many prestigious and reputable schools and universities that are located in the surrounding areas, such as the University of Hong Kong, King's College, Ying Wa Girls' School, St. Paul's Co-educational College and St. Joseph's College. The University of Hong Kong is world-renowned and one of Asia's best institutions for higher educations. Conveniently, it's main campus is situated at the western end of Mid-Levels. Other schools in the area include; Island School - a secondary school that is part of Hong Kong's international Standard English Schools Foundation, St Margaret's Girls' College, Woodland Mid-Levels Montessori Pre-School, Glenealy School and more. For parents who are choosing a home with school districts in mind, it really doesn't get much better than living in Mid-Levels.
For general lifestyle services, Mid-levels and its close surrounding areas are chalk full of everything from restaurants, cafés, bars, nightclubs to public city parks like Hong Kong's Zoological and Botanical Gardens. There's also tons of cultural venues,shopping malls, local and gourmet supermarkets, banks, hair salons, pet-related services, clothing boutiques, health-care shops…the list goes on and on. There is never a lack of lifestyle options in this area.
When it comes to healthcare services, The Mid-Levels is extremely convenient for medical options. There are a few prominent hospitals in the district. There's The Canossa Hospital, which is a non-prfoit, private hospital that is located on the corner of Old Peak Road and Robinson Road. There are also a few medical centers and dental clinics, Hong Kong Central Hospital, Tung Wah Hospital, the Matilda International Hospital and Queen Mary Hospital not too far away. Being so close to Central, there are plenty of additional medical practitioners of all different disciplines for your choosing.
For all these reasons, The MId-Levels neighbourhood is favoured by many expats and the international crowd. Being one of the city's most prestigious locations and a long-time favourite amongst city-dwellers, the hunt for the perfect home is quite competitive. There are not many areas in Hong Kong where you can live in quiet and peace yet be literally minutes away from downtown Central, with large accommodations that are close to most of Hong Kong's top attractions, neighbourhood parks, and public transport lines. Mid-Levels is a top choice neighbourhood for almost all demographics. There's a great multicultural feel with the diversity of residents who live in this neighbourhood, all from different racial and cultural backgrounds. If you are a single expat, young business professional or even a full-fledged family with young children, this is truly a great area to live in Hong Kong.
Hong Kong's famed Mid-Levels will always remain a top choice for expats.
Transportation in the area:
This residential district is always very sought-after. It's location truly sells itself. One cannot live more centrally than this in a family-friendly, pet-friendly, residential neighbourhood in Hong Kong. It's lack of major roads and elevated location high up on the hills make it one of the more unpolluted areas by Hong Kong standards. Hong Kong is a very convenient city to get around in, especially when it comes to public transport. The one thing that the Mid-Levels is missing is a station on Hong Kong's ultra-efficient MTR subway system. This is not too big of an issue considering Central and Sheung Wan are just a stone's throw away and is just minutes away even on foot. Even in the absence of private cars, people find that this area is still quite convenient due to Hong Kong's fleet of readily available taxis and now Uber's on-call car services.
This area is also easily accessible by the Mid-Levels Escalators, which is the world's longest outdoor covered elevator system that takes you from Central to Midlevels through the steep hilly streets of this neighbourhood. Riding the complete length of the escalator takes only 20 minutes going one way. Super convenient and efficient - the epitome of Hong Kong life!
What others have to say about living and finding a home in Mid-Levels…
Mid-Levels is a great area. One thing to keep in mind is that not all apartments in a building will be the same. You could have an older walk up type building but a great apartment inside, or the opposite, or a great building but a poorly designed apartment layout. Talk to a real estate agent that knows this particular area well and will help you find the best apartment suitable for your needs and lifestyle.
Mid-Levels is very convenient. It's one of the most convenient residential neighbourhoods that is literally walking distance to Central and has Hong Kong's main and most popular restaurant and nightlife scene on its doorstep. It's one of the areas most chosen my expats and foreigners due to its proximity to the main financial, commercial and shopping districts. It is on the expensive side generally but the convenience is truly unbeatable. If you want the best of both worlds, to be able to live in a quiet residence but still be close enough to the action, then Mid-Levels should be a top contender for you.
What most people don't realize is that Mid-Levels actually covers a pretty large area, so do some digging around and really look. There are housing options of all kinds that fit different types of budget ranges.
The location is the best. You really can't live more centrally than this and still be in a children-friendly, family oriented residential area. You are close enough to the action but far away enough to not be affected by the noise.
LUXURY HOME FEATURES
Only in Hong Kong would apartment units have such steep asking prices, but that's exactly what you'll find in Mid-Levels, one of the most well-known, established and affluent neighbourhoods in Hong Kong. Here are some of our top picks of listed apartments available on the market is the beautiful Mid-Levels area.
Seymour
Exclusively located on 9 Seymour Road, Mid-Levels West, the Seymour 懿峰 is a pure luxury and elegant residential property with a number of available units we are doing a feature on this week.The building was constructed in 2011, and still quite new in real estate standards. Seymour is the perfect blend of modern and classic designs with an elegant touch, making it the ideal place to set up home, especially if you love this neighbourhood. Poised elegantly in a great location, conveniently located just 5 minutes from the Mid-Levels Escalators which takes you straight down to Hong Kong's beating heart, the financial district of Central and trendy Soho area, Seymour is sought after for all the right reasons. This residential building is composed of 82 large-sized apartments of five-bedroom units (2,348 square feet, with two en suites) or four-bedroom (1,888 Square feet with two en suites) layouts, and beautiful views of the city and stunning Victoria Harbour. There are two units per floor and only tenants can reach their floors with private keycards. The ultra security and privacy is unbeatable, whether you are renting or buying.
All the units are designed with efficient layouts, and minimum structural walls, making the space modular enough to suit whatever your lifestyle needs may be. As for facilities and amenities, the building has a separate 3 story tall, 15,000 Square feet club house designed with classic Parisian Villa details, featuring - a banquet room with Verandah space corridor, a function room with a 16 seat table, high end professional chef's kitchen for hosting and entertaining, a privates spa designed by the famous Peter Remedios (who also designed the Four Seasons New York, as well as Landmark Mandarin Hotel), and last but not least, a fully equipped fitness gym with state of the art workout machines, equipment and entertainment systems.
Gramercy
Gramercy is located on Caine Road, in one of the newer (built in 2012) luxury residential areas of Mid-Levels/Central area. Modern, high-end, luxury, elegance all describe the Gramercy building, with efficient and intelligent use of space and top quality materials.
This one particular apartment unit on feature is available for sale at a listed price of $25,000,000 HKD. This is a 2 bedroom, 1 bathroom unit with private balcony in a 681 sqare feet space (saleable area approx.)
Elegant Terrace
Elegant Terrace, located on 36 Conduit Road, with access to Robinson Road and close to the Mid-Levels to Central Escalators is in one of the most prestigious locations in Hong Kong. This particular space features a beautiful 2 bedrooms/2 bathrooms apartment unit that is available for rental at the price of $52,000 HKD per month. This is a 996 square feet (saleable area approx.), quality sized apartment with equally decent size bedrooms in a solid layout.
Fortune Gardens
Fortune Gardens is located on 11 Seymour Road, Mid-Levels Central. An older building, this residential complex was built in year 1988 but its exterior refurbished in 2012. The Fortune Garden's ideal location just mere minutes from the Mid-Levels escalators, supermarkets, restaurants, bar, and cafés makes it a perfect area for those who crave efficiency and ultra convenience. There is the happening area of Mid-Levels Central and one of the top residential hot spots of Hong Kong Island.
There are currently three apartment units listed on the market that are available to be bought:
One is a 733 Sqare feet unit at an asking price of $14,500,000 HKD. The second is a 2 bedroom and I bathroom apartment within a 721 square feet space (saleable area approx.) with a listed market price of $14,000,000 HKD. The third apartment unit is also a 2 bedroom and 1 bathroom apartment of the same size, at 721 square feet (saleable area approx.). The apartments are beautifully renovated with spacious living room and an nice open kitchen that is fully equipped with top-grade appliances - including an extra large Smeg oven and a top-quality dishwasher. The bathrooms are modern with a rain shower head, good sized storage and heated floors. The unit comes with split air conditioners with both cooling and heating functions, and there are internet sockets throughout the apartment for maximal convenience. The apartment units all feature sea views of the open skyline.
Regence Royale
Built in year 2001, Regence Royale is a residence situated in MId-Levels Central on 2 Bowen Road. The building is striking in appearance, spanning across a large space that towers towards the sky, with lush mountains in the backdrop and bright open city views from the high floors. Facilities include a swimming pool, sauna and fitness gym.
The featured apartment currently at Regence Royale is available to be rented at $260,000 HKD per month. This rarely available type of apartment unit in question consists of 4 bedrooms and 3 bathrooms in a large space of 3,738 square feet (saleable area approx.)The apartment is combined by the original Unit A & B apartments on one floor, becoming merged as one big space. This apartment is great for families who need the extra space in Hong Kong.
Golden Pavilion
Built in 1993, Golden Pavilion is a residential building that is located in the middle of affluent Mid-Levels neighbourhood at 66 Caine Road, one of the most sought after locations on the densely populated Island.Although a slightly older building of the signature pink exterior, the units inside are attractive and good quality to live in .There are 77 units in the building in total.
The featured apartment available for sale is a 1 bedroom and 1 bathroom unique duplex with spiral staircase that leads to a large private open outdoor space and balcony overlooking the famous Hong Kong skyline and stunning Victoria Harbour. The size of the entire unit is measured at 518 square feet (saleable area approx.). On the smaller size, the apartment is ideal for singles and couples. The building is conveniently located just a couple of minutes from the Mid-Levels to Central Escalators, quickly zipping you to work, entertainment, and all that you need living day-to-day in this top-notch neighbourhood.
If we have piqued your interest, do feel welcome to contact our team at Engel & Volkers for more detailed information and viewings of the luxury homes for sale and rental. Engel & Voelkers are the leading experts in featuring real estate properties in the best areas of Hong Kong. We assure you that you will find your ideal dream home with our help.