Repulse Bay - Neighbourhood Watch & Luxury Home Feature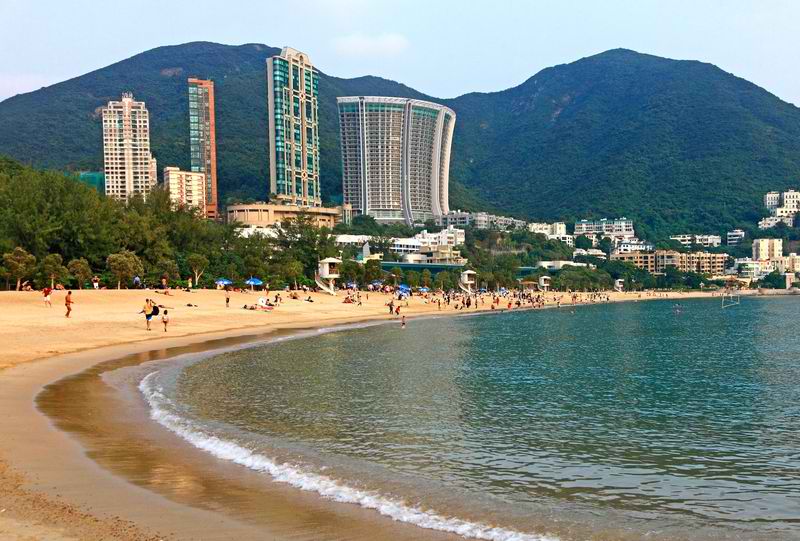 When I mention the words "Hong Kong", what are some of the images that immediately leap to the front of your mind? A concrete Leggo-esque, Tetris-like city that is made up of monster skyscrapers I presume. You are not wrong, but Hong Kong has so much more to offer than just that lone. If your knowledge about Hong Kong is limited to just the fact that it's a concrete jungle and the "Apple of the Orient", you are in for a pleasant surprise.
New residents to Hong Kong don't correlate the city to beaches and waterfront views, but Repulse Bay offers just that. The South side of Hong Kong Island, specifically this area called Repulse Bay is one of the city's most desirable and sought after places to live in. The area offers a more relaxed, beach-front lifestyle along with some phenomenal luxury accommodations. Repulse Bay is (as the name suggests) a bay located in the southern part of Hong Kong Island, the Souther District of Hong Kong. It is sandwiched between Deep Water Bay, Middle Bay, South Bay, and Stanley just a little further down. Located close to the city, but far enough to be away from the maddening crowds of Hong Kong, here we have the "French Riviera of Hong Kong". Truly an escape from the city, this upscale neighbourhood is characterized by its lush mountain views on one side and glistening ocean waves from the other. This area spans from Wong Nai Chung Gap Road all the way towards Chung Hom Kok beach, forming a lovely crescent shaped Repulse Bay that is dotted with plentiful luxury homes.
The Repulse Bay area has become known as one of the most expensive and luxurious housing neighbourhoods in Hong Kong due to its combination of desirable features. Its location is still close to the city but with a more relaxed, beach-front resort lifestyle. The area has stunning wide expanse views of the seaside and oceanfront, which are strung along a series of beautiful beaches, with spectacular mountain views in the back. There are not many neighbourhoods on Hong Kong Island that offers such spectacular views and living environment. Hong Kong is usually equated with hustling bustling city life, towering skyscrapers, concrete jungle, and a dense population. However, Repulse Bay offers something unique that is not normally expected of Hong Kong. The Repulse Bay area stretches towards the areas known as Middle Bay and South Bay, which are tucked neatly right next to one another - and is a highly exclusive and exquisite area.
If you are searching for an area with a true community feel, look no further than Repulse Bay. This area is a very children-friendly, pet-friendly and family-oriented type of neighbourhood, making it the perfect backdrop for adults, children and families alike. There are all types of community activities and amenities in the area, from family-friendly beaches, reputable International Schools, supermarkets, delis, beach promenades, restaurants, cafés, fitness facilities and more - making this one of the better places in Hong Kong to raise children. There are not many places in Hong Kong that offers so much open space and clean fresh air, which is why Repulse Bay is so unique for the city. It's only a 20-30 minute commute the city centre of Central, and free from much of the street-level pollution, congestion, noise and dense high-rise saturation that characterises a lot of the city and can make it a pretty challenge place to live and for children to grow up in. Expats generally prefer areas like this, making it one of the most luxurious and expensive areas to live in within Hong Kong. Unsurprisingly, the landscape and culture of this neighbourhood is home to its fair share of the Hong Kong's most elite and fancy homes. Developers and homeowners in this area have much more room to play with, allowing for much larger homes to be built. For those who are not familiar with Hong Kong, space is a rare luxury in the city. Most homes are in the forms of apartments rather than single-occupier house and multi-storied town homes. Developers have had to make use of creatively incorporating vertical spaces due to the space scarcity, which is why Hong Kong is famed for and dominated by its skyline feature massive high-rises.
The housing options in Repulse Bay are plentiful. There are a side number of choices for luxury apartment building, stand-alone villas, town houses, and even serviced apartment options available as well that tailor towards the higher end of the market. The demographic that lives here are majority wealthy locals, expats - most of which make up the high-end privileged community in Hong Kong.
The Repulse Bay neighbourhood is continuously being developed to this day, making the area increasingly attractive for new homebuyers. The market for super-deluxe houses along side Repulse Bay is continuously being tested , with breaking record sales for a single home continuously happening. Primarily an upmarket residential area, this neighbourhood is perfect for those who enjoy serene and luxurious lifestyles in a beautiful sun-drenched location. This crescent shaped bay is one of the most beautiful areas in Hong Kong, with tons of colonial-stype buildings, boutique lifestyle stores, award winning hotels and restaurants. Living here, you really get a true sense of community, much like living in a small beach-town - a very exclusive one at that.
This area is also very dog-friendly. One of the more dog-welcoming areas of Hong Kong because of the open spaces and larger housing options. People who live here are able to actually have pets. This neighbourhood is great for people who want not to stray too far away from the city but still feel a sense of tranquility that is not readily available in the city center of Hong Kong.
Although most of the public beaches don't allow dogs, there are a few dog-friendly locations such as Stanley Promenade and Stanley's private dog beach where your pooch can happily enjoy the plentiful space and cleaner air. The marketplace and all the restaurants along the Stanley Promenade are dog-friendly, so you can take the little ones with you everywhere you go.
Curious to Know More? People have tons of great things to say about Repulse Bay:
Want to know what current and former residents of the Repulse Bay area have to say about living here? The best way to find out what its like to live in a neighbourhood is to find out from the people who are living there of course. They have all the insider secrets. Read on to find out!
REPULSE BAY - SOUTH BAY - MIDDLE BAY
"Beachside living at its best. We don't even feel like we are in Hong Kong. We have more space here, cleaner air, and getting to city centre is quite convenient. The entire area running from Deep Water Bay, Repulse Bay, South Bay, to Stanley is like a little community in itself. We can pretty much get most of the things we need here. It's not as isolated as people say."
"It feels like resort-living. I commute to Central for work and it's always a pleasant feeling to come home. It's tranquil and gives me a peace of mind that is much needed in a busy city like HK."
"Lovely area and transportation is convenient. It helps to have a car though."
"We love living in Repulse Bay. You can walk everywhere in the area. Great hiking trails, plentiful outdoor space, a number of beaches to choose from, and more dog-friendly than most other places in Hong Kong. There's a huge community feel here because it's removed from citycentre (15-20 minutes to Central by Taxi) , so it's easy to meet your neighbours especially if you have kids that are enrolled in the same school(s).Hong Kong International School is nearby - it's a beautiful area for kids to grow up in. It is definitely a pricey area though."
"If you love being outdoors, this is a perfect location. There is so much to do, and it's a very self-contained neighbourhood. Transportation is not bad but it helps to have your own car. Some people love it here and others hate it. It may feel isolated, because apart from a handful of shops, restaurants and a spa, there is not much here. But there is easy and frequent transport to Central and other parts of the city. Repulse Bay Beach can get insanely crowded (and dirty) on the weekends. It's has become a tourist attraction and tour buses pass by in flocks. It's not as serene as it used to be, but it also depends on the day of the week."
"We love living here. We don't even have to leave the neighbourhood to shop because this area is like its own little city. I can buy pretty much everything from the Repulse Bay arcade. The Repulse Bay arcade is a very popular shopping area that all the Repulse Bay residents frequent for all of our shopping needs and wants. There's a very well-stocked supermarket that tailors to International tastes, the two excellent restaurants within the Hotel, coffee shops, lifestyle shops, clothing boutiques, beauty spas, medical practices, kindergartens, tutoring centre, banking facilities and more. I could go on and on. I just love this area. Just a short distance away, there's also the outdoor shopping mall in Stanley that offers basically everything you could possibly need. I love that I don't absolutely need to go in to the city centre to run my errands and get all my daily needs. I've been living here for the last 10 years with my family, and we have zero desire to go anywhere else. Not to mention, transportation to and from here is so easy. People have this misconception that it's so far from the city, but it's really not. If you don't have your own car, it's perfectly fine. There's buses, minibuses, taxis…it's super convenient and efficient. Sure, there's no MTR but that's what makes this area so much more exclusive and serene. You don't get the floods of people constantly coming in, and I'm glad that the MTR hasn't developed in this area. It would completely change the culture and landscape of my most beloved Hong Kong neighbourhood. What's not to love about Repulse Bay? There aren't many other neighbourhoods I can think of where i can go to the beach for a run in the morning right outside of my doorstep. It's magical living here."
"Honestly, the best part about living here has to be the beaches! There are beaches all along Repulse Bay, Middle Bay and South bay, with many more smaller, more private beaches towards the coast of Stanley. Stanley's another beach-side neighbourhood close to Repulse Bay. It's a dream living here. I can go to the city when I need to but when I come home, I feel years removed from the stress, the hectic lifestyle, and the constant hustle-bustle. I can truly relax when I come home to Repulse Bay. If you enjoy beach-side living, without all the chaos of a city that never sleeps…you know the 24/7 flashing neon lights, nightlife, noise levels and all, you want to definitely consider living in Repulse Bay."
FEATURED LUXURY HOME ALERTS:
SPLENDOUR VILLA
Splendour Villa is a condominium up for sale located in Repulse Bay, Hong Kong Island.
This luxury home features four bedrooms and four bathrooms, all within a living space of 2,088 Square Footage that is listed at the current marketing price of 78.000.000 HKD (Approximately 10.018.501 USD). This home was built in year 1993.
Amenities and Special Features of this luxury condominium:
Splendour Villa is a beautiful and unique duplex home where homeowners can enjoy spectacular views of Repulse Bay's famous oceanfront. The home features internal stairs that lead up to its private roof terrace, a perfect space for personal enjoyment and guest hosting. Featuring a spacious living and dining area, the home also consists of 3 bedrooms each with its own en-suite bathroom, a guest powder room, a fully fitted state-of-the-art kitchen, a laundry room and maid quarters. The exclusive low-rise development provides excellent management and security, and has a communal swimming pool along with a children's playground - perfect for young families with children. The lovely Repulse Bay Beach is only a short walkable distance away with a myriad of local shops, facilities and amenities nearby.
If we have piqued your interest, do contact our team at Engel & Volkers for more detailed information and viewings of these luxury homes for sale.
See more properties to buy and rent around Repulse Bay.