Living in Seymour in Mid-Levels on Hong Kong Island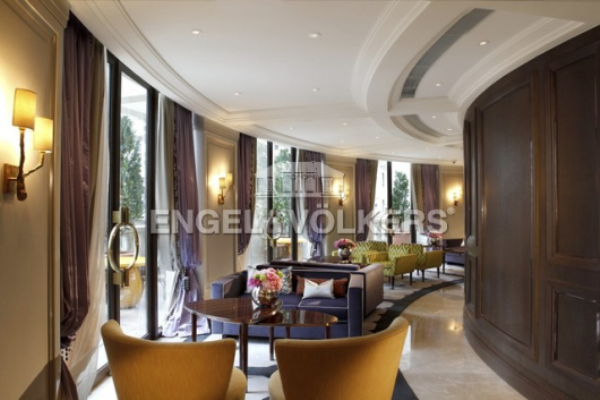 A cosmopolitan living, sophisticated and limited in Seymour
Seymour is exclusively located at Mid-levels, one of Hong Kong's most traditional prestigious areas on the Island side, enjoying excellent accessibility. Western Mid-Levels is a traditional mansion location. It is very convenient for busy downtown. It is well-touted by the rich and senior executives who love to live in this area. The Peak is located on Seymour Road, developed by Wing Tai Asia and joined in 2011. The high-level units introduced this time embrace the intoxicating views of Victoria Harbour with four seasonal changes and the nights that show IFC building clearly as well as landmark buildings around the area. Residents can also enjoy the landscapes with skyscappers in Wan Chai and Tsim Sha Tsui with 270-degree seaview that is pleasing.
Seymour is a single-family apartment home in the western half of the road in the western part of Hong Kong. It has a residential building with a total height of 47 floors. It is developed by Yongtai Asia and entered the fourth quarter of 2011.The residential tower building is modern, featuring private balconies. It offers 82 large-sized apartments of five-bedroom (2,348 sq ft, with two en suites) or four-bedroom (1,888 sq ft, with two en suites) layouts. The project design concept is to follow the development of Yongtai Asia. The area is a traditional residential area and the view is Victoria Harbour.
The building is 41 storey high. The first floor of the building starts from the 7th floor. The area of ​​Room A is approximately 2,348 feet. There are 5 rooms with double suites and workers' suites. The room is a guest, dining room and entrance with a width of 570 feet. It is comparable to a small unit. The hall is 22 feet away. The bathroom in the other suite features a two-door and in-hospital design during leisure time. The area of ​​Room B is 11,600 feet. It is a 4-room suite and worker's suite designed with the same spacing and comfort.
There are only 41 floors and a fire barrier in the house, including 47 floors on the 5th floor, but there are 63 floors (no 4-6, 14, 24, 34, 40-49 and 54 floors). The underground to third floor is the lobby entrance, clubhouse and parking lot, and the seventh floor is residential. There are a total of 82 units in the house ranging from about 1,900 to 2,300 square feet. Rooms can be combined and turned into a larger room. In addition, the clubhouse facilities include an outdoor swimming pool, fitness room, banquet hall and more.
Around the area
The neighbourhood residence buildings are Soho 38, Goldwin Heights and Palatial Crest and Garpo Garden. All are high quality luxurious residence within the same area. The Mid-Levels West is a high-end residential area with superior geographical position. It is very convenient for both foreigners, shopping, dining and entertainment. It is popular among middle-class and senior executives. It is located in Seymour Road in the Western Mid-Levels and is surrounded by shopping facilities, restaurants and escalator being just a step away. The demonstration unit was once located in W Square, Wan Chai.
The famous food spots nearby are Soho and Lan Kwai Fong Bar Street, Yi Li near Street and Joli Street. There are special restaurants and open-air bars. Enjoy international cuisine and wonderful quality of life. In the distance.
Soho
Referring to the area south of Hollywood Road, SoHo is the multicultural wine, dine and swanky nightlife side of Central. The upmarket bars and exotic restaurants of SoHo's historic and narrow streets are chic to the extreme. You can explore the neighbourhoods attractive fashion boutiques, art galleries and antiques shops or indulge in lunch and a glass of vino or hang around for sundown, when SoHo really comes into its own.
Lan Kwai Fong Bar Street
Lan Kwai Fong is located between Wyndham Street and D'Aguilar Street on Hong Kong Island. This Central hot spot is famous for its night scene and award-winning dining. As the most famous bar street in Hong Kong, 80 restaurants and bars are spread in this narrow L-shaped lane.
Central
Central, the economic and financial center of Hong Kong, has a concentration of foreign enterprises, multinational companies, government headquarters, and office buildings with famous attorneys. It is a place full of working elites who they look for places to hang out after work and a must-go chill-out place for local and foreigners.
Close to the Central escalator, it is easy to go outside the Central Business District and there is a bus to Admiralty Wan Chai. In North Point and other places, it is very convenient to go to school. And the bus number that are providing regular service are 12M, 23, 23B, 40, 40P and 93 that connects between Admiralty, Central, North Point, Ap Lei Chau and Wan Chai. There is also a line of minibus as 56A that passes through this area to Causeway Bay.