Living at The Avenue in Wan Chai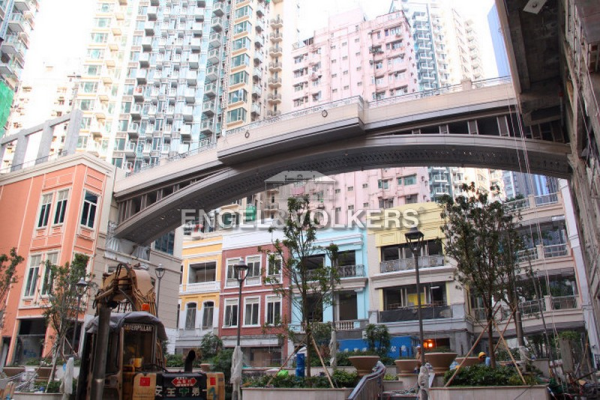 A boundless lifestyle at The Avenue
The Avenue is situated at No. 200 Queen's Road East, Wanchai District, Hong Kong. It is developed by Sino Land, Hopewell Industries and the Urban Renewal Authority. The development includes four residential floor areas of approximately 731,000 square feet, providing a total of 1,275 units and is launched in two phases. The entire project was designed by Lu Yuanxiang Architects.
Lee Tung Avenue
The shopping mall at the pedestal is named Lee Tung Avenue, previously known as the Wedding Card Street. The mall has a total of 3 storeys. It provides 100,000 square feet of floor space, including basement, underground and first floor. The berth area is 100 square feet. About 10,000 square feet, a total of 70 shops, and 4 duplex shops, are expected to attract brands to open flagship stores. The forward-looking developer have already filled the gap in the district's retail market with more well-rounded, unique and unconventional shopping experiences.
Based on the integration of Chinese and Western culture in Lee Tung Avenue, it will preserve the traditional architectural features of Wan Chai. There are also historic buildings in that area and served as cultural centres and shops. The historical rudiment can still be found easily, such Old Wan Chai Post Office, Wan Chai Market and Hung Shing Temple. Vitality can be imbued into traditional streets and local culture.
Food and lifestyle
For dining out, The Avenue is home to sidewalk cafes, gourmet restaurants, and local and overseas fashion outlets. It is also gaining fame for its large variety of lifestyle. With those who want a chill-out drink during weekend nights, it is convenient to pay a visit to extravagantly decorated bar, namely Ophelia, with just a few steps nearby. Even for coffee lovers, they can linger either in Owner Eiichi Kunitomo or Givrés which offers a wide selection of different kinds of coffees ranging from cappuccino to affogato. The carefully curated retail area features some of the hippest restaurants in town that can satisfy your cravings for high quality food experience. And there are also late-night bars on Lockhart Road continue to party on!
More opportunities for art appreciation
Besides Lee Tung Avenue, Wan Chai has its special features to live with, particularly easy for Art people to connect each other. The Hong Kong Arts Centre, as a non-profit, non-governmental and self-financed institution, has been widely respected as an artistic and cultural hub since 1977. This place available local citizens to zoom out from hassle citylife, equipped with a cafe, theaters, galleries and classrooms that makes an all around creative space. That is why art lovers and cultural goers always view sound and visual installations, photography and ceramics here. And it represents one of Hong Kong rare corners to demonstrate artistic and cultural treasures with occasional exhibitions for international works that suit local and oversea residents' interest.
Take a cultural stroll from the apartment
From the Wan Chai Heritage Trail is a architectural and cultural trail that shows you Blue House, Wan Chai Market and Nam Koo Terrace, and end at The Pak Tai Temple, Old Wan Chai Market and the Hung Shing temple for the finish. It is easy and free to experience the city's dynamic culture, but also grasp a taste of colonial and modern architecture that most people will not deny to admire.
Facilities
The building has Club Orient, a 50,000-square-foot clubhouse. Facilities include a rare bowling alley in the city's newest plate, a 24-hour fitness room, an indoor jacuzzi, an outdoor pool, a casual lounge and an outdoor bar area. Imagine you could soak yourself after work in indoor jacuzzi, that is a reachable goal for residents here. And if you are a bit behind your schedule, this residence can provide what you need within a few steps away from your apartment.
Transportation
It is well-connected with trams, minibus, bus and mtr stations. 11 citybus lines and 3 kmb bus lines are available to reach directly to Lee Tung Street. It takes only 5 mins to walk from Wan Chai MTR station. For trams, it can clearly be found for 3 routes between Shau Kei Wan and Western Market, Happy Valley and Kennedy Town as well as North Point and Shek Tong Tsui.
As a more attractive place to live in than Pacific, Central and Time Square, Wanchai can provide a more dynamic cultural mix with a change of vibes that show some indigenous roots and a new lifestyle zone nearby. This can probably draws your attention more than the others. If that is what you wish to have a higher form of pursue in arts and cultures, this residence suits your taste most with fluid creativity.