The Perks of Beachside Luxury Living in Stanley, Hong Kong Island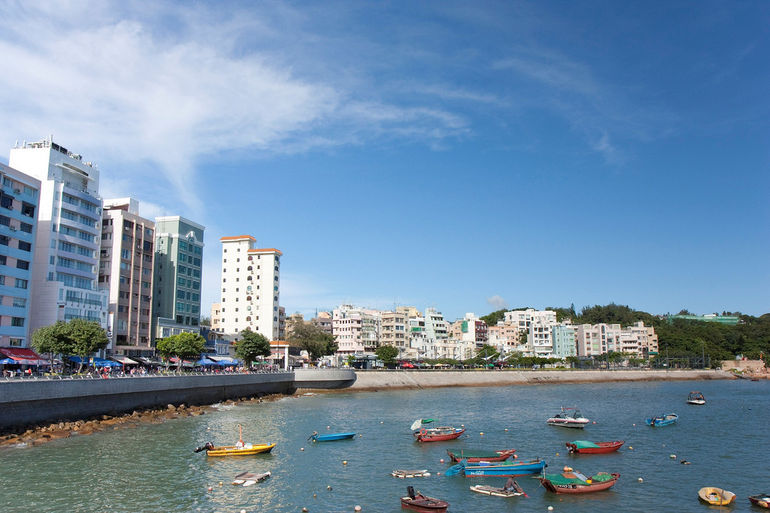 Hidden far on the south side in the "City That Never Sleeps", on one of the long stretches of the city's glistening coastlines, is a small town, a quaint and whimsical fisherman village that has been transformed in to one of the prized jewels of Hong Kong. Cascading treetops open up to windy roads that seem to twist and turn with no end in sight. Glimpses of the coastline catch your eyes, it's hard to miss, like little sprinkles of diamonds sparkling and dancing fancifully to the rays of sunlight. The salty ocean breeze caressing your face as you take in all the wonderful delights of the seaside town. Walking along the pen waterfront promenade, you are met with al fresco style restaurants and bars one after another, each inviting you in with worldly cuisines of delectable bites. Italian, Spanish, American, French, Thai, the options seem to never end. For a moment, it feels as if you are transported to the Mediterranean, filed with excitable yet tranquil vibes of beachside living.
What a sight. What a feeling.
How would you like to wake up to this every day?
The good news is, you can! And it's all right here in Hong Kong, at the reach of your finger tips.
Beachside living is not usually the first thought that comes to people's minds when talking about Hong Kong residential real estate. Skyscrapers, maddening crowds of people, noise, excitement, energy, "bright lights, big city" are the words that normally come up alongside the subject of Hong Kong living. Big city life is great, but the constant adrenaline rush and fast-paced lifestyle isn't everyone's cup of tea. For those that crave a oceanfront living, with beaches and nature at their doorstep, this little town called Stanley has all the makings of a good neighbourhood.
This attractive seaside town is a big favourite amongst the affluent crowd, catering to mostly expats and wealthy locals. Stanley checks off on all the attributes that International residents love - Mediterranean beach town vibes, charming waterfront promenade with bars and restaurants of every taste, lovely beaches, and local attractions that make it especially attractive to families with children.
Where exactly is Stanley located in Hong Kong?
Stanley is very famous beachside town that is situated on a peninsula on the south side of Hong Kong Island. This beautiful area is nestled between Repulse Bay and Red Hill, Tam Tam. Technically, east of Repulse Bay, West of Shek O, and adjacent to Chung Hom Kok. Stanley is considered to be a part of the Southern District.
Where does the name Stanley come from? What does it mean?
Stanley's Cantonese name is "Chek-Chue", which is the original name for the village-town that it refers to. The name literally means "Bandit's Post" or "Red Pillar"
There's actually a couple of interesting legends which explains the possible origins of the name "Chek Chue" or Stanley. According to online sources, one legend has it that a notorious pirate by the name of "Cheung Po Tsai", was very active in Stanley many years ago. Hence why the name's literal translation means "Bandit's Post".
A second explanation for the name believes that the original Cantonese name "Chek CHue" of the village-town was actually based on a big tall cotton tree that was often covered with bright red blossoms at the time, hence the literal meaning "Red Pillar" in Hakka language.
The english name "Stanley" came about after Lord Stanley (Earl of Derby), a British Colonial Secretary at the time when Hong Kong was under control of the United Kingdom, who subsequently became Prime Minister.
Notable Places To Visit in Stanley
Stanley covers a rather large area, and is dotted with a number of hidden gems that every visitor should take the time to visit and experience. Here are some of our top picks! If places like this are your cup of tea, just imagine what it would be like to set up a home here!
Stanley Market
Situated on Stanley Village Road rests a popular tourist attraction called Stanley Market. It's a local bazaar with veering alleyways that is part covered, part outdoor. Stanley Market is open daily and a very popular market for both tourists and local residents to shop a variety of knick knacks. There are a variety of shops and little stalls that sell a myriad of just about everything and anything you could possibly imagine - casual clothes, sportswear, footwear, swimwear, artworks, antiques, jewellery, toys, and local souvenirs. The market, like most street markets in Hong Kong, allow customers to bargain - making it a very unique and fun local experience. The array of small shops and street shops is one of the most popular tourist destinations in Hong Kong, and definitely worth a visit.
Stanley Main Street or Stanley Promenade or Stanley Waterfront
After a major redevelopment of the waterfront area was completed in early 2008, this area has transformed in to an attractive boardwalk lined with greenery, flowers, rest benches, souvenir shops, bars, cafes, and local street side eateries.
Stanley Plaza
Stanley Plaza should be called the beating heart of Stanley. For residents in the area, this is where daily life happens. Stanley Plaza is a six-story modern development adjacent to Murray House that opened in 2001. The Plaza is a self-sufficient destination for local residents because it houses a shopping arcade full of shops and boutiques of all kinds, and its own outdoor community amphitheatre. Numerous free concerts, events, school productions, and performances are held at the amphitheatre all year around. The Plaza is also home to a number of Asian, Western and International restaurants, a upscale and well-stocked supermarket (catered to expat tastes), Starbucks, Macdonald's, bakeries, cakeries, and a variety of other boutiques.
Murray House
A sight that stands magnificently facing the shoreline is Murray House, a Victorian-era building originally built in the present-day business in Central in 1846 as officers' quarters of the Murray Barracks. The building was later relocated to Stanley during the 2000s. Today, Murray House is one of the most iconic landmarks in Hong Kong and home to a number of restaurants and shops. It reamins to be one of the oldest surviving public buildings in Hong Kong and stands out due to its Classical architecture style with heavy stoned walls, arched columns and openings.
Stanley's Beaches
One cannot leave Stanley without visiting the beaches. After all, it is a beachside haven. Stanley is famous for its two beaches. One of which is Stanley Main Beach, located on the eastern side of the peninsula. The other one is St. Stephen's Beach, located on the western side of the peninsula. Both beaches are popular destinations and can get rather crowded on the weekends. People love to gather at these two beaches to hang out, have barbecues, and swim.
Stanley Main Beach is the larger of the two beaches, which makes it the ideal location for watersport enthusiasts. The Stanley Dragon Boat Festival is held at this beach each year to celebrate the Tuen Ng Festival and gathers quite the crowd!
How is the transportation situation there?
As with most of Hong Kong Island's coastline residential neighbourhoods, it helps to have your own car here but not necessary. Even though Stanley is further away from the city centre and considered to be quite secluded, transportation is really convenient. There are City Buses that run between Central, Admiralty, and Wan Chai, Causeway Bay, and North Point, all of which have a stop in Stanley.
Green Minibus service is also available between Causeway Bay and Stanley. Ultra convenient for residents and visitors, the Green Minibus line operates a 24 hour service daily from Jardine's Bazaar in Causeway via Hennessy Road to Stanley Village and Stanley Main Beach. The ride only takes approximately 35 minutes
Taxis frequently come and go in Stanley, with taxi stands at the ready to take passengers to the city centre.
Even without a MTR line, Stanley is just a short commute away and fairly easy to get to.
Traffic can get a bit hectic especially during rush hours, since the Aberdeen Tunnel is basically the only route connecting Stanley to Central.
Here's what local residents have to say about living in Stanley:
"As a family, we love Stanley. The neighbourhood is very much family-oriented and great if you have children who are still in school. The one big downside to living in Stanley is that the transport can be slightly troublesome at times, especially on the weekends. Stanley, Stanley Market, and the whole area in general gets very popular on the weekends with tourists and locals descending on the town from all over the city to get to the beaches, which can make traffic horrendous. Other than that, Stanley is a lovely place to live in. You just have to get wise about the timing of traveling in and out of Stanley to avoid the crowds and the traffic."
"Living in Stanley is a dream. It's nice to be able to remove yourself from the craziness of city life and be able to go home to a place where the beaches are right at your doorstep. The only problem with living in Stanley is that it can get very busy on the weekends, and with just one road coming in and out, the traffic can get a bit rough."
"I love the suburban, beachside vibe that Stanley has. I don't have to commute to the city centre for work, so I don't have much complaints in the transport department. I can understand that living here can have its downside as the commute to Central can take well up to an hour with traffic."
"It's far, but it's worth it. I love the serenity, the ocean, the slower pace of life here. If you are not a city person, then you should definitely consider Stanley."
"Living here feels like I'm living in a resort at times. I commute to Central for work and it's always such a pleasant and refreshing feeling to come home facing the waterfront. It's tranquil and gives me a peace of mind that is much needed in a busy city like Hong Kong."
"Lovely area and transportation is easy to come by. Of course, it helps to have your own car. Most of the people who live in Stanley have a private car to get to and from."
"We have lived in Stanley for a few years now, since we had our children and we love it. We have young children, a 3 year old and a 1 year old. There is enough here within Stanley that you can get all the essentials without having to commute to the city. I love that the kids have beaches to play on in a city that's so densely populated like Hong Kong. We are a very active family, and there are phenomenal hikes and running trails in the area for us to stay healthy. Also, because this area is so family oriented, it's really easy to meet other parents."
Fancy living in Stanley? Ready to see some properties? Look no further!
Chances are if you have read this far in the article, you have developed a keen interest for possibly living in quaint and charming Stanley. Well, luckily, that's what we are here for! To help you find a place that you can comfortably call home. It could really take months to find a home of your liking in Hong Kong, so we have done the tedious work for you by highlighting some of our best properties in the area. We have searched high and low for the best options for those who are interested in living in the Stanley neighbourhood and here's what we've gathered for you. We understand that you are not just investing in a property. When you say yes to a property, you are also investing in its neighbourhood. This is why we decided to give you a preview of the ins and outs of the area before showing you our properties. There's no point of looking at properties if you don't even enjoy the neighbourhood now is there?
With that being said, here are some of our best luxury home features in this neighbourhood.
Here are some properties that could potentially become your new home in beautiful Stanley!
STANLEY MAIN STREET
Apartment for Sale, Stanley, Hong Kong Island

1 Bedroom
1 Bathroom
545 Sqft (Saleable Area Approx.)
Price - $8,650,000 HKD
Constructed in year 1978 (Walk-Up)
This luxury, charming 1 bedroom, 1 bathroom apartment in the centre of vibrant Stanley Main Street is a perfect fit for a singles. With ultra-modern renovation, and high-end build in appliances and furnishings, large living room, open kitchen and plenty of storage, this apartment is an ideal haven for those who crave literal waterfront living. The property opens up to unobstructed ocean views from its own private patio/deck.
REGALIA BAY
Luxury House for Sale, Stanley, Hong Kong Island
5 Bedrooms
6 Bathrooms
3,382 Sqft (Saleable Area Approx.)
Price - $110,000,000 HKD
Year Constructed 2003
This 5 bedroom, 6 bathroom home in Stanley is an ideal residence for a family with children. With ample space and plenty of bedrooms and bathrooms for everyone in the household, Regalia Bay is a great fit for those that are looking for have the proper feel of living in a luxury home.
CARMEL HILL
Luxury House for Sale, Stanley, Hong Kong Island
3 Bedrooms
3.5 Bathrooms
1,988 Sqft (Saleable Area Approx.)
Price - $65,000,000 HKD
This luxury townhouse faces the beautiful Stanley Sea views. With its own terrace, swimming pool, garage and balcony, this home is a rare gem in Hong Kong. The property features a large living room/family room which opens up to a private garden, a large dining rom with large floor to ceiling windows that frame the sea views perfectly, a spacious kitchen with built-in oven and microwave, a maid's room just off of the kitchen with its own separate bathroom. The townhouse also has a small balcony off of the kitchen. Each of the 3 bedrooms have built-in closets and large windows that allow for plenty of natural light. Residents can even enjoy the views of surrounding Stanley on their private roof.
This would make a lovely home for small families and people who love to host and entertain.
If we have piqued your interest, do contact our team at Engel & Volkers for more detailed information and viewings of these luxury homes for sale. Engel & Voelkers are the leading experts in featuring real estate properties in the best areas of Hong Kong. We assure you that you will find your ideal dream home with our help.